First in war, first in peace and now champions of the National League.
The Washington Nationals defeated the visiting St. Louis Cardinals, 7-4, on Tuesday night to complete a four-game sweep of the NL Championship Series and bring the nation's capital its first pennant since 1933.
Washington will play American League champions, either the New York Yankees or Houston Astros, in the 115th World Series, which starts next week.
The newly crowned NL champions broke open Tuesday night's game early, plating seven runs in the first inning before a raucous partisan crowd at Nationals Park.
Washington faced a threat from St. Louis in the top of the eighth inning with the bases loaded, and the score 7-4, but pitcher Daniel Hudson got out of it with a ground out.
Once the Montreal Expos, the Nats relocated from Canada to the District of Columbia in 2005 where it's flourished. The Nationals have posted eight consecutive winning years and sold an average of 2.5 million tickets in those campaign, consistently top half of Major League Baseball attendance.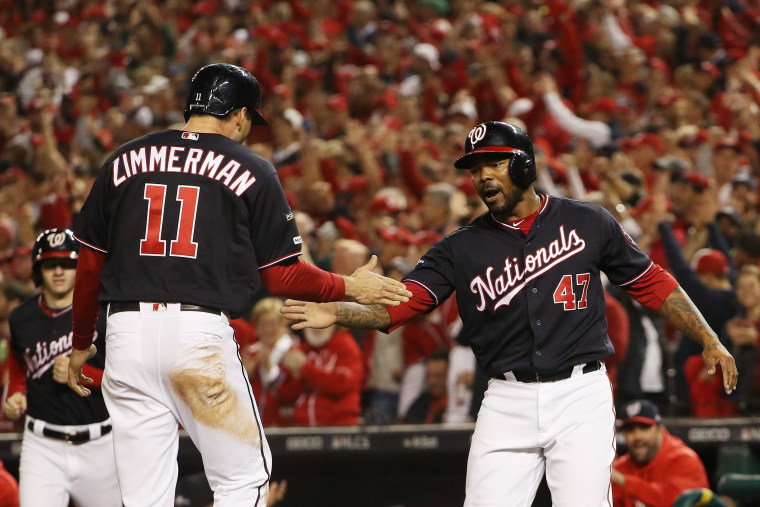 The team has captured the imagination of Washington D.C. and Northern Virginia, while encroaching north on Maryland sports consumers who were once overwhelmingly Baltimore Orioles fans.
The Nationals hope to do what their District of Columbia predecessors, the Washington Senators of the American League, could accomplish only once in more than a half-century of existence. The Senators, who moved to become the Minnesota Twins in 1961, won just one World Series, in 1924.
The Senators won AL titles in 1925 and 1933 but were almost always distant also-rans to powerhouse Yankees teams of Babe Ruth, Lou Gehrig, Joe DiMaggio and Mickey Mantle.
Baseball Hall of Fame writer Charles Dryden famously typed of the Senators: "Washington — first in war, first in peace, and last in the American League."
The Senators perennial losing to the Yankees inspired the book that became Richard Adler and Jerry Ross' iconic Broadway smash, "Damn Yankees." The 1956 Tony Award winner for best musical told the story of a long-suffering Senators fan, who wants to see his team win the AL flag just once against the seemingly invincible Yankees.
"(You Gotta Have) Heart" was the most well known tune of the musical that was also a hit movie, featuring Tab Hunter in the lead role.
Another "Washington Senators" team was placed in the nation's capital for 11 seasons between 1961 and 1971 and were even worse than their predecessors. They had just one winning campaign and moved west to become the Texas Rangers.