Confetti blanketed Manhattan's "Canyon of Heroes" on Friday as the U.S. women's soccer team — fresh off their World Cup triumph — was feted by thousands of cheering fans.
Members of the women's team waved from floats to the throngs of supporters screaming "USA! USA! USA!" before the fanfare ended with a high-energy celebration at City Hall Park.
RELATED: USA Wins the World Cup! Joy, Sexism and That Kiss Dominate Post-Game Reaction
New York City Mayor Bill de Blasio was on hand to give the soccer stars a key to the city. He told the crowd that the team's victory was an inspiration and a resounding message about the "power of women."
"Young women who watched that game will grow up and they'll tell their daughters and tell their sons about that 2015 championship team that made history — that opened minds and brought us together," de Blasio said.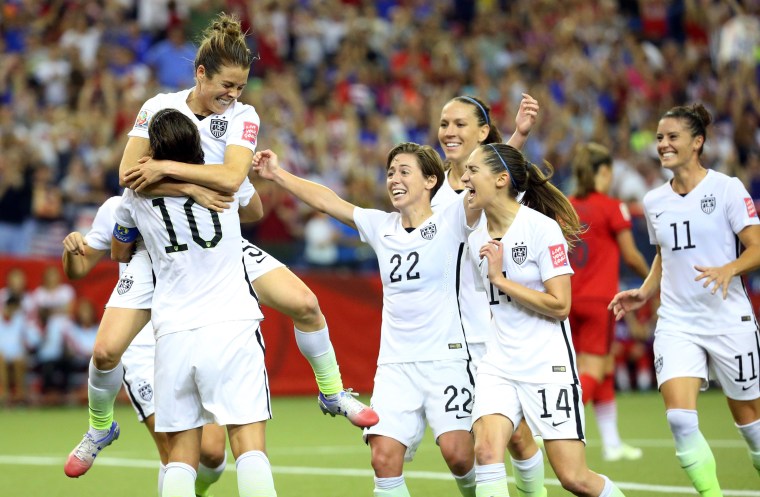 PHOTOS: Fans Celebrate U.S. World Cup Champions at Historic NYC Parade
The U.S. women trounced Japan in a 5-2 victory on Sunday — marking their first World Cup win since 1999.
Carli Lloyd, who scored three goals in the first 16 minutes of that game, said at the City Hall celebration that the World Cup was a "dream come true."
"But having this parade here in New York City was one of the best moments of my entire life," Lloyd said after getting a key to the city. "And we all feel the same."
Friday's festivities included the 205th ticker-tape parade in Manhattan — made even more special since it's rarely done in honor of women.
Many of the stars of the U.S. women's soccer team also shared their big day on social media: