The banned drug that Russian tennis star Maria Sharapova admitted Monday to using is a heart medicine that improves blood flow, according to its manufacturer.
Meldonium — also marketed as mildronate — is made by Latvian pharmaceutical company Grindeks and is sold in Russia and former Soviet countries, where it is used to fight heart disease. It is also available for sale online, but is not approved by the U.S. Food and Drug Administration.
The World Anti-Doping Agency banned meldonium as of Jan. 1, 2016, in a memo that Sharapova, 28, claims to have overlooked in her email inbox.
"Athletes rely on their physicians to warn them about things like this. Obviously, it wasn't a red flag for her Russian physician," Don Catlin, former director of the UCLA Olympic Analytical Lab, the first anti-doping lab in the U.S., told NBC News.
Here is what we know about the drug:
What does meldonium do?
According to the manufacturer's website, meldonium "improves physical capacity and mental function in the case of ischemia" — or reduced blood flow. It also offers benefits to people who are healthy and and have no blood flow issues, according to Grindeks.
"There's no way to conclude that this was deliberate or not deliberate doping."
Meldonium can have a protective effect on patients with "angina pectoris [chest pain], chronic heart failure, brain circulation disorders," Grindeks says, citing a February 2010 clinical trial conducted in Latvia, Lithuania, Russia and the Ukraine.
It "is widely used for the treatment of different heart and vascular diseases, as well as for the improvement of work capacity of healthy people at physical and mental overloads and during rehabilitation period," depending on the dosage prescribed, Grindeks adds.
Why was Sharapova taking it?
The former No. 1 tennis player said at a news conference Monday that she had been taking meldonium for the past decade for a variety of health issues.
Among them: Irregular EKGs, tests that monitor the electrical activity of your heart; a magnesium deficiency; and early indications of diabetes, which she has a family history of. (One study has shown that meldonium has anti-diabetic effects on the metabolism of rats.) She also said she was "getting sick very often" before she went on it.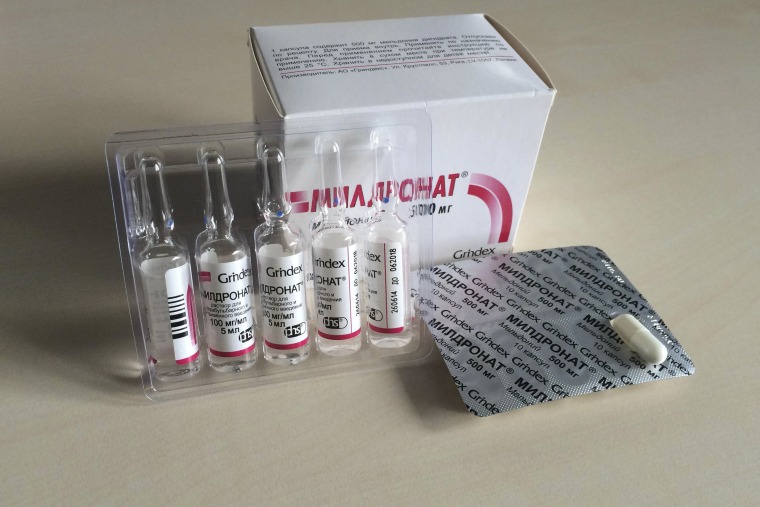 Related: Maria Sharapova Fails Drug Test, Prompting Nike to Suspend Relationship
"That sounds reasonable," Catlin, the former director of the U.S. anti-doping lab, said. "There's no way to conclude that this was deliberate or not deliberate doping."
Norman Fost, a professor emeritus of pediatrics and bioethics at the University of Wisconsin-Madison who has written about performance-enhancing drugs, told NBC News there simply isn't enough information to know whether Sharapova was taking this as a medical treatment or as a performance enhancer.
"Whether she was or wasn't, and what the reasons were, will be hard to know," he said.
Sharapova insisted at her news conference that it was an innocent mistake.
"It is very important for you to understand that for 10 years this medicine was not on WADA's banned list and I had been legally taking the medicine. But on January the first, the rules have changed," she said.
Why was it banned?
Because meldonium increases oxygen to the blood, the World Anti-Doping Agency began monitoring use of it among professional athletes. After finding multiple instances of it being used, WADA announced last September that it was declaring it a banned substance, as of January, due to the fact that it could aid an athlete's endurance and be used with "the intention of enhancing performance."
Related: Middlebury College Bans Energy Drinks, Linking Use to Alcohol, 'High-Risk' Sex
WADA classifies meldonium as a "metabolic modulator" because of its metabolic effects and places it in the same category as insulin, which can also be abused to boost performance.
Who else was taking it?
Ice dancer Ekaterina Bobrova, of Russia, also said Monday that she had tested positive for meldonium. A pair of Ukrainian biathletes, Russian speed skater Pavel Kulizhnikov, and Russian cyclist Eduard Vorganov have tested positive for it since it was banned, too, according to the Associated Press.
Russia's sports minister, Vitaly Mutko, said Tuesday that meldonium is popular among his country's athletes, and said he expected more could test positive for it.
"Unfortunately, a lot of athletes took this medicine," Mutko told Russian news agency R-Sport. "This medicine used to be allowed, it does not do anything major, it just helped a lot of people with their recovery times; it did not offer any unfair advantages."
What happens next for Sharapova?
Sharapova, who has been the highest paid woman in sports for 11 years, has had sponsorships suspended since she revealed she tested positive for a banned substance. The Tennis Anti-Doping Program said she "will be provisionally suspended with effect from 12 March, pending determination of the case."
Regardless of what happens, the doping experts said she did the right thing by being forthcoming: Fost pointed to former New York Yankees' pitcher Andy Pettitte, who openly acknowledged in 2007, during the baseball doping scandal, that he had taken human growth hormone.
"He was declared to be an admirable person and a role model for telling the truth," Fost said.