The football fervor surrounding Sunday's Super Bowl Ll in Houston will showcase Tom Brady's New England Patriots pitted against the Atlanta Falcons. While all eyes will be on the gridiron, there will be plenty of moments for fans who enjoy another sort of spectacle: politician-watching.
The big game is set to provide a big dose of excitement for non-sports fans. So for those who want to keep score that way, here's a guide on whom to look out for:
The politicians
Vice President Mike Pence — with his bevy of Secret Service — is expected to have a seat at NRG Stadium, NBC News has learned.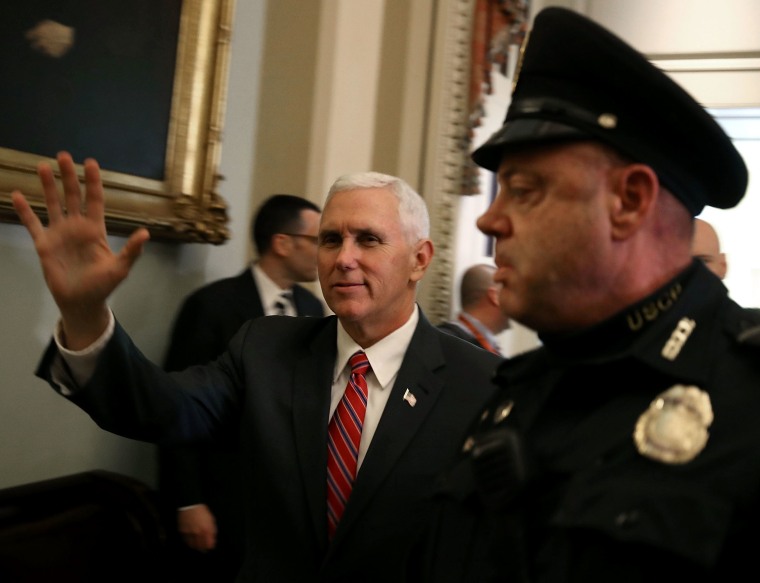 He will be the fourth vice president to attend the Super Bowl, following former vice presidents Spiro Agnew, George H.W. Bush and Al Gore, who made special appearances during their stints in office.
Related: Super Bowl Ads Walk Delicate Balance in Donald Trump Era
Former President George H.W. Bush and first lady Barbara Bush will also be at the game Sunday to play an important role: the coin toss.
Bush, who was discharged from the hospital earlier this week, will oversee the toss for the second time in his life to signal the start of the game. He became the first president to toss the coin at the Super Bowl in 2002 — his son, George W. Bush, was commander in chief at the time.
President Donald Trump is in Florida this weekend and there was no official notice from the White House for him to fly to Houston.
The celebrities
Lady Gaga will take center stage as the halftime show headliner. The pop singer has been giving fans video teasers in recent days about what songs she could end up performing.
While the outspoken artist has been vocal about LGBTQ rights, she hasn't indicated whether she will make any political statements during her performance.
Gaga coyly suggested a possible Beyoncé appearance during the game in her most recent Instagram photo. She captioned the photo, "Houston, you are beautiful" with a bee emoji at the end.
Fans on social media have interpreted the bee emoji as a sign for Beyoncé, a Houston native known for her nickname "Queen Bey." But the singer, who already made a surprise showing at last year's halftime show, may be harder to lure again after she revealed this week she's pregnant with twins.
Prior to Gaga's performance, Broadway's "Hamilton" alums Phillipa Soo, Renee Elise Goldsberry and Jasmine Cephas-Jones, who played the Schuyler sisters, will follow Super Bowl tradition and perform "America the Beautiful" before the national anthem.
Meanwhile, country star Luke Bryan, who will belt out the national anthem, will be the first male artist to sing the song at a Super Bowl game in a decade.