The Women's National Basketball Association said it is rescinding fines imposed on players who violated league uniform rules in expressing support for the "black lives matter" movement.
WNBA President Lisa Borders made the announcement Saturday, following fines imposed on teams and players and criticism from some players.
The Indiana Fever, New York Liberty and Phoenix Mercury were fined $5,000 each, and each player was fined $500 for wearing black T-shirts during pre-game warm-ups in the wake of recent shootings by and against police officers.
Related: WNBA Stars Angered Over League Fines for 'Black Lives Matter' Protest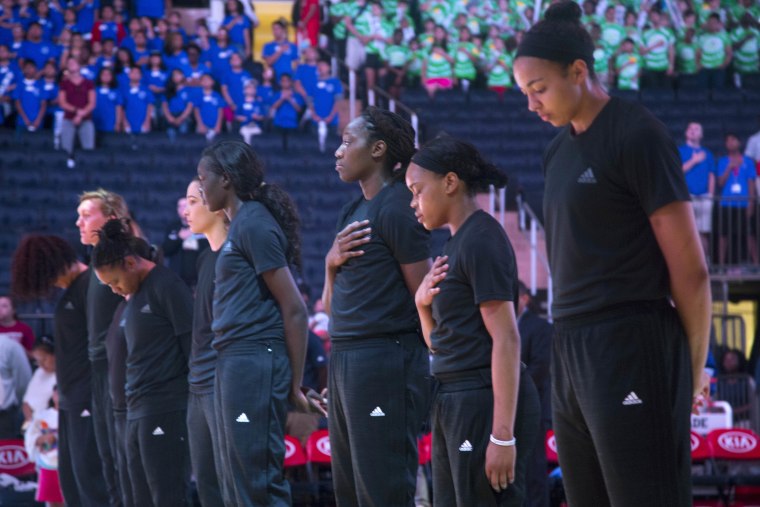 WNBA officials said the shirts violated the league's uniform policy.
"All of us at the WNBA have the utmost respect and appreciation for our players expressing themselves on matters important to them. While we expect players to comply with league rules and uniform guidelines, we also understand their desire to use their platform to address important societal issues," Borders said.
"Given that the league will now be suspending play until August 26th for the Olympics, we plan to use this time to work with our players and their union on ways for the players to make their views known to their fans and the public and we have informed the players that we are rescinding the recently-imposed fines."
Players this week criticized the fines. Phoenix Mercury star forward Mistie Bass on Twitter said: "Don't say we have a voice and then fine us because we use it."
New York Liberty center Tina Charles, the most prominent of the players fined, said on Twitter: "I refuse to be silent @WNBA."
Players from the Liberty and Fever boycotted their obligatory post-game news conference Thursday night at Madison Square Garden in New York City and recorded their own. The players said they were there not to answer any basketball-related questions but to speak only on the issue of Black Lives Matter.
Many NBA players, including Lebron James and Derrick Rose, wore "I Can't Breathe" shirts just weeks after the death of Eric Garner, a Staten Island man who died after police placed him in a choke hold outside a convenience store in July 2014. The players were not fined for their actions.