Prominent WNBA players and Black Lives Matter organizers are angered over the league's decision to fine three teams and their players for protesting gun violence.
The Indiana Fever, New York Liberty and Phoenix Mercury were fined $5,000 each, and each player was fined $500 for wearing black T-shirts during pre-game warm-ups in the wake of recent shootings by and against police officers.
According to WNBA officials, the shirts violated the league's uniform policy. According to that policy, all shirts worn during warmups must be the Adidas brand — the league's official outfitter — and may not be altered in any way. The shirts worn by the players did not meet that threshold, according to the league.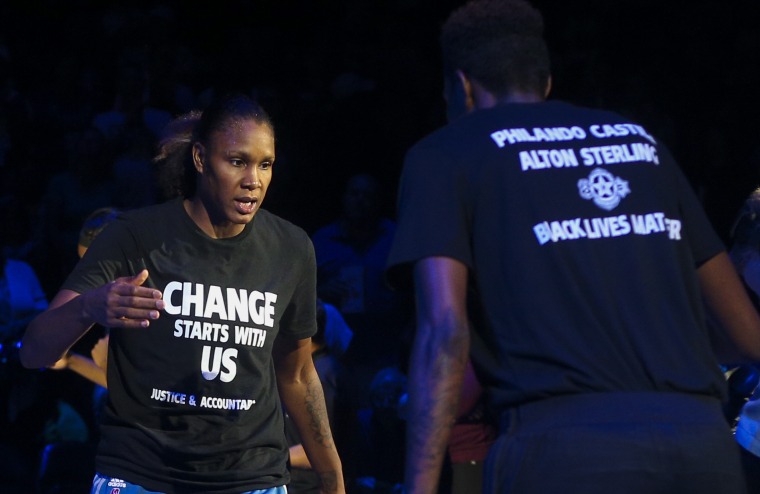 WNBA President Lisa Borders said the fines were not issued in retaliation for the players speaking out on a highly contentious social issue.
"We are proud of WNBA players' engagement and passionate advocacy for non-violent solutions to difficult social issues but expect them to comply with the league's uniform guidelines," Borders told the AP on Wednesday night.
Players weren't buying Borders' stance. Phoenix Mercury star forward Mistie Bass tweeted: "Don't say we have a voice and then fine us because we use it. #notpuppets #cutthestrings"
New York Liberty center Tina Charles, the most prominent of the players fined, tweeted: "I refuse to be silent @WNBA" She then took to Instagram to challenge the league to recognize the #BlackLivesMatter movement as the league does "for Breast Cancer Awareness, Pride and other subject matters."
Many players noted online that the league was quick to provide every team shirts in support of victims of the Orlando nightclub massacre in June.
"We were OK with that, we wanted to support that, but also they can't pick and choose what initiatives to support and what not to support just because it doesn't push their agenda," Liberty guard Tanisha Wright told the Associated Press. "This is important to us."
Players from the Liberty and Fever boycotted their obligatory post-game news conference Thursday night at Madison Square Garden in New York City and recorded their own. The players, who streamed the impromptu locker-room press conference on Periscope, said they were there not to answer any basketball-related questions but to speak only on the issue of Black Lives Matter.
"I'm incredibly proud of the stand so many WNBA players have taken," prominent social justice activist Shaun King told NBC News. "What frustrates me, though, is that the WNBA has encouraged their athletes to [be] socially active, but now that they have, they are being penalized for it with harsh fines."
NBC News reached out to the WNBA for comment on the players' media blackout. A league spokesman said the league had nothing more to add at this time, referring back to Borders' previous statement to the AP.
Many NBA players, like Lebron James and Derrick Rose, wore "I Can't Breathe" shirts just weeks after the death of Eric Garner, a Staten Island man who died after police placed him in a chokehold outside a convenience store in July 2014. The players were not fined for their actions.
"I don't see why there would be a reason for those ladies to get fined," Knicks star Carmelo Anthony said at the USA Basketball training camp in Las Vegas."Everybody has freedom of speech. This is a platform right now where everyone is affected and everyone shows their frustrations in different ways."