When the U.S. Women's National Soccer Team rolls down the "Canyon of Heroes" on Friday morning, they will be the first women feted in a ticker-tape parade in three decades.
Not since Mary Lou Retton, Cheryl Miller and their fellow 1984 Olympic medal winners were celebrated after the Los Angeles Summer Games has a woman been given the ticker-tape treatment.
That 1984 moment included both male and female athletes. Other parades in the 1960s — when the honor was more common — included the queens and empresses of Iran, Afghanistan and Thailand alongside their royal spouses.
The last time a woman was the lone honoree of a ticker-tape parade was March 1960, when figure-skating champion Carol Heiss Jenkins — a native of Queens — earned the distinction.
Ticker-tape parades generally have been reserved for New York-based championship teams because of the great expense — The New York Times reported the estimated cost to the city is $1.5 million — and the traffic jams they tend to cause. The New York Giants were the last to be so honored after their 2012 Super Bowl victory.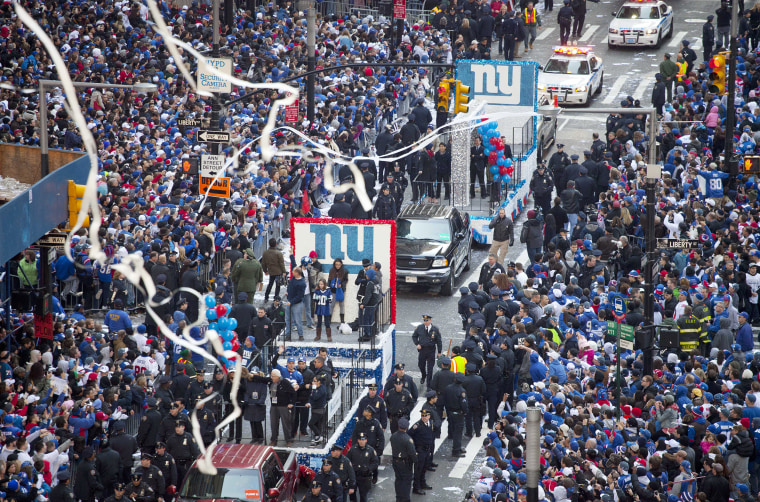 And while women have rarely been granted the honor, the first ticker-tape parade in U.S. history was held for a female — well, sort of.
Here's the backstory: In the fall of 1886, an impromptu celebration broke out on the streets of the city as part of the dedication of the Statue of Liberty, according to the Mayor's Office.
The New York Times reported that "the air was white with curling streamers," as revelers marched from Madison Square to the southern tip of Manhattan.
Those curling streamers were, of course, cut-up ticker tape — a one-inch wide-ribbon of paper that stock quotes were recorded on by a "ticker" machine — thrown out of office windows high above Broadway. Hence, ticker-tape parades were born.
The most recent ticker-tape parade, honoring the New York Giants' Super Bowl win in 2012, resulted in a little more than 34 tons of refuse scattered on the city's streets, according to the sanitation department. None of that paper actually came from tickers, however. The machines became obsolete in the 1960s.