WASHINGTON — There appeared to be no let-up Saturday as people angered by the Supreme Court's overturning of Roe v. Wade hit the streets for a second day of mass protests.
From Washington, D.C., where the conservatives on the court Friday swept aside a half-century of precedent to do away with the law, all the way to the West Coast, there were angry, raucous protests against a ruling that almost immediately made access to abortions all-but-impossible in half the country.
Those protests were, at times, met with counter-protests by anti-abortion activists elated by the ruling and determined to stop abortions from happening everywhere in the United States.
Outside the Supreme Court building, a group of protesters chanting "Women's rights are human rights" confronted a preacher who had waded into the mix and appeared to be trying to drown them out.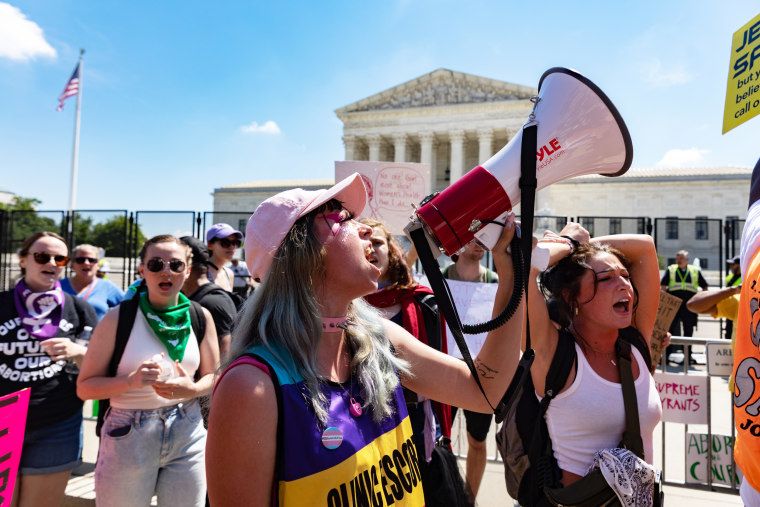 "Listen to me, our religious convictions inform everything we do," the Rev. Jonathan Tremaine Thomas said.
"Why are you trying to impose them on us?" 18-year-old Juliette Dueffert shouted back. "If you have a uterus, you can talk."
"You're clearly trying to talk over us," another woman quickly chimed-in.
Soon anti-abortion protesters arrived chanting "Abortion is racist" and "Abortion is oppression" and were met with loud booing as police officers stood by ready to move in if necessary.
Watching from her wheelchair was 52-year-old Dana Bolles, an ardent abortion rights supporter who was born without arms or legs.
"A lot of the pro-lifers would say, 'Well you would have been aborted'," Bolles said. "I mean, so be it. If that was the decision, then that's what it was."
Protests at the Supreme Court on Saturday were peaceful. Capitol Police said that two people were arrested Saturday afternoon, accused of throwing paint over a fence by the Supreme Court building.
The momentous struggle over abortion spilled over into the first-ever Unity March, a rally that was happening in Washington at the same time to protest against rising anti-Asian violence in the United States.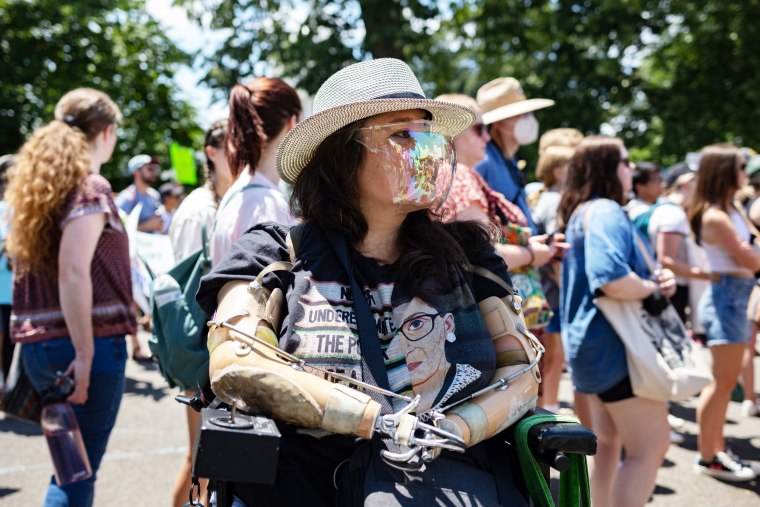 Many of those demonstrators also condemned the recent Supreme Court ruling.
"We're fighting for abortion," said 17-year-old Anh Nguyen, a Houston-based Asian activist and Yale freshman. "We're fighting for the reduction of anti-Asian violence, protection for our communities."
"We need to protect women's rights," chimed-in John Kim, 27, of Washington, who came specifically to protest the mistreatment of trans and non-binary Asian youth. "If you're not taking care of the people who are existing and living in our country today...how are you going to take care of all these lives for these unborn babies?"
In Mississippi, anti-abortion protesters descended on the state's last clinic, the Jackson Women's Health Center.
There, shouting matches erupted between them and members of the "Pink House Defenders," who are the volunteers that for years have been escorting women in need of abortions through the gauntlet of protesters that have been picketing the clinic for years.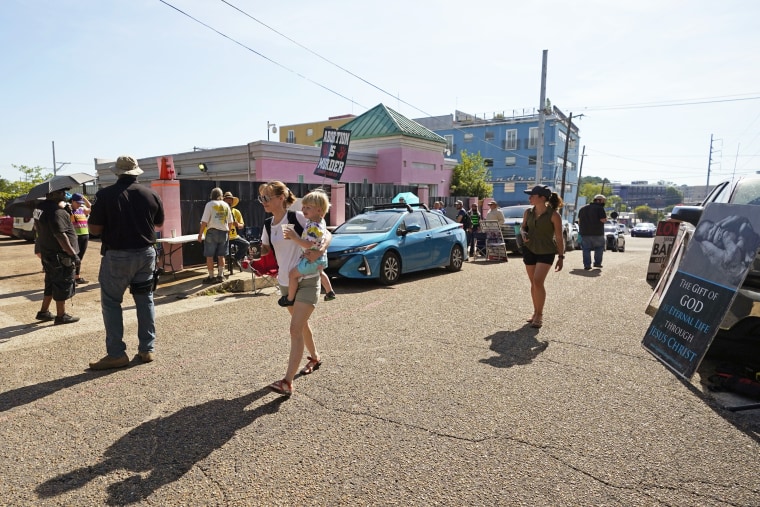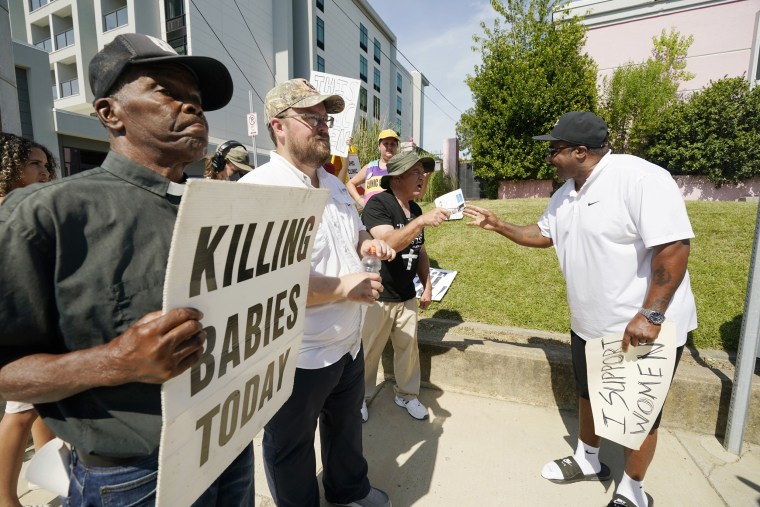 As protesters tossed gory photos of supposedly aborted fetuses from their pickup trucks and yelled at reporters covering the unfolding chaos, several defenders tried to block them from driving into the clinic parking lot and Jackson police officers quickly arrived to keep the warring parties apart.
In the midst of the mayhem, an NBC News producer had a cellphone knocked out of her hands.
It was Mississippi that set into motion the series of legal steps that resulted on the overturning of what had been a constitutional right to an abortion. Under a "trigger law" passed by Mississippi lawmakers back in 2007, the clinic now has less than 10 days before it has to shut down.
"I will tell you this — any patients who contact us we will see them" as long as the clinic stays open, Diane Derzis, the chief executive officer of Jackson Women's Health Organization, told local media after the Supreme Court ruling came down. "We will make sure we see them in those 10 days. A woman should not have to leave the state to receive health care."
In Rhode Island, the Providence Police Department tweeted that it was investigating allegations that an off-duty officer "assaulted" a woman during Friday's raucous protests outside the statehouse.
The officer, who was not identified by the department, has been placed on "leave with pay" and a criminal investigation and administrative review is underway, the department said.
The NBC affiliate WJAR of Providence identified the officer as Jeann Lugo and the victim as Jennifer Rourke. Rourke, who is a Democrat, is running for a state Senate seat against Lugo, who is a Republican.
In New York City, the organizers of the annual PRIDE parade announced that a contingent from the women's health organization Planned Parenthood will "be the first group to step off at noon Sunday."
The Supreme Court's "dangerous decision puts millions in harm's way, gives government control over our individual freedom to choose, and sets a disturbing precedent that puts many constitutional rights and freedoms in jeopardy," the Gay rights group said in a statement.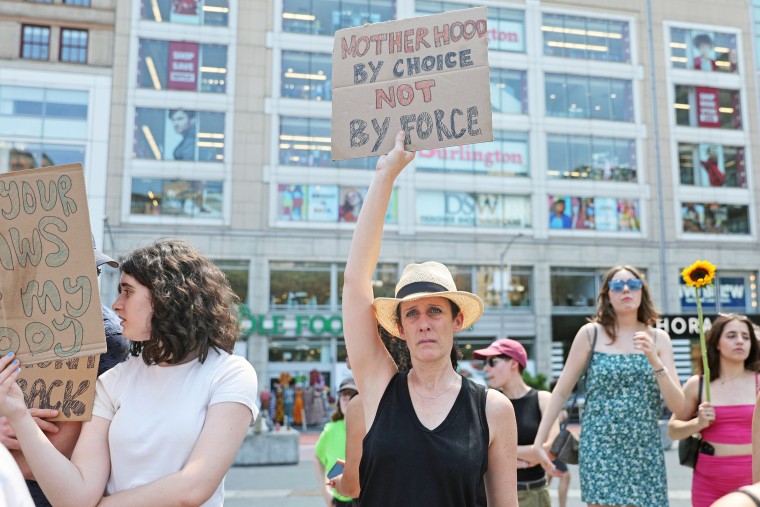 More protests were expected Saturday in Boston, Philadelphia, Chicago, Denver and St. Louis and in major cities up and down the West Coast, Rise Up 4 Abortion Rights organizers said.
Hundreds of demonstrators gathered outside Los Angeles City Hall holding signs that read "Hold Your Own Genitals" and chanting familiar civil rights slogans like "No justice, no peace!"
Mehar Bhardwaj, 25, said she was raped as a younger woman and wants to help ensure victims have access to all necessary healthcare.
"It's important women who go through something like that have access to abortion," the Los Angeles resident said.
Her boyfriend, 23-year-old Frank Peletz, agreed.
"If people are going to have abortions, it's important they be safe," said Peletz, who also lives in Los Angeles.
Demonstrators in the city known for entertainment marched to nearby Pershing Square and back, passing a flatbed truck from which local pop-bank Pretty in Pink performed a reproductive rights song.
Some demonstrators entered an off-ramp to U.S. Highway 101 in downtown, the Los Angeles Police Department said. Protesters blocked the ramp before leaving the freeway.
There were also demonstrations in support of abortion rights after the Roe v. Wade decision was announced in suburban communities like Naperville, which is 30 miles west of Chicago and home to a key demographic that helped President Joe Biden defeat Donald Trump — suburban women voters.
In Phoenix, state troopers were out in force after what began as a peaceful protest late Friday by nearly 8,000 people outside the state capitol building "evolved in anarchical and criminal actions by masses of splinter groups," the Arizona Department of Public Safety reported Saturday.
"As groups realized the state legislature was in session, they attempted to breach the doors of the Arizona Senate and force their way into the building," they said. "The violence of their efforts literally shook the building and terrified citizens and lawmakers who occupied the building."
The AZDPS did not identify the "splinter groups." But on Saturday extra state troopers were on hand as a group opposing abortion rights called Students for Life Action prepared to hold a celebration in the same spot, local media reported.
The Virginia-based Students for Life Action said it planned to hold similar "Life is Louder" celebrations in 31 other states.
Madani and Bellamy-Walker reported from Washington, Alexander from Jackson, Romero from Los Angeles, and Siemaszko from New York City.