A California sheriff's deputy was charged with murder after authorities in Los Angeles said Wednesday that he was driving nearly 95 mph in a school zone when he crashed into another car, killing a 12-year-old boy and seriously injuring two passengers while off duty.
Los Angeles County Sheriff's Deputy Ricardo Castro, 28, was also charged with vehicular manslaughter and reckless driving, causing great bodily injury, in the Nov. 3, 2021, collision in South Gate, southeast of downtown Los Angeles, Los Angeles County District Attorney George Gascón said in a statement.
Isaiah Suarez Rodriguez was killed. His adult sister, who was turning left in an older-model Mercedes when it was struck by Castro's Ford pickup, was seriously injured, South Gate Police Chief Darren Arakawa said at a news conference Wednesday.
The collision launched the Mercedes and caused the pickup to roll, Arakawa said. A woman who was Castro's passenger was also injured, he said.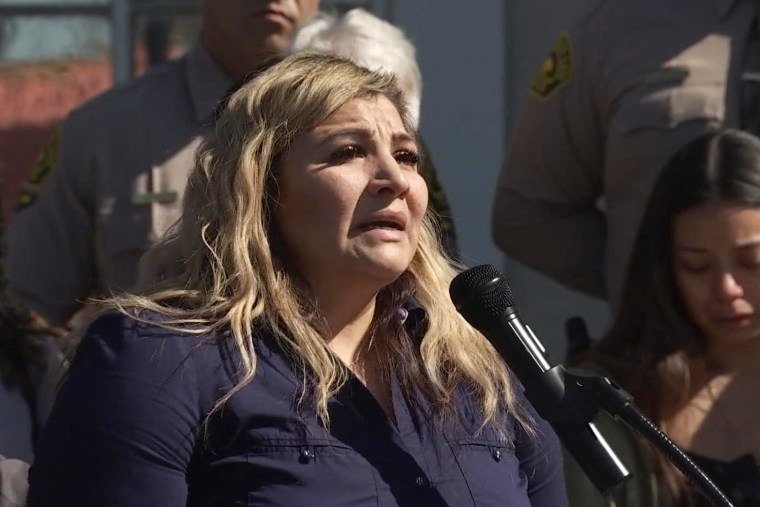 "Driving at 95 mph was nearly quadruple the speed limit when schoolchildren are present, which shows a conscious disregard for those children's lives," Gascón told reporters.
"Mr. Castro's recklessness ended the life of a boy with an entire future ahead of him and destroyed a family," he added.
Castro had been involved in multiple collisions and had received several traffic tickets, including speeding citations, before the crash, Gascón said.
Court records didn't list a lawyer who could speak on Castro's behalf. He appeared in court for an initial appearance Wednesday and remained in custody in lieu of $2.3 million bail, jail records show.
In a statement, the sheriff's department said Castro was placed on paid administrative leave after the crash. After the charges were filed, he was relieved of duty without pay, the department said.
The department declined to comment further, citing an active investigation by another agency.
"What we can say is, Sheriff Robert Luna expects all members of the Los Angeles County Sheriff's Department to always hold themselves to the highest ethical and professional standards," the statement said. "Criminal misconduct will not be tolerated and Department members who allegedly violate the law will be held accountable."
Isaiah's mother, Betsabe Suarez, described her son to reporters Wednesday as thoughtful, brave and caring, and she recalled that on the day of the crash, her son had gone out to buy a ruler for a classmate who had had hers taken by bullies at school.
"He was full of grace," she said tearfully. "We're completely broken."