The heartbroken families who lost loved ones in the Orlando-area shooting spree that killed three people and injured two last week spoke of their grief Thursday, with one mother saying losing her son felt like "I died too."
TV journalist Dylan Lyons, 24, T'Yonna Major, 9, and Nathacha Augustin, 38, were fatally shot on Feb. 22 in separate shootings by gunman Keith Moses, 19, according to authorities.
On Thursday, the families of Lyons and Major gathered for a news conference where they shared their anguish. 
Lyons' father, Gary Lyons, wept as he described his son. 
"Dylan Lyons is my only son. He's a devoted son and it's impossible to describe the relationship he had with my wife. I was often the third wheel in their relationship," the father said.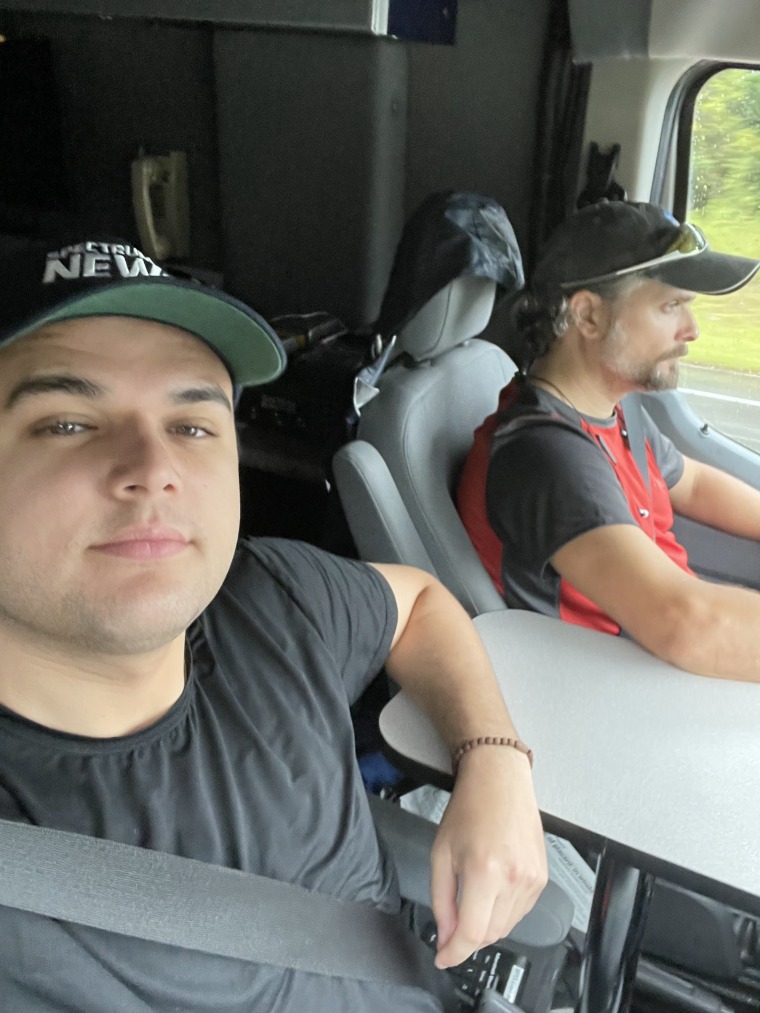 His wife, Beth Lyons, said: "I just feel like I died too. No words can express that as a mother, he was supposed to bury me. I was not supposed to bury him."
Dylan Lyons' fiancée Casey Fite also spoke out. 
"You see gun violence all over the country but you never think it will happen to your family. I would do anything to have my Dylan back in my arms. I love you forever and always my love," she said.
Brandi Major, T'Yonna's mother who was also injured in the shooting, broke down in tears as she spoke about her daughter. 
"My heart and my angel and I'm going to miss her so much," she said. At one point the mother had to leave the room, overwhelmed with grief.
T'Yonna's parents described her as a gymnast who wanted to help everyone around her.
"My soul is gone," T'Yonna's father Tokiyo Major said. "That was my gymnast. I was her number one fan … They took my girl."
"It's just hard," he said through tears. "That was my everything — I want the world to know that."
Moses first shot Augustin in a car around 11:15 a.m., according to his arrest warrant. He returned to the scene four hours later, entered Major's home and fatally shot her and wounded her mother, then left the home and killed Lyons and injured photojournalist Jesse Walden, the warrant said.
He has been charged with three counts of first-degree murder with a firearm, two counts of attempted first-degree murder with a firearm and armed burglary of a dwelling with a firearm. 
Mark NeJame, an attorney representing both families, criticized Republicans Gov. Ron DeSantis and Sen. Rick Scott, both of whom have cast scrutiny on State Attorney Monique Worrell's handling of the case. 
"Both politicians have taken to the podium deflecting the issue of gun violence in America," NeJame said.
"The families are united in their disgust over Gov. DeSantis and Sen. Scott as they seem to be exploiting their dead children for their own political agendas," NeJame said. "If DeSantis and Scott truly cared about these victims, then they could have not only reached out to them, but they could have been addressing the issues of gun violence and reasonable and sane gun legislation instead of avoiding the issue."
Moses was a known gang member with a lengthy rap sheet, Orange County Sheriff John Mina has said.
Moses is being held on no bond. He appeared in court on Feb. 23 on a preliminary charge of murder in the death of Augustin and a public defender entered a written plea of not guilty on his behalf on that charge.