One of the three police officers involved in the fatal shooting of Breonna Taylor in Louisville, Kentucky, is being fired, Mayor Greg Fischer announced Friday.
The chief of the Louisville Metro Police Department, Rob Schroeder, is initiating termination procedures against the officer, Brett Hankison, the mayor said in a statement.
It is the first significant action taken against an officer in a case that has drawn widespread criticism and national protests. Two other officers are on administrative reassignment while the shooting is investigated.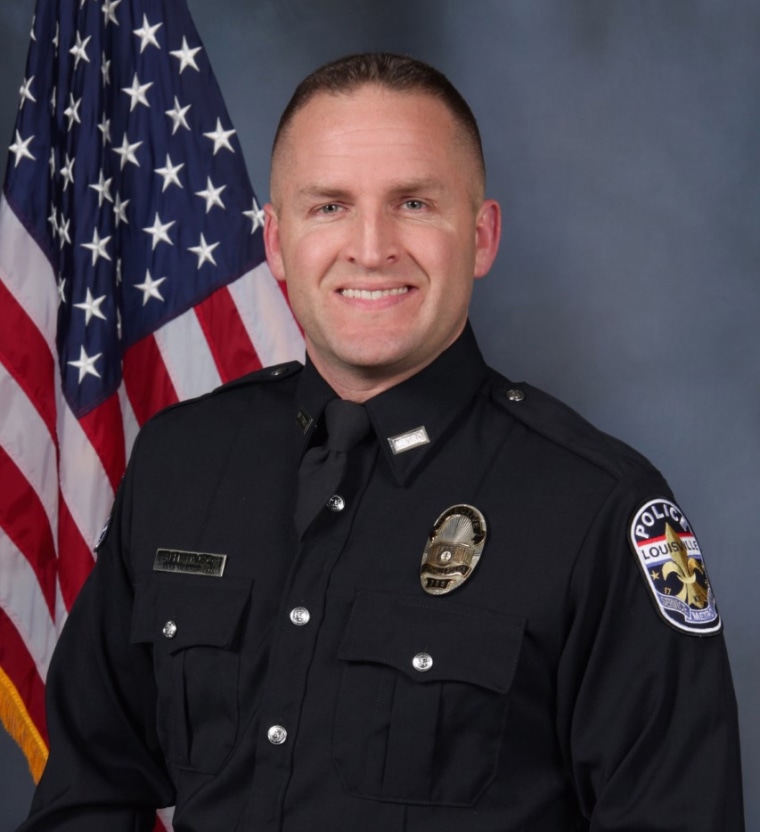 Fisher said that "unfortunately," he and Schroeder could not talk about "what brought us to this moment, or even the timing of this decision," because of a provision in state law. He added that he would like to see the law changed. Hankison was hired by the department in 2003.
Taylor, 26, an African American emergency-room technician, was killed by police on March 13 after three plainclothes officers used a "no-knock" warrant to enter her apartment around 12:40 a.m. as part of a drug investigation. Taylor was shot eight times.
According to his termination letter released Friday by the police department, Hankison violated procedure when he "wantonly and blindly" fired 10 rounds into Taylor's apartment while executing the warrant.
"These rounds created a substantial danger of death and serious injury to" Taylor and "the three occupants of the apartment next to hers," Schroeder wrote.
Hankison violated procedure by using deadly force without the "supporting facts" that it was directed at a person who posed an immediate threat, the letter said. The patio door and window that Hankison shot through were covered with material that "completely prevented" him from verifying if there was an immediate threat "or more importantly any innocent persons present," according to the letter.
"I find your conduct a shock to the conscience," Schroeder wrote. "I am alarmed and stunned you used deadly force in this fashion. You have never been trained by the Louisville Metro Police Department to use deadly force in this fashion."
In a joint statement, Benjamin Crump, Lonita Baker and Sam Aguiar, the attorneys representing Taylor's family, said Hankison's firing — three months after Taylor was killed — is a welcome, but long-overdue step toward justice.
"The department's termination letter clearly outlines the case for a murder charge to be brought against this officer," they said in a statement. "By the department's own assessment, he committed wanton endangerment, wanton murder and wanton attempted murder."
The attorneys said it is time for Kentucky Attorney General Daniel Cameron to file criminal charges against all the officers in the case. "We await further action by the police department to terminate the other officers," they said.
Taylor's family has named Hankison along with Officers Jonathan Mattingly and Myles Cosgrove in a wrongful death lawsuit.
Attorneys for Taylor's family say her boyfriend, Kenneth Walker, fearing a home invasion, called 911, grabbed a gun and fired, shooting an officer in the leg. He had a license to carry and keep firearms in the home. Taylor was unarmed.
The lawsuit accuses the officers of "blindly firing" more than 20 shots into the apartment.
The suspect at the center of the police investigation had already been taken into custody at another residence, the lawsuit states. Taylor and Walker had no criminal history or drug convictions, and no drugs were found in the apartment, the lawsuit states.
At a news conference on the day of the shooting, police said officers had knocked several times and "announced their presence as police who were there with a search warrant."
The Louisville Metro Council voted unanimously last Thursday to pass a ban on no-knock warrants, a measure known as "Breonna's Law."
The FBI is also investigating Taylor's death. Cameron has said that he was asked to serve as a special prosecutor in the case.
Separately, Louisville police are investigating allegations by at least two women that they were sexually assaulted by Hankison.
The allegations against Hankison were posted on social media this month, and they are similar — both women say they were sexually assaulted after he gave them rides home from a bar.