A man was arrested in Logan, Utah, on Wednesday in connection with suspicious letters sent to President Donald Trump and other officials that were initially suspected of containing the deadly poison ricin, law enforcement sources and prosecutors said.
The substance was later determined to be castor seeds, from which ricin is derived.
The U.S. Attorney's Office for the District of Utah said federal prosecutors "authorized a probable cause arrest in the ricin case" and that William Clyde Allen III, 39, of Logan was taken into custody. It's unclear when a complaint will be filed.
A spokesman for the FBI's Salt Lake City field office, Doug Davis, said in an email that there was an operation in Logan and "there are potentially hazardous chemicals involved," and he said the public was being asked to stay away from the area. "No wider threat to public safety exists at this time," Davis said.
Three suspicious letters, two addressed to Secretary of Defense James Mattis and Chief of Naval Operations Adm. John Richardson and another to Trump, were initially suspected of containing the poison ricin and were intercepted at mail processing centers or other locations, officials and sources said Tuesday.
Law enforcement officials said Wednesday the letters did not contain ricin, which is made from castor beans, but instead contained a primitive form or precursor that is not very hazardous.
"According to our preliminary analysis, the substance was castor seeds, from which ricin is derived," Chief Pentagon Spokesperson Dana White said in a statement about the two letters at the Pentagon mailing center. "The FBI is still investigating."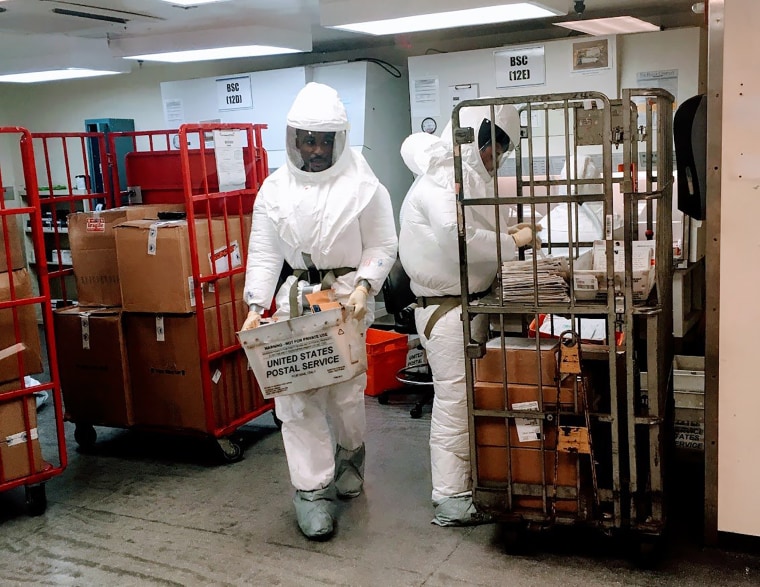 Allen enlisted in the U.S. Navy in October 1998 and left the service in 2002, the Navy said. He was listed as a damage control fireman apprentice, according to the Navy.
Two years after his Navy tenure ended, he was charged in a child sex-abuse case involving two girls with whom he had an unspecified "relationship of trust," according to The Associated Press, citing court documents. He later pleaded guilty to lesser neglect and abuse charges and did not have to register as a sex offender.
That same year, a woman filed a protective order against him in a separate case, the AP reported. He disputed her allegations, the details of which are not public, but agreed to the protective order.
In 2008, he pleaded guilty to attempted aggravated assault and served about 2½ years in prison, authorities said. He was released in 2011.
The letters to Mattis and Richardson were intercepted at a mail facility on the Pentagon campus but not within the main building itself, Pentagon spokesman Christopher Sherwood has said.
Mattis is not in the country but is on an overseas trip meeting with European officials.
On Tuesday Secret Service said in a statement that it intercepted a "suspicious envelope" addressed to the president. That envelope was intercepted at a location outside of the White House, the Secret Service said.
Sources have said that all three letters were believed to be connected.
Also on Tuesday, a suspicious letter addressed to Sen. Ted Cruz, R-Texas, was received at his campaign headquarters in Houston, law enforcement sources have said. That letter, which contained a "white powdery substance" is not believed to be connected to the others, sources said.
Logan is a city of around 48,000 about 80 miles north of Salt Lake City.