A 17-year-old has been arrested in a deadly shooting at a Tennessee university that occurred after a high school graduation ceremony on campus, Murfreesboro police said Thursday.
The shooting occurred shortly before 9 p.m. Wednesday as a crowd was leaving the ceremony at the Middle Tennessee State University. Hasani Brewer, 18, was killed and a 17-year-old high school student wounded, police said.
Brewer and the teenager who was shot had gotten into a fight when a third person opened fire, police spokesperson Larry Flowers said at a news conference.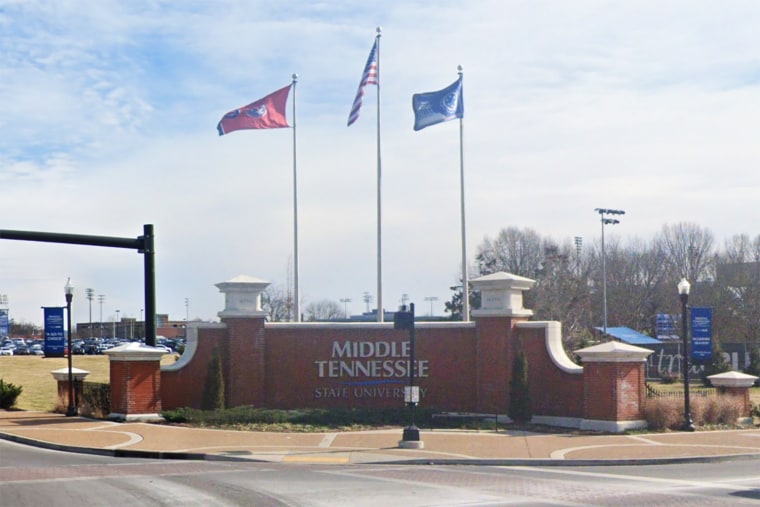 The suspect, who is also 17, was not identified because of his age. He will be arraigned in juvenile court on a first-degree murder charge, Flowers said.
The shooting occurred near tennis courts as people were leaving the Riverdale High School graduation ceremony, which was being held on the university campus, police said.
"The graduation was just ending, people were leaving, this fight began — so just imagine the chaos when shots rang out," Flowers said.
He said the suspect blended in with the crowd as he left and as people were running.
The suspect is a former student at the high school, said Rutherford County Schools spokesman James Evans.
Brewer was a past graduate of the high school, and the wounded teenager is a junior, he said.
All three people knew each other, Flowers said.
The investigation into the shooting is ongoing to determine a motive or what led to the shooting, he said.
The suspect was arrested in Clarksville, in northern Tennessee around 70 miles away from Murfreesboro, but police believe he is a Murfreesboro resident, Flowers said.
The wounded student was described as being in stable condition Thursday.
Middle Tennessee State University said they were fully cooperating with investigators. Another high school graduation ceremony was held at the campus Thursday night.
"Our hearts go out to the Riverdale students, faculty and family members affected by Wednesday night's tragedy," the university said in a statement. "MTSU has offered support to Murfreesboro Police and other law enforcement agencies in their investigation."
Wednesday's ceremony celebrated some 450 graduates of Riverdale High and their family members, a district spokesperson said.
Riverdale High School was closed Thursday as a precaution, and planned to reopen Monday, Evans said. Additional officers were planned for Thursday night's graduation but he said the shooting was considered an isolated event, he said.