One person is dead and 66 people are injured after a logging truck collided with a train filled with passengers taking in a scenic tour of eastern West Virginia on Friday, emergency officials said.
Twenty-one people were transported by ambulance to the Davis Memorial Hospital in Elkins, W.Va., Jim Wise, director of the Randolph County Office of Emergency Management said in a statement.
Of the 21, three are in critical condition and 18 are in serious condition, Wise said.
An additional 45 people were transported by bus to the hospital with minor injuries.
The identity of the person killed in the accident has not been released.
Tracy Fath of Davis Memorial Hospital said in a statement that 12 to 15 people are still being treated.
Authorities have yet to confirm how the accident occurred, but they believe the logging truck struck the train, since two of the train cars on the Durbin & Greenbrier Railroad train were overturned.
Wise told NBC News that he has attempted to contact investigators at the National Transportation Safety Board, but due to the government shutdown, no one has answered his phone calls.
"You can't even leave a message. I don't know what to do in that case," he said.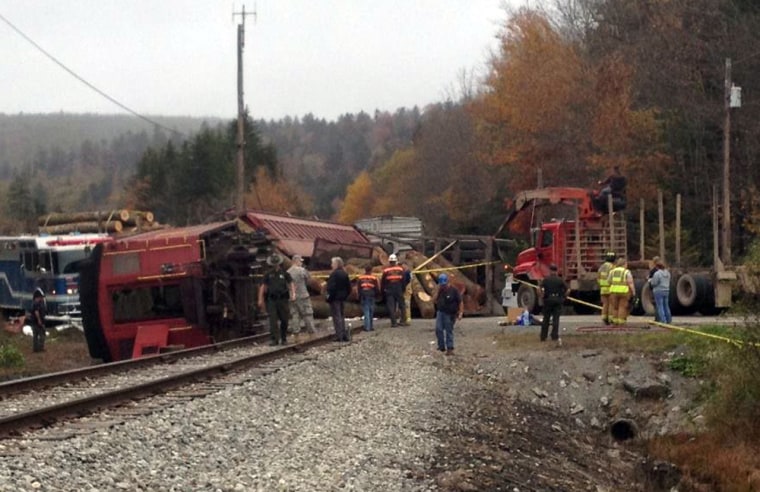 The U.S. government has been partially shut since Oct. 1 in a budget standoff.
On Oct. 3, the NTSB did not send investigators to a Tennessee bus crash that left eight people dead and 14 others injured.
"All of our highway investigators are furloughed," Sharon Bryson, deputy director of communications for the NTSB, told NBC News in an email.
NBC's Matt DeLuca and the Associated Press contributed to this report.