One person was killed and eight other people were hurt in New York on Tuesday after a residential explosion caused at least a partial building collapse, rendered three structures uninhabitable and sparked a daylong fire, officials sad.
Two people were in serious condition. Five New York City police officers were among those taken to the hospital for smoke inhalation.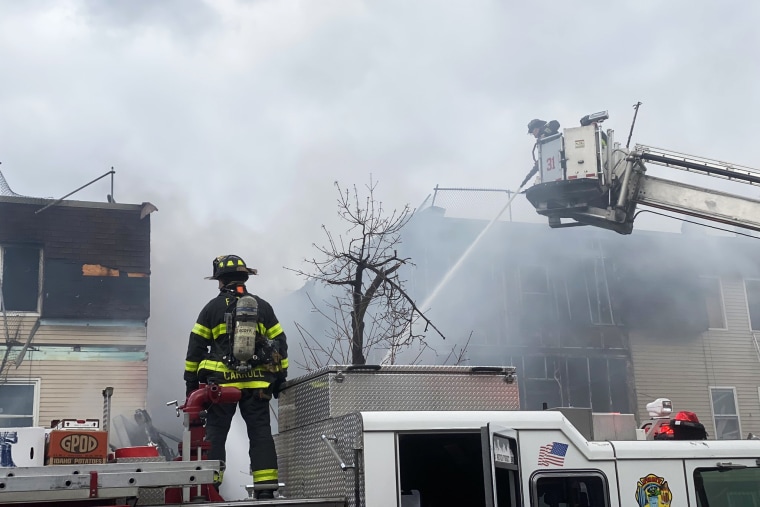 "This tragic and frightening event after the inferno we saw just days ago just really adds the pressure on the Bronx," Mayor Eric Adams said Tuesday afternoon.
Tuesday's incident happened about 3 miles south of the deadly fire at a 19-story residential building on Jan. 9 that killed 17 people. Authorities believe a malfunctioning electric space heater was to blame in that fire.
The cause of Tuesday's blast remains under investigation. Officials acknowledged that there was a report of the smell of gas before or around the time of the blast, but any connection to gas is preliminary, they said.
Chief of Fire Operations John Hodgens said three buildings were damaged when firefighters arrived, the fire was raging and three people needed to be rescued.
Adams said police rescued a woman who was "trapped inside" one of the structures.
Hodgens said firefighters found two sisters who had been inside the structure on the ground outside after the blast.
One of the women died and the two others were hospitalized, he said. Police said the three women were all older than 65.
The blaze was under control by late afternoon.
Videos showed plumes of smoke billowing from the building, which appeared to be three stories high.
People told NBC New York that they thought it was snowing until they noticed that what was falling was ash.
Fire marshals, police arson investigators and agets of the federal Bureau of Alcohol, Tobacco, Firearms and Explosives were among the investigative team, officials said.
City leaders expressed concern about the two deadly events this month in a community that once suffered structural losses and a sense of widespread neglect in the 1970s, when much of the borough was rubble and ash or brick hulks patched with plywood.
"We as a borough are absolutely devastated," Bronx Borough President Vanessa L. Gibson said at an afternoon news conference. "Yet another fire that we're facing here in the South Bronx and Longwood."
The office of Gov. Kathy Hochul vowed to help make the community whole after the flames are gone, but councilman Rafael Salamanca said it has been a heart-wrenching few weeks for residents of the borough.
"This is nothing new here in the South Bronx," he said. "In the '70s and '80s many of these buildings were burnt down to the floor. To see these fires really breaks our hearts."