A woman in California drowned after the car she was in drove into floodwaters as El Niño-inspired storms hit the area over the weekend, and homes were damaged.
The woman, who was not identified, was a passenger in a car that drove around a blockade in Olivehurst and became submerged, NBC station KCRA of Sacramento reported. A man who was driving the car escaped, the station said. It was unclear whether he would be charged with a crime.
"The water was 6 to 8 feet deep by the time we were able to get into the vehicle. It took the dive team a while to find it," Olivehurst Fire Chief Wade Harrison told reporters.
"Turn around, find another way around — it's not worth it," Harrison said.
Another person was killed in San Ramon, when the driver's car jumped off the roadway and hit several trees, NBC Bay Area reported. Officials said a wet roadway and speeding were the likely causes of the crash.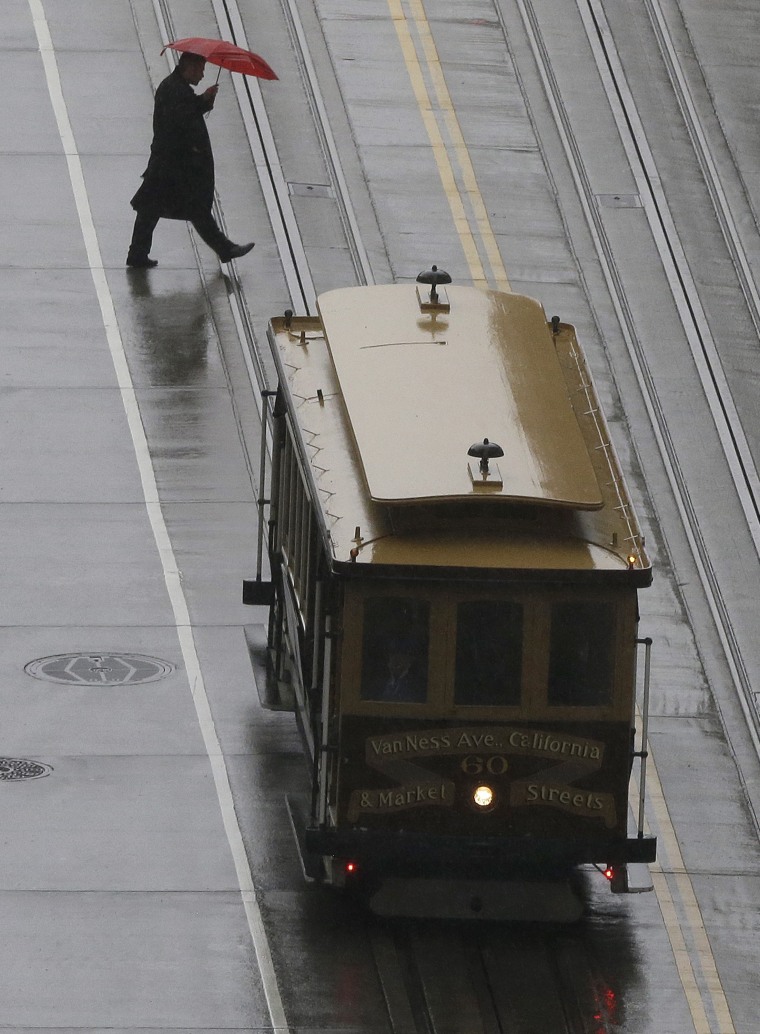 In Southern California, four people and a dog were rescued from the Los Angeles River after they were swept from a homeless encampment into rushing floodwaters, NBC Los Angeles reported.
A series of storms began sweeping through much of California on Friday and were expected to last through Monday, forecasters said.
A string of Pacific storms was expected to continue along the West Coast throughout the week, with higher elevations getting significant amounts of snow.
Few higher elevations of Marin, Monterey, Santa Clara and Santa Cruz counties had picked up more than 6 inches of rain by Sunday night, but 8.89 inches was reported at Mount Umunhum.
Droves of snowboarders, skiers and sledders packed nearby slopes Saturday, while tourists braved wet weather and visited San Francisco landmarks before an even more blustery storm arrived later in the day, bringing nearly an inch and a half of rain — breaking a daily rainfall record set in 1962.
"It doesn't matter if it rains. We want to see as much as possible, because we only have four days," said Olle Klefbom, a tourist from Sweden wearing rain jackets and holding umbrellas with his family, who waited for a cable car Saturday afternoon. "We want to go to Alcatraz this afternoon. But if it rains too hard, we'll go shopping instead."
Downtown Soquel, in Santa Cruz County, got more than an inch and a half in a one hour period Saturday, according to county officials. Creeks rose above flood stage but subsided by Sunday, they said.
In San Jose, flooding led to mudslides and rock slides that blocked a lane on Highway 17, according to The Weather Channel.