A carbon monoxide leak at a Michigan hotel Saturday morning led to one child's death and caused 11 people, including six other children, to be rushed to the hospital, police said.
The child — later identified by police as Bryan Douglas Watts, 13, of Niles — died en route to a local hospital, while the other children were transported to Memorial Hospital of South Bend, Indiana.
They are all expected to make a full recovery, a spokesperson for the Lakeland Health Hospital in Niles told NBC News. They range from ages 12 to 14.
One hotel worker at the Quality Inn and Suites in Niles, along with two Berrien County officers and two Niles city police officers were also treated for exposure to the poisonous gas.
The officers have all been released, but the employee is still being treated.
Hotel staff found the children lying unresponsive at an indoor pool deck and the breakfast area adjacent to the pool at 10 a.m. ET after noticing their figures through a window, Niles Fire Capt. Don Wise told NBC affiliate WNDU.
The Fire Department also said it found one of the children in a first-floor room unconscious and not breathing after family members alerted authorities.The child said she had just come from the pool.
The carbon monoxide monitor used upon entering the hotel revealed that the levels were 16 times the safety limit at 800 parts per million in the pool area and maintenance room, Niles Police Chief Jim Millin said. Normally, the safety code permits 50 parts per million.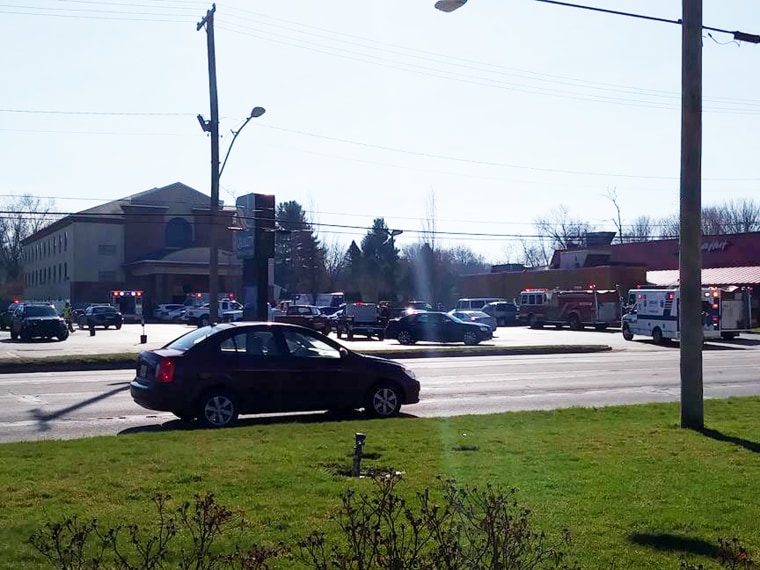 "Officers quickly checked the airway of all involved to ensure they could breath, administered chest compressions to those in need and were able to get all the kids involved out of the building," Millin said.
"I have never seen something like this in 30 years," Wise added. "The first responders didn't have time to get their airpacks."
One witness told WNDU that one of the mothers was screaming in the hallway when she came upon the children's limp bodies.
"She was screaming, 'My kids, my kids,'" the witness said. "I didn't see any movement in their bodies at all."
Related: 'Very Tragic': Carbon Monoxide Blamed for Killing Six in Michigan Family
Another witness, Terry Nalian, told NBC News that he had walked past the pool, smelling a noticeable odor, but didn't think much of it and went back to his room to resume his work. He realized, however, that something was amiss when he heard commotion.
"I saw that EMS, you know, working on people just outside of the pool ... and I saw one young lady just lying flat on her back motionless, foam coming out of her mouth," Nalian said. "And I just walked right past her, just again, praying for her."
Niles authorities said it was too early to know the cause of the carbon monoxide leak, but Wise suspects it could have been from a natural gas heater.
"Carbon monoxide is odorless, colorless, tasteless. You'll wind up getting flu-like symptoms, vomit, then go unresponsive," he added, "but there isn't much time between getting nauseous and going fully unconscious."
The hotel's spokesman said the incident was "isolated" and is currently working closely with local authorities to handle the situation.
"Our highest priority is always the safety and well-being of our guests," the spokesman said.
The hotel was evacuated and remained shut down after the incident.
The local health department planned to inspect the facility Saturday afternoon to determine if the pool should remain closed and the rest of the hotel could be reopened.