Three people are dead in Oklahoma after a tornado struck Wednesday night, authorities said.
The McClain County Sheriff's Office confirmed two deaths and said in a Facebook post that crews were responding to reports of injuries and people trapped in their shelters. A third death was confirmed by the office and the governor on Thursday morning.
"Last night, severe weather devastated parts of Shawnee & Cole and three of our fellow Oklahomans lost their lives. As we come together in prayer for all those affected, we're working diligently to assess the damage and restore our communities," Gov. Kevin Stitt tweeted.
Residents of Cole, a town in McClain County about 25 miles south of Oklahoma City, were told to take shelter immediately Wednesday evening. The county's emergency management agency said at 7:39 p.m. that a dangerous tornado was over the town.
The tornado that hit Cole was rated an EF3 with peak winds between 150 and 155 mph, the National Weather Service in Norman said Thursday after conducting storm damage surveys.
Tornadoes that hit in the area of the city of Shawnee, and at Etowah have been rated as EF2, the weather service said.
Helicopter video from NBC affiliate KFOR of Oklahoma City showed destroyed homes in and around Cole, a town of around 620.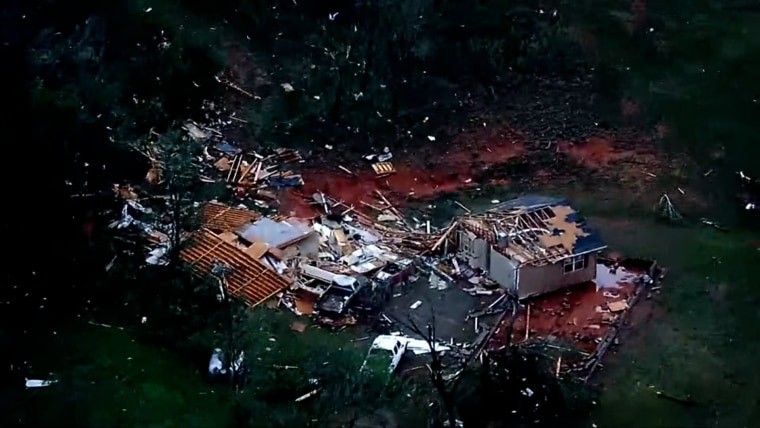 Oklahoma Highway Patrol Trooper Eric Foster told reporters that Cole had significant damage and that trees and power lines were down.
He said the rural nature of the community and the state, as well as the damage, means searchers needed time to check on damaged properties and storm shelters.
"We're having to park and walk miles to get into a lot of these places," Foster said Wednesday night.
The McClain County Sheriff's Office said Thursday evening that everyone ie believed accounted for following the storm.
Over 50 homes were affected, the sheriff's office said.
In Norman, which is east of Cole, the University of Oklahoma told everyone on its campus to seek immediate shelter and to stay away from windows as the dangerous storms approached. The threat of tornadoes later passed.
In Pottawatomie County, the weather service warned of a storm with a tornado approaching Shawnee, a city of around 30,000. It wasn't immediately clear whether there were any injuries.
Stitt, the governor, declared a state of emergency for five counties after touring the damage in Cole and Shawnee. The declaration suspends some regulations to help get aid to affected areas, his office said.
Pottawatomie County Emergency Management said in Facebook posts that roads and streets were blocked by debris or power lines, "too many to list." It urged people to stay home so first responders could do their jobs.
Oklahoma Baptist University in Shawnee said classes were canceled Thursday and Friday, and students were told to stay in their housing units Wednesday night, citing debris and downed power lines.
"No injuries have been reported but damage to campus is significant," the university said in a Facebook post.
The weather service on Wednesday had forecast a chance of severe thunderstorms, as well as tornadoes, in parts of the Great Plains because of a cold front.