Three people are dead after a storm front wreaked havoc Sunday in the Midwest and the South.
One person was killed when a tornado felled a house in Martin County, Indiana, officials said.
The director of Martin County Emergency Management, Cameron Wolf, confirmed the death and said the victim's injured partner was airlifted to a hospital. The person's condition was unavailable.
Wolf described the tornado damage as somewhat isolated.
In Arkansas, two people were killed when a tree fell on their home in Carlisle Sunday night, according to the Carlisle Police Department.
Elsewhere, more homes were damaged, roadways were blocked by tree limbs and debris, and large hail was reported as the same storm front moved through south and central Indiana and adjacent states.
Multiple tornadoes were reported Sunday afternoon in central Indiana, the National Weather Service said. Forecasters believe separate vortexes damaged structures in Greenwood, Bargersville and elsewhere.
After surveying storm damage, the weather service field office in Indianapolis confirmed three tornadoes hit Martin, Johnson and Monroe counties. Additional details on the tornadoes are "forthcoming," according to the service.
Former Vice President Mike Pence, who was governor of Indiana in the 2010s, tweeted: "Our hearts are with all the families impacted by today's devastating tornado in Greenwood, Indiana. Praying for all those affected and our First Responders."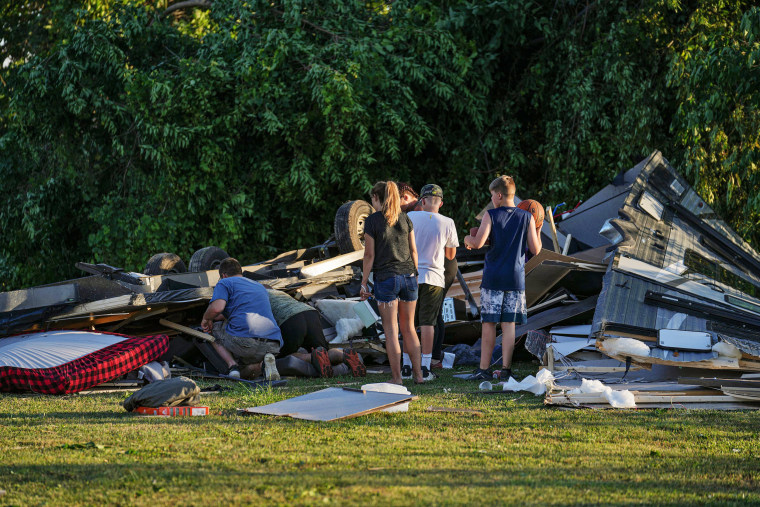 Earlier in the day, Indianapolis-based weather service meteorologist Earl Breon said "home, crop and tree damage" was likely. By evening, the weather service announced, damage assessment teams would be on the ground in ​Johnson, Martin and southwest Monroe counties Monday morning.
In the town of Bargersville, south of Indianapolis, Fire Chief Eric Funkhouser said no serious injuries were reported but estimated that 75 homes had moderate to severe damage, according to NBC affiliate WTHR of Indianapolis.
Michael Pruitt, a Bargersville fire spokesperson, said a few structures may have collapsed on a 4-mile swath of damaged earth.
Bargersville fire officials said a secondary search of the most damaged neighborhoods was taking place Sunday night to ensure that any possible casualties are reached and counted.
Emergency shelters were set up throughout central Indiana for those whose homes were rendered uninhabitable by the tornadoes.
Breon said central Indiana residents also reported hail mostly in the 2-inch range but with some examples as large as 4 inches — big enough to dent vehicles and damage rooftops.
Motorists who braved area roads were on the lookout for fallen limbs and debris, he said.
Small planes were overturned in Millington-Memphis Airport where the roof of a terminal was also damaged, according to the Millington Fire Department.
The front, produced by cold air from the Great Lakes region moving south and east and clashing with a heat wave in the South, had moved southeast out of the state by late evening, with weather service tornado watches and warnings for Indiana tapering off.
The unstable line of thunderstorms contributed to power outages for 702,304 American utility customers in Wisconsin, Michigan, Indiana, Kentucky, Arkansas, Tennessee, Mississippi, Alabama and Georgia, according to electricity tracker PowerOutage.us.
More than 350,000 utility customers across the nine states were still impacted by outages Monday afternoon, according to the online tracker.
In Tennessee, the restoration of power is expected to last multiple days, Memphis Light, Gas and Water Division said in a statement Monday. The company is urging residents without power to make a plan.