A suspect remains at large in an alleged plot to kill officers after the fatal police shooting of Alton Sterling at a Louisiana store, authorities said Tuesday.
Col. Mike Edmonson, superintendent of the Louisiana State Police, said at a news conference that the plot, had it been carried out, would have caused "substantial harm to police in the Baton Rouge area."
Baton Rouge Police Chief Carl Dabadie Jr. said the plot was uncovered following a robbery Saturday shortly after midnight at a pawn shop where eight handguns and a BB rifle were stolen. Two of the handguns have yet to be recovered, he said.
Two men — Antonio Thomas, 17, and Malik Bridgewater, 20 — were arrested on firearms and burglary charges. A third, Trashone Coats, 23, was arrested and charged with illegal possession of a stolen firearm.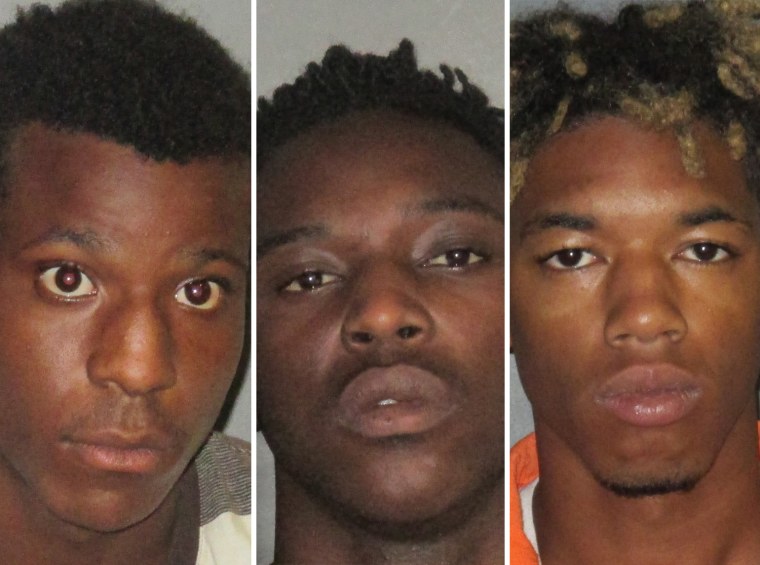 A fourth, whose identity isn't known, is believed to be still at large, along with the two missing handguns, police said.
A 13-year-old boy, who wasn't identified because he's a juvenile, was also taken into custody in connection with the burglary, police said later in a statement.
Police said in the statement that Thomas was arrested on the roof of the pawn shop with a handgun and a BB rifle and "stated that he and three other suspects stole the firearms and were going to get bullets to shoot police."
Dabadie said Thomas disclosed "real, credible evidence" that law enforcement officers were under a serious threat.
Authorities said they couldn't reveal more details because the investigation is active and undercover officers remain in the field, but Edmonson said that as long as a fourth suspect remains free, all local law enforcement officers are in danger.
Dabadie said: "Our officers have been working around the clock to get these firearms off the streets of Baton Rouge."
Likewise, all of the other officials at the news conference — including the head of the local office of the federal Bureau of Alcohol, Tobacco, Firearms and Explosives — variously described the threat as "real," "substantial" and "credible."
In a reference to the fatal shootings of five police officers after a protest last week, East Baton Rouge Parish Sheriff Sid J. Gatreaux said: "Look at what happened in Dallas — a peaceful protest, and then some madman. The threat speaks for itself. We can't take anything for granted anymore."
Authorities in Baton Rouge arrested almost 150 people in weekend protests over the shooting of Sterling, 37, on July 5.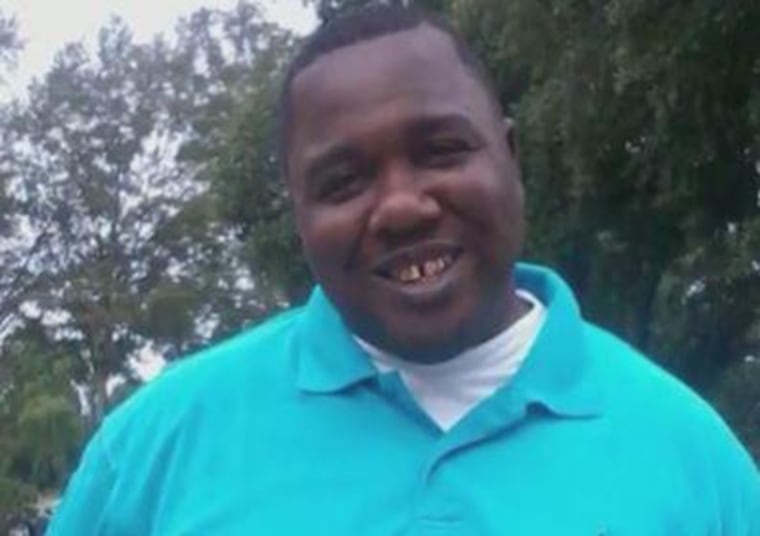 Two police officers, both of them white, are on administrative leave pending an investigation. The U.S. Justice Department has opened a separate investigation of possible civil rights violations.
The shooting, which was recorded on cellphone video, set off days of protests in Baton Rouge, where demonstrators have been met by hundreds of heavily armed and shielded police and sheriff's deputies.
Police have told NBC News that most of those arrested were from out of town, but local leaders maintain that the show of force is a stark representation of severely strained relations between law enforcement and African-American residents.
The president of the local chapter of the NAACP has called on Dabadie to resign as police chief.