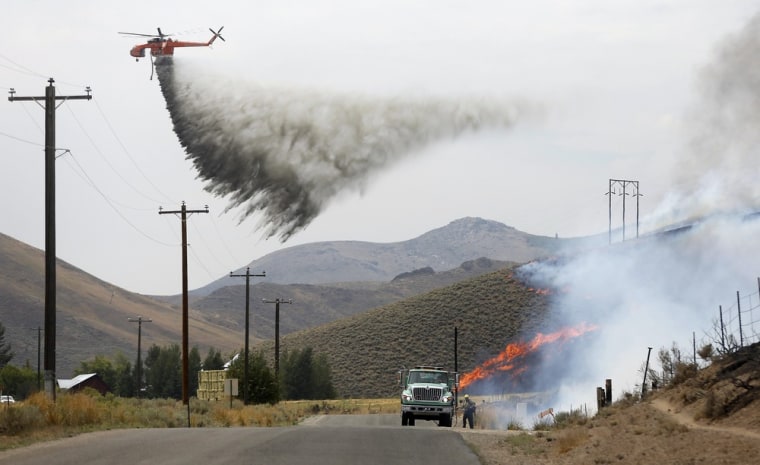 A raging wildfire near the upscale Idaho ski town of Ketchum early Sunday was threatening over 10,000 homes at it burned nearly 93,000 acres on its 11th day.
The number of residences evacuated by the Beaver Creek Fire had risen to more than 2,300 by Saturday evening, even as crews made some progress on the wildfire's south end along the borders of darkened foothills west of the resort town of Hailey.
The fire is 6 percent contained. 
On Saturday, five more "hotshot" crews arrived in the affluent region where celebrities like Arnold Schwarzenegger, Tom Hanks and Bruce Willis own homes. More are expected to over the course of the weekend to continue focusing on protecting homes in a sparsely populated county. 
Evacuation zones were expanded to areas north of Ketchum, and in the evening, residents of West Ketchum were put on notice that they might ordered to flee. Some 7,700 homes were under pre-evacuation notice, NBC station KTVB of Boise reported. The Sun Valley ski resort is also at risk.
More than 800 state and federal firefighters were trying to put out the fire with air support, said officials who are also dealing with nine other large wildfires in the region. Gov. C.L. "Butch" Otter issued a disaster declaration Friday evening and assigned the Idaho National Guard to provide support, KTVB reported.
"We're overwhelmed really with doing evacuations, so we're basically doing it by phone, and then we're following up going door to door," Blaine County Sheriff Gene Ramsey told KTVB. "People have been very receptive and a majority of people are leaving, of course there's always a few who want to stay, and I hope they don't endanger anybody by staying."
The wildfire was ignited by lighting on Aug. 7, according to officials. Gusty winds and low humidity have made the fire unpredictable and caused it to expand rapidly, officials said. Temperatures were in the 90s on Saturday.
The National Weather Service forecasts that such conditions will continue over the weekend. 
The Beaver Creek Fire has claimed one primary residence, one bunkhouse and six other buildings, federal fire information officer Sandy Miller told Reuters.
"A lot of people are just watching the fire and our customers are talking about nothing else," Alexis Sualez, barista at Zaney's River Street Coffee House in Hailey, told Reuters. "People are pretty worried."
To the west of the Beaver Creek Fire, the Elk Complex Fire had burned more than 125,000 acres and reduced at least 38 homes to cinders by Friday. Mike and Cathy Weil, residents of Pine, Idaho, sat outside as the flames approached their house, then set their shed and a tree on their property aflame, according to KTVB.
"It was just me, the Lord and a garden house," Mike Weil told the station. "That's what I had right there. Not too terribly bad, but not much against what we had out here."
Daniel Arkin of NBC News, Reuters and The Associated Press contributed to this report.