An NJ Transit train full of commuters collided with a tractor-trailer in Little Falls, N.J., at the height of the Wednesday morning rush, injuring 10 people, including two seriously.
NJ Transit spokesman John Durso Jr. said the train was carrying 71 passengers and crew when it hit the back of the trailer shortly before 8:30 a.m. Wednesday.
Durso said the seriously injured include an NJ Transit employee who had been aboard the train and a school crossing guard who authorities say was struck by debris.
The driver of the tractor-trailer, which had been carrying paint, was not seriously injured, authorities said. Dozens of yellow buckets were seen strewn around the tracks and road near the crumpled truck.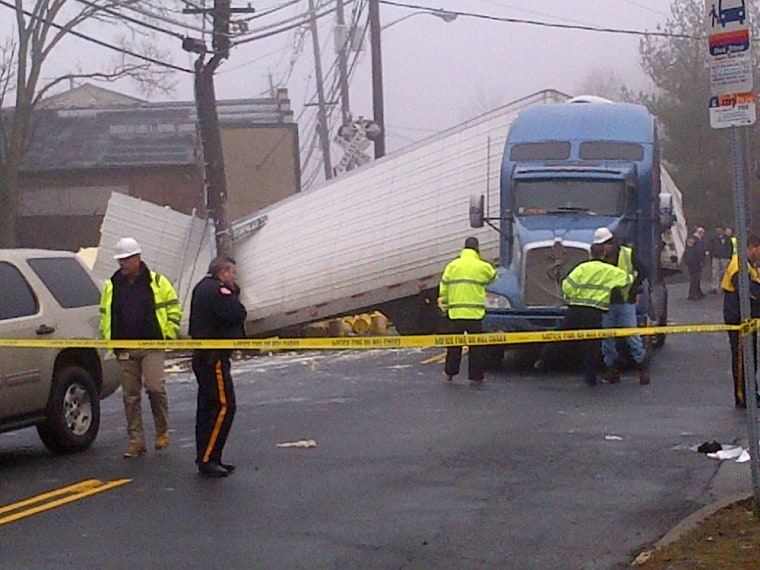 Durso said a preliminary investigation reveals the tractor-trailer was backing up after failing to make a tight turn when the crossing gates came down. The train didn't have time to stop, he said.  
The diesel-engine train was running on New Jersey's Montclair-Boonton line.
NJ Transit said the 8:11 a.m. train and 9:13 a.m. train on that line were canceled because of the crash, and passengers are advised to use bus service. Later train service experienced some delays.
Durso couldn't say whether the accident would affect service during the evening commute. Main Street remained blocked off for several blocks around the accident site throughout the morning.