At least 10 passengers on a Spirit Airlines flight from Dallas to Orlando were taken to hospitals after a battery fire forced the pilot to make an emergency landing in Jacksonville on Wednesday, officials said.
Firefighters responded to Jacksonville International Airport Wednesday afternoon for reports of smoke in the cockpit of a plane, Jacksonville Fire and Rescue Capt. Eric Prosswimmer said.
A battery had ignited in an overhead compartment, but flight crew members and passengers, including a retired firefighter, were able to put it out before firefighters arrived, he said.
"They did a phenomenal job," Prosswimmer said.
At least 10 people were taken to multiple hospitals, including passengers and crew members, he said. All had non-life-threatening conditions.
In photos shared on social media, smoke could be seen filling the cabin of a plane.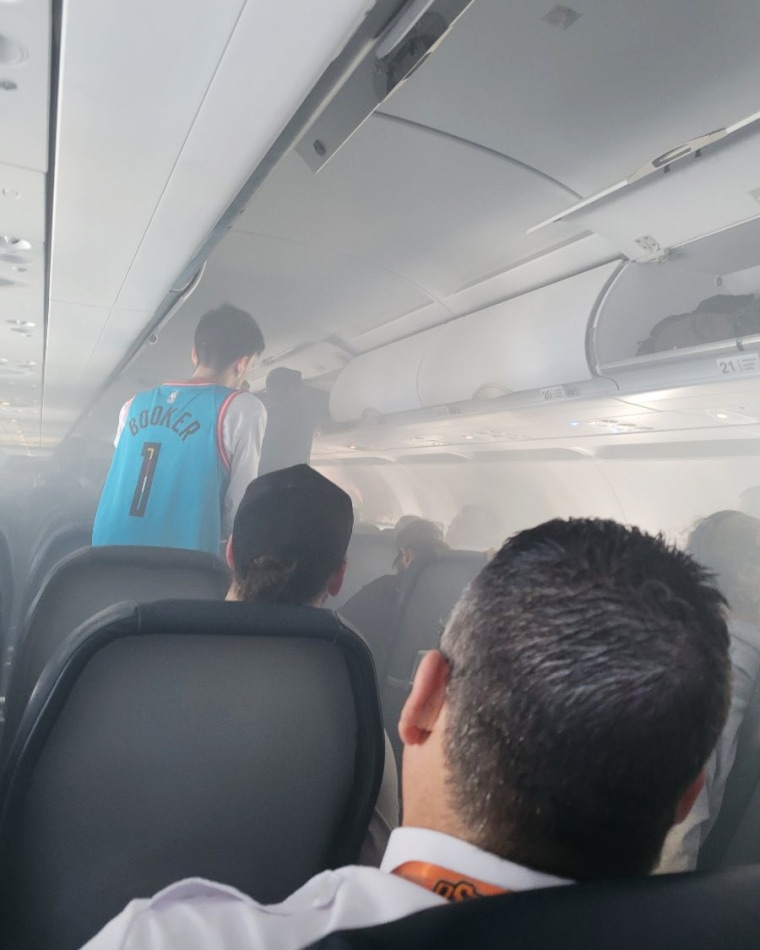 The airline said Spirit Flight 259 had taken off from Dallas just after 2 p.m. local time and landed at Jacksonville International Airport just after 3:50 p.m. because of a battery fire that originated in an overhead bin, NBC affiliate WTLV of Jacksonville reported.
Spirit said a passenger's personal item started the fire. The airline did not immediately respond to a request for comment.
Kerri Arakawa described how passengers and crew members managed to put the fire out.
"There was a retired fireman that jumped up, and flight crew came in, and they tried putting water on it, and another guy went and got a bucket, because I think the fireman reached in and grabbed it, and they got it put out, but it took about 20 minutes," Arakawa said, according to WTLV.
"The pilot got us out of the air really fast. It was exciting and had a really smooth landing of all the things, but it was quite frightening for a little while until we knew we were on the ground and safe." Arakawa said.
The Federal Aviation Administration will investigate, WTLV reported.