The steady rise in coronavirus cases in the United States and across the globe has had a far-reaching effect on how we interact with one another. Some jittery people have turned to panic buying at grocery stores and pharmacies, refused to shake hands and canceled or put off travel plans.
Here are some of the ways normal routines are being altered as the virus' spread shows no sign of slowing down.
Kiss goodbye to shaking hands
People are finding alternative ways to greet each other at a time when direct contact is being frowned upon. In South Korea, residents are opting for fist bumps and deep bows.
French officials are recommending that people refrain from the traditional "la bise" greeting, or kissing on both cheeks. Instead, some people are tapping elbows or shaking feet instead of hands.
Full coverage of the coronavirus outbreak
Australian leaders are suggesting people pat each other on the back in lieu of a handshake, while Israeli Prime Minister Benjamin Netanyahu has taken to greeting people in "Namaste"-style — palms together and a slight bow.
Try not to touch your face
A lot of us didn't realize just how much we were touching our faces until public health officials advised people to wash their hands more carefully to prevent the spread of germs.
Even President Donald Trump said he was trying to fight the urge.
"I haven't touched my face in weeks," Trump joked during a coronavirus briefing with airline executives. "I miss it."
Other celebrities have also voiced the difficulty.
But while social media has magnified fears over face touching, health experts told NBC News that people shouldn't become obsessed with their inability to stop. Face touching, said Joseph Fair, a virologist and outbreak response specialist, "isn't going to be the end of humanity."
Leave your mug at home
Going out to eat and drink can be a regular ritual for many, but restaurants and eateries are changing how they do business.
Starbucks announced a pause on allowing baristas to make drinks in customer-provided mugs and tumblers as one way to "prevent the spread of coronavirus."
Some mom-and-pop establishments are also scrubbing down tables, cutlery and cash registers more often, and one cheese and wine shop in New York City is even taking employees' temperatures before they start their shifts.
In Winston-Salem, North Carolina, restaurant owner Claire Calvin told NBC affiliate WXII-TV that she has her employees wash their hands every hour and perform sanitation procedures three times a shift. She also is relaunching a dinner delivery program, knowing that customers may be more apt to just stay home instead of eating out.
Asian businesses and restaurants across the U.S. have taken a hit due to unfounded fears that Asian populations harbor coronavirus.
"I've never seen it this empty," Alex Won, who was eating in Los Angeles' Koreatown, told The Associated Press. "It's sad."
Work from home
Companies are prepping for scenarios where going to work might not be safe. In the Seattle area, which has become an epicenter for coronavirus deaths in the U.S., tech giants such as Amazon and Facebook have asked employees to work from home throughout March, and many companies in other cities are planning for a similar scenario.
Schools are also feeling the effects as students around the world are missing classes or doing long-distance learning, which has disrupted family schedules and caused working parents to scramble to figure out child care options.
Download the NBC News app for full coverage of the coronavirus outbreak
But some workers make their living by interacting with the public.
Tewodros Amare, a full-time Uber driver in Oakland, California, said he isn't taking any chances when it comes to the coronavirus. He cleans his car with disinfectant wipes and rejects rides requested from San Francisco's international airport.
"I wear rubber gloves," he told NBC News. "And when I pick up more than two riders, I wear a mask."
Gyms do their part
The idea that more people may choose to avoid the gym and work out from home has helped companies such as Peloton, which sells stationary bikes and has seen its stock climb in recent days.
But gyms and fitness studios are trying to stave off any customer loss by becoming a model of cleanliness and encouraging members to do their part by wiping down machines and mats.
"Cleanliness in a gym is obviously very important because we are sweating here and we have so many people in and out throughout the day," Jason Wallace, the owner of Title Boxing Club in Louisville, Kentucky, told NBC affiliate WAVE.
Aside from spraying down every bag and medicine ball, members at the club are asked to wash their hands before and after class and are urged to stay home if they're feeling sick.
Be mindful on public transportation
Subways, buses and other forms of public transportation can feel like germ factories, but face masks and even gloves have become a common sight for commuters in recent weeks.
In New York City, trains and buses are being disinfected every three days, and officials said they have an arsenal of antiviral treatments.
"When you get on a bus or when a child goes to school, it's not bad cologne or perfume," New York Gov. Andrew Cuomo said. "It is bleach."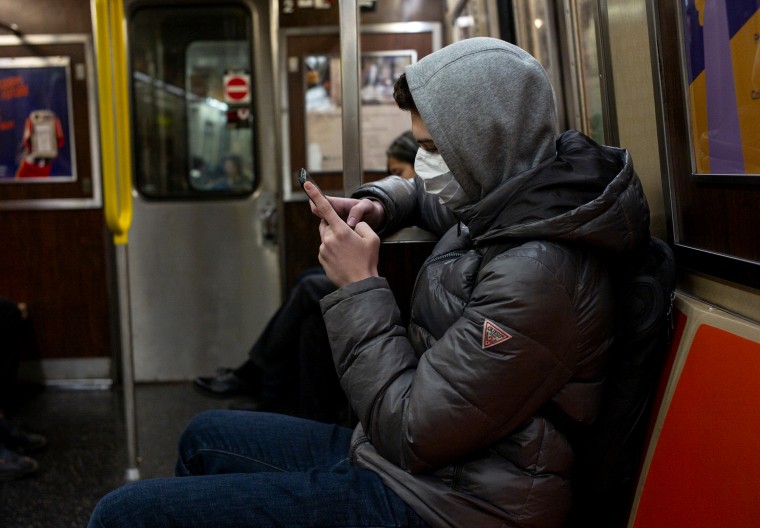 Listen to music, stream events at home
France last month banned gatherings of more than 5,000 people in confined spaces in an effort to slow the spread of the coronavirus, which could mean fewer concerts and rallies.
Tomorrowland Winter 2020, which was set to take place this month at a French alpine ski resort and feature artists Steve Aoki and Afrojack, was canceled because of the ban.
Other artists, including K-pop boy band BTS, Louis Tomlinson and Queen, have canceled or postponed concerts in Asia, France and elsewhere, upsetting fans.
Big tech is scared, too: Apple and Twitter pulled out of the South by Southwest festival over coronavirus concerns, Adobe canceled its live summit, and Facebook announced it is canceling an annual 5,000-person marketing conference in San Francisco.
Worship differently
Drinking wine out of shared chalices during Holy Communion and shaking hands are regular parts of a church service. But the coronavirus has church leaders rethinking worshipers' interactions.
Paul Etienne, the Catholic archbishop of Seattle, said in a letter to parish leaders that wine should not be distributed during Communion until further notice and churchgoers should receive the sacrament wafer in their hands, not on their tongues, the AP reported.
Furthermore, sick parishioners are being urged to stay home and those who do attend Mass are asked to avoid the traditional act of shaking hands at the sign of peace.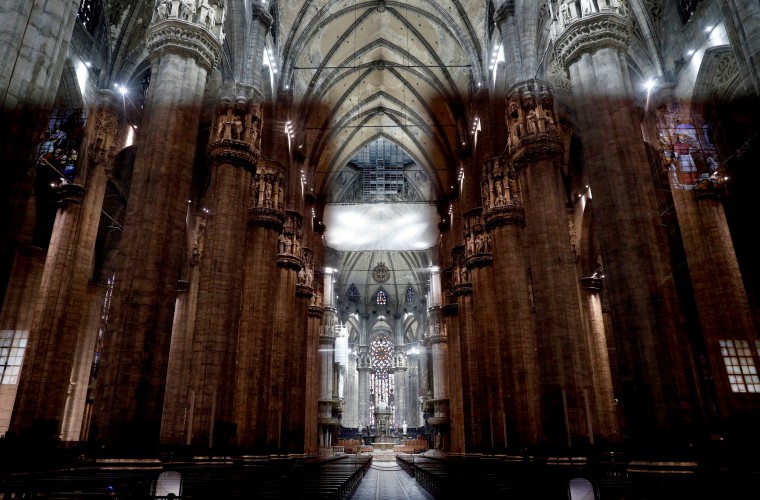 In Chicago, the archdiocese is requiring priests, deacons and other personnel to wash their hands before each Mass and use hand sanitizer before and after Communion.
Meanwhile, photos and videos circulating on social media have showed a dramatic change at the Grand Mosque in Mecca, Saudi Arabia. The holy site, which is typically crowded with worshipers, is nearly empty.
Saudi officials are working to curb the coronavirus, which has infected at least five people in the kingdom.
Switch to FaceTime
A quick trip to visit friends and family is suddenly causing people to think twice. Instead of getting on a bus, driving a few hours or taking a train, people are staying home and communicating online.
Airports have caused particular panic for some, with people delaying trips or canceling flights in an effort to assuage their anxieties over the virus.
Global airline carriers, including United, Delta and American, have suspended flights and cut down on routes. And some of the world's busiest airports have turned into ghost towns.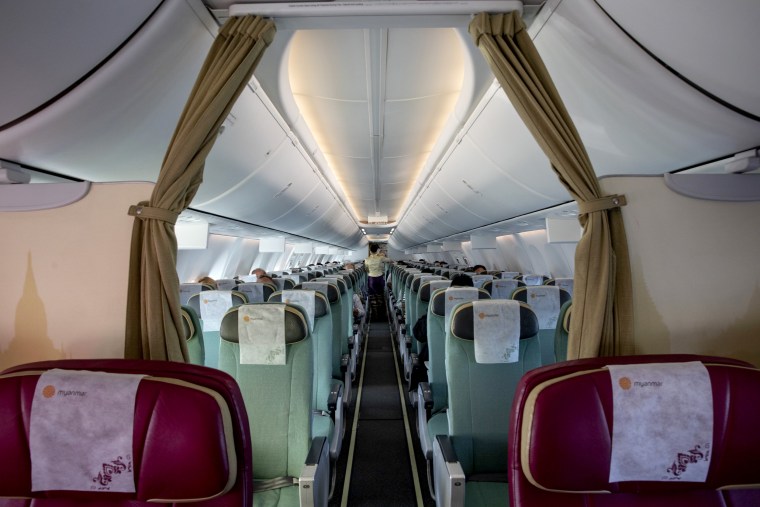 Don't place your bets
After an employee of the Wildhorse Resort & Casino in Pendleton, Oregon, contracted the coronavirus, the owners closed down for two days for a deep cleaning. The process involved the use of a Clorox Total 360 System, an electrostatic spraying unit used by hospitals and clinics.
The larger gambling industry is bracing for a slowdown in business as analysts fear visitors might cut back on trips and look to avoid rubbing shoulders with strangers or coming into contact with tables and machines. The Las Vegas area has seen at least one confirmed case of the coronavirus.
Workers on the Strip have noticed a small decrease in business and people who do visit are taking precaution.
"I definitely have seen a lot more people in general walking around wearing face masks," showgirl Lexi McKimmey told NBC News.