Thirteen people were dead and two others were injured after a pickup truck veered into a church van carrying senior citizens Wednesday afternoon in Texas, authorities said.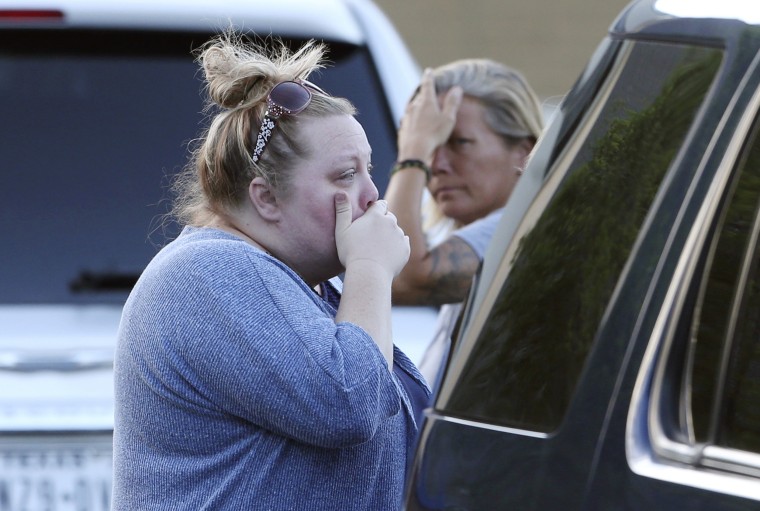 The driver of the pickup truck, identified as 20-year-old Jack Dillon Young, of Leakey, Texas, survived and was airlifted to a San Antonio hospital after the crash, which occurred about 12:23 p.m. (1:23 p.m. ET) near Garner State Park in Concan, Sgt. Conrad Hein of the state Department of Public Safety told NBC News.
The agency told NBC News that the van and the Dodge pickup were the only vehicles involved. All of the dead were from the bus, including its driver, as was the other injured person, authorities said.
The victims, ranging in age from 61 to 87, were identified by the Texas Department of Public Safety on Thursday.
One survivor was identified as Rose Mary Harris, 64, of New Braunfels, Texas.
The pickup truck was traveling northbound, and the church bus was traveling southbound, officials said.
Authorities were still investigating what led to the crash on Wednesday night. The National Transportation Safety Board said it would also investigate.
First Baptist New Braunfels Church said in a statement on Facebook that a "group of our senior adults" were returning home from a three-day retreat when they were involved in the crash. The church said counselors would be on hand Thursday and asked for prayers for the church family.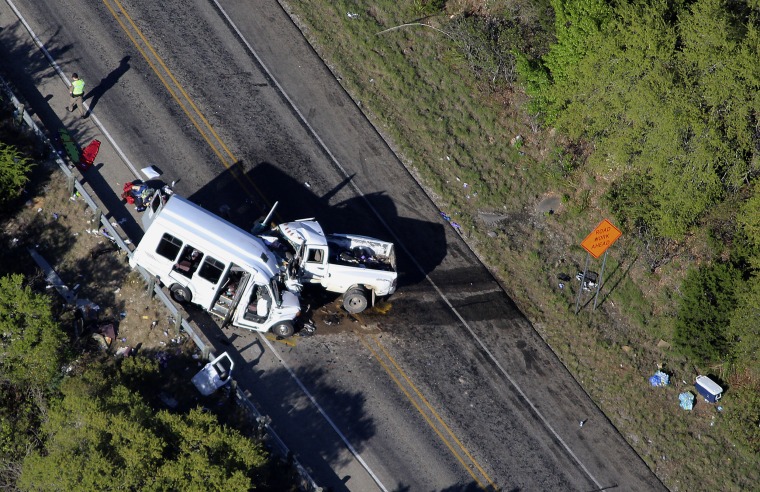 Church administrator Norm Hills told NBC News that the church had very little information and was "anxiously awaiting calls from DPS."
Texas Gov. Greg Abbott expressed his condolences in a statement on Twitter, saying, "We are saddened by the loss of life and our hearts go out to all those affected."
Sen. Ted Cruz, R-Texas, also tweeted a statement, saying his "prayers are with the families impacted by this tragic accident — especially for those who have lost loved ones."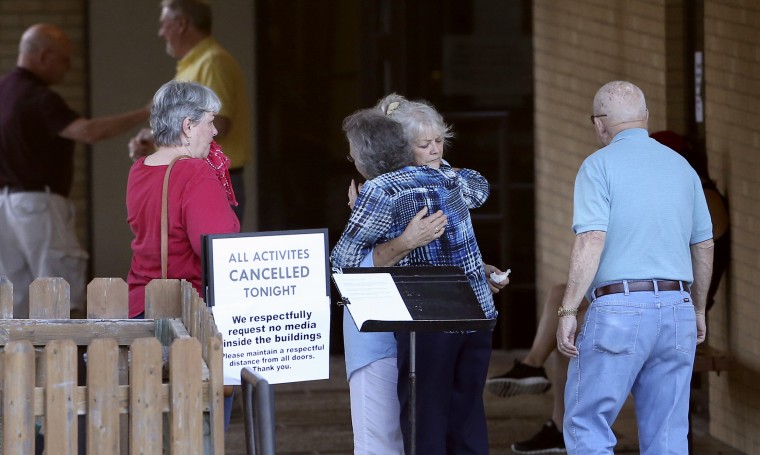 The Texas Department of Public Safety released the following list of names of the deceased:
Murray William Barrett, 67, of New Braunfels, Texas
Howard Bryan Allen, 81, of New Braunfels, Texas
Rhonda Barlow Allen, 61, of New Braunfels, Texas
Harold Boyd Barber, 87, of New Braunfels, Texas
Margaret Robinson Barber, 82, of New Braunfels, Texas
Cristie Clare Moore, 68, Cibolo, Texas
Donna Elizabeth Hawkins, 69, of Schertz, Texas
Avis Scholl Banks, 83, of Austin, Texas
Mildred Goodlett Rosamond, 87, of New Braunfels, Texas
Addie Maurine Schmeltekopf, 84, of New Braunfels, Texas
Sue Wynn Tysdal, 76, of New Braunfels, Texas
Martha Holcomb Walker, 84, of New Braunfels, Texas
Dorothy Fern Vulliet, 84, of New Braunfels, Texas