At least 13 people were killed as a tornado left behind a miles-long path of destruction in Arkansas on Sunday. Another person was killed in Oklahoma.
Major damage was reported in the Little Rock suburb of Mayflower where roofs were ripped off homes.
"It turned pitch black," said Mark Ausbrooks, who was at his parents' house in Mayflower when the storm arrived. "I ran and got pillows to put over our heads and ... all hell broke loose."
Speaking to The Associated Press, he added: "My parents' home, it's gone completely."
The scene was the same in town after town, with emergency workers and volunteers going door-to-door to check for victims.
Nearby Vilonia was hit hard for the second time in three years. Four people were killed in a 2011 storm.
"Homes and businesses are destroyed," said Matt DeCample, a spokesman for Arkansas Gov. Mike Beebe. "The size of the path sounds like a half-mile to three-quarters of a mile wide when it went through."
By 2 a.m. ET on Monday, authorities in Arkansas had confirmed seven deaths in Faulkner County, five deaths in Pulaski County and one death in White County.
More storms were expected Monday in the South and Mississippi Valley.
Tornadoes were also reported in Kansas, Nebraska and Missouri, and golf-ball sized hail rained down in some areas.
At least one person was killed by a tornado that hit Quapaw, Okla., which has about 900 residents. The fire station and numerous other building were destroyed.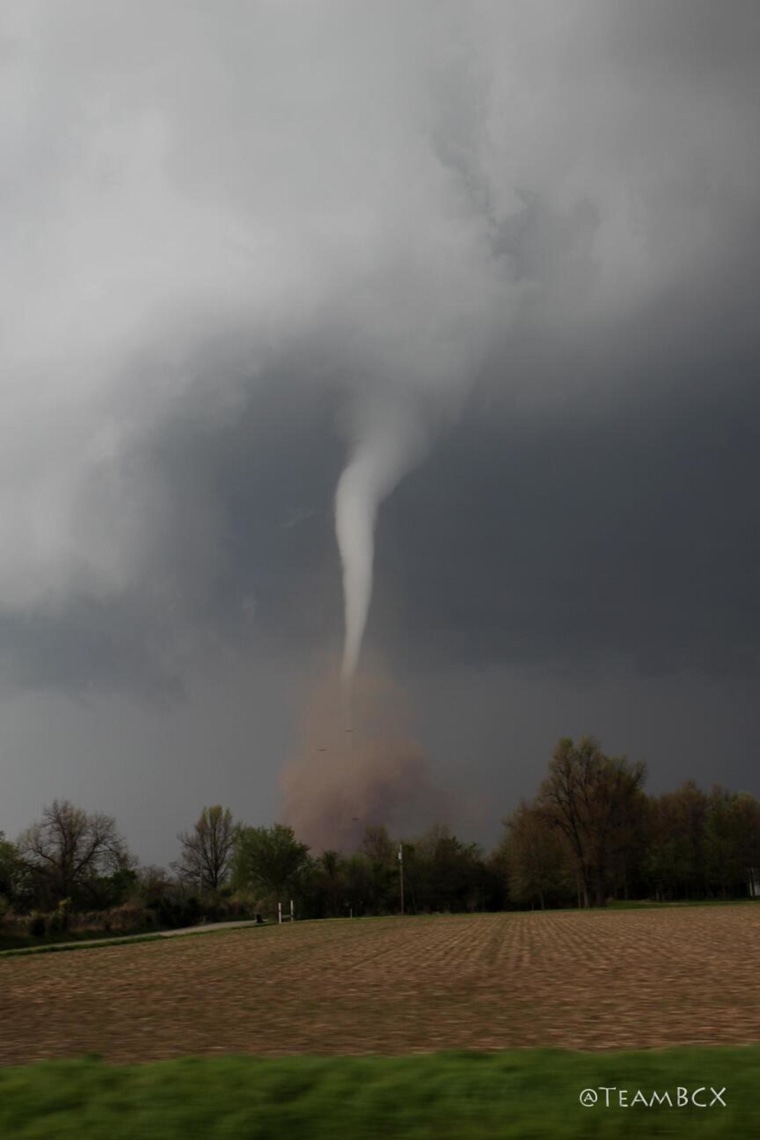 Authorities in the southeast Kansas town of Baxter Springs said several people were injured by a tornado that also caused extensive property damage.
Jason Allison, Cherokee County's emergency manager, said the tornado was estimated to be about three blocks wide and running southwest to northeast of Baxter Springs. Sixty to 70 homes and up to 25 businesses were reportedly destroyed.
Search and rescue efforts were under way early Monday.
A tornado was also reported to have touched down in a rural area near Hume, central Missouri, south of Kansas City on Sunday evening, KSHB reported. It was unclear if there was any damage.
The National Weather Service reported that radar had picked up the rotation of a tornado near Upland, Nebraska, on Sunday afternoon. It was unclear if the twister had touched down or if there was damage.
Flooding caused by excessive rainfall could also be a potential threat, meteorologists warned.
The Associated Press contributed to this report.