Investigators have leads on at least 12 possible victims of a surgeon and his girlfriend who are accused of drugging and sexually assaulting at least two women, the Orange County, California, district attorney said.
Orange County District Attorney Tony Rackauckas said Dr. Grant William Robicheaux, 38, may have used dating apps, such as Tinder and Bumble, to target his victims. Prosecutors allege Robicheaux and his girlfriend, Cerissa Laura Riley, 31, met the two women they are charged with assaulting at restaurants and bars.
"We have more than 12 credible victims, or credible potential victims," Rackauckas said at a news conference Friday. "And that's going to take more work,"
Robicheaux and Riley are charged with rape by use of drugs, oral copulation by anesthesia or controlled substance, assault with intent to commit sexual offense and possession of a controlled substance for sale.
They were arrested on Sept. 11 for the incidents that allegedly occurred in April and October 2016, authorities said. Rackauckas said more charges are possible and the investigation has expanded to other states and other parts of California.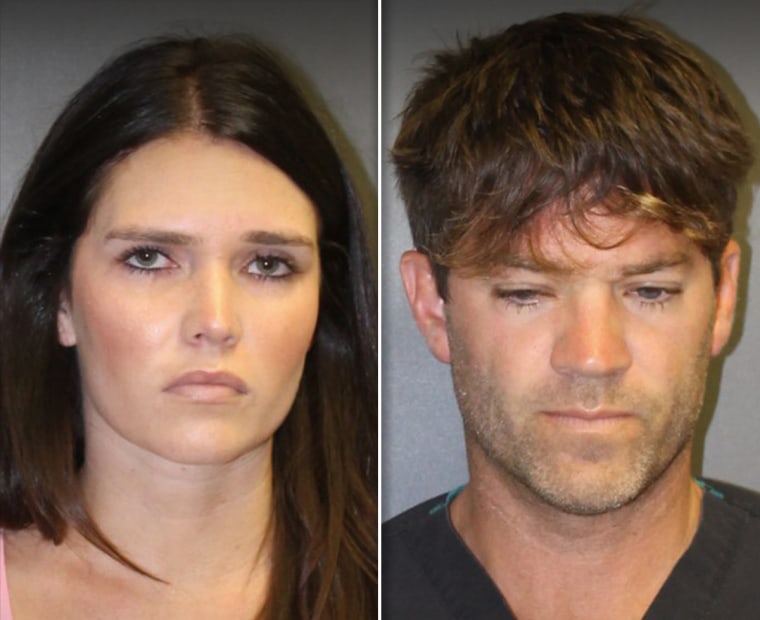 Investigators seized as many as 1,000 images and videos in a January search, and some appeared to show extremely intoxicated women, authorities have said.
Attorneys for the pair have said that "all allegations of non-consensual sex are unequivocally denied" by Robicheaux and Riley.
An attorney representing Robicheaux, Philip Cohen, noted that the couple is charged in only two alleged incidents.
"We are prepared to defend those counts in court," Cohen said. None of the allegations refer to Robicheaux's medical practice or his position as a doctor in any way, he added.
Cohen also said the couple has been aware of the investigation since January when Robicheaux's home was searched by police, and that Robicheaux left the country twice since then and returned before his arrest.
A hearing is scheduled for Oct. 25, when Robicheaux and Riley are expected to be arraigned, the district attorney's office said.
Rackauckas encouraged anyone who has information to come forward.
"Even if you made a conscious decision to party with this couple, or with anybody else for that matter, no one—no one gets a pass to have their way with you once you're unconscious or past the point of consent," he said.
Robicheaux had appeared on a Bravo reality TV series called "Online Dating Rituals of the American Male" in 2014.