A 12-year-old boy sat on a bed in his family's suburban Chicago home with his hands up. Outside his bedroom, almost two dozen SWAT officers were executing a search warrant for his mother's boyfriend.
That's when the fast-moving events on the early morning of May 26 converged into the terrifying moment Amir Worship, who was shirtless, was shot in the knee by an officer, according to the family's lawsuit filed Thursday in Cook County Circuit Court alleging negligence.
While the mother's boyfriend was apprehended, the complaint says, an officer in the bedroom with Amir had ordered him to put his shoes on and was examining the child's shoe with a flashlight while keeping his automatic rifle aimed at him. Then, the officer's gun discharged, with a bullet shattering the boy's kneecap as he sat on the edge of the bed, the family said.
"Mom, they shot me," Amir screamed, according to the complaint describing the 5 a.m. raid in Markham, south of Chicago. "I can't move it," he said in reference to his right leg.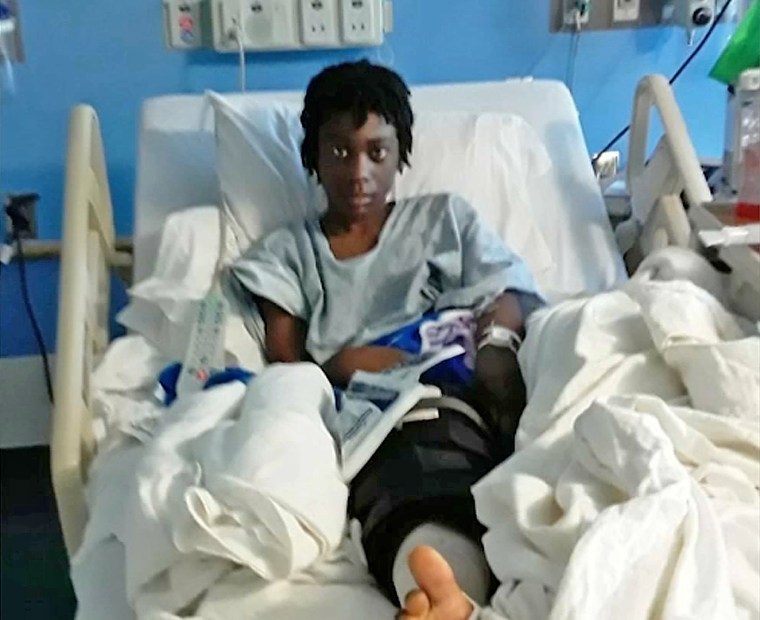 "What is that? There are children in the house," his mother, Crystal Worship, responded after hearing the sound of the "deafeningly loud" gunshot, according to the suit. "Are you shooting them?"
The suit alleges that the gun's "safety lock position" was not on, even though "the room had already been cleared and secured minutes earlier, and it was obvious that Amir was a child who was no threat to officers."
Then, as the officer was giving Amir the shoe back, he "quickly moved his right hand back to the handle and trigger of his rifle, grabbing it and firing it," the suit alleged. The officer had asked Amir how old he was.
Worship said officers grabbed the back of her neck and took her to the police station instead of the hospital to see her son.
At a news conference Thursday, Worship became emotional as she recounted how the raid has traumatized her children, as well as herself.
"Our lives changed behind this," Worship said. "It will never be the same."
Amir's older brothers — Eric, 13, and Robert, 18 — were sleeping in another room when flash-bang grenades used in the raid woke them up, the complaint said. Officers stormed into the bedroom and pointed automatic rifles at their faces, they said.
Eric was placed in handcuffs for up to 60 minutes, and he and his brother were also taken to a police station for questioning, the suit said. Eric was detained for six hours.
Meanwhile, Amir needed surgery on his kneecap, which required 25 stitches along the entry wound, and he was hospitalized for four days, the family said. After the incident, he moved to Texas and continues to undergo physical therapy.
"He's my angel. As a mom, I'm supposed to protect him, and I wasn't there," Worship told reporters. Prior to the incident, her children had never had an encounter with police, she added.
Amir now has nightmares that police could harm him and his brothers, and the once-active athlete stays indoors with blinds drawn, unable to walk or run like he once did, according to the suit.
The complaint said the officers in the raid were from the neighboring communities of Country Club Hills and Richton Park. Police officials did not immediately return calls Friday seeking comment.
Police were serving a search warrant for Worship's boyfriend, Mitchell Thurman, on drug and gun possession charges. Those charges were later dismissed.
In addition, no one in the Worship family was charged in the incident, their attorney, Al Hofeld Jr., said.
The family's suit is seeking damages in excess of $50,000, alleging negligence, willful and wanton conduct, assault, battery, false arrest and emotional distress.
Hofeld said Thursday he is seeking "fair compensation" for the family, and to "see this police practice of pointing guns at young children changed."
In May, a Chicago mother filed a lawsuit after she said her 8-year-old son was handcuffed by police in the rain for 40 minutes following an early morning SWAT raid.
Two years ago, a Department of Justice investigation found that Chicago police routinely violated people's rights, particularly those of blacks and Latinos, and habitually used excessive force against children.