Like most 12-year-olds, Alexis Bortell is energetic and loves to read, write and explore her family's 35-acre farm in Colorado.
But Alexis isn't like most 12-year-olds.
She's written a book, takes cannabis oil daily and is challenging the U.S. Controlled Substance Act by suing Attorney General Jeff Sessions.
Approximately three years ago Alexis had to leave her home in Texas in order to treat her severe form of epilepsy — known as intractable epilepsy — with cannabis.
Now she's suing Sessions so that others like her won't have to leave home in fear of retribution from the federal government if they, too, use medical marijuana.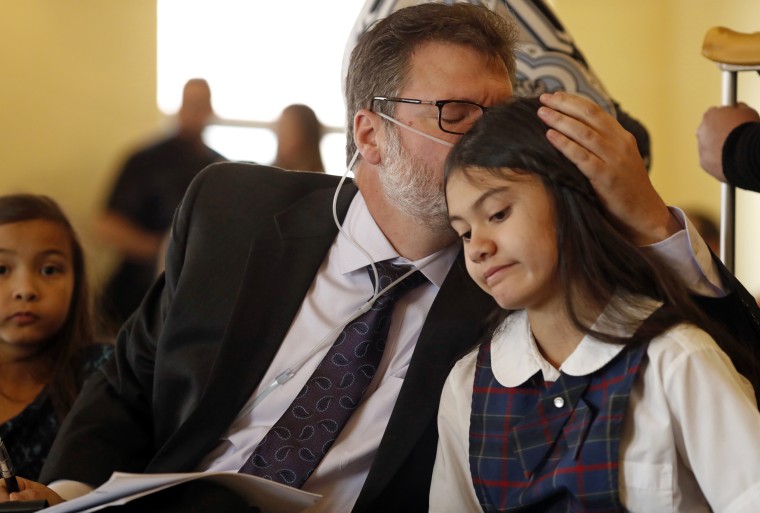 "She just wants to be like everybody else," Alexis' father, Dean Bortell, told NBC News. "When she grows up she wants to be free to choose where she lives and what she does for a living. She wants to be treated like an American citizen and not just a state citizen. She doesn't want to have to fear going to jail every time she sees a police officer."
The suit aims to prove that the Controlled Substances Act, the statute governing federal drug policy, is unconstitutional as it relates to marijuana, according to Alexis' attorney, Michael S. Hiller.
Joining in on the suit with Alexis are plaintiffs Marvin Washington, a former NFL lineman; Jose Belen, an Army veteran; and Jagger Cotte, a 6-year-old Georgia boy with Leigh syndrome, all of whom use medicinal cannabis. The Cannabis Cultural Association is also named as a plaintiff, according to court documents.
"Our objective is to have the Controlled Substances Act as it pertains to cannabis declared unconstitutional so that Alexis, Jagger, Jose and the millions of other Americans who require medical cannabis can live healthy and productive lives," Hiller said.
The Justice Department, which has filed a memorandum in support of a motion to dismiss the case, declined to comment to NBC News. The U.S. Drug Enforcement Agency did not immediately respond to a request for comment.
Related: Cannabis Drug Reduces Seizures in Severe Epilepsy Cases
Moving to Colorado, where medical marijuana is legal, is what first allowed Alexis to start experiencing the near-normal childhood she's living today.
Alexis, who has had seizures since she was 7, takes two doses of cannabis oil a day and keeps a THC spray called Cannatol Rx on her at all times. THC, or Tetrahydrocannabinol, is the active ingredient in marijuana that makes people feel "high." The Cannatol Rx acts like a rescue inhaler or an EpiPen to stop an oncoming seizure if Alexis begins seeing spots before her eyes — her body's warning a seizure is around the corner.
A complaint filed in the U.S. District Court in the Southern District of New York in July says that Alexis ran the gamut of prescription pills, all of which failed to control her seizures before she was left with two options: brain surgery or cannabis.
Marijuana has prevented Alexis from having a seizure for about three years, her family says, and although she's able to live uninhibited by seizures, she is still restricted by federal law.
"She didn't just lose her state," Dean Bortell said. "She lost her home."
Because marijuana is a "schedule one" drug, categorized with other drugs like heroin by the federal government, Alexis can't use her medication on federal property.
Related:Parents Demand Medical Marijuana for Epileptic Kids
That means, as the daughter of two veterans, she can't go onto a military base and take part in programs or use benefits she's entitled to because she needs her Cannatol Rx with her at all times. She also can't visit national parks or go to Disney World.
Additionally, Alexis can't spend Christmas with her elderly grandparents in Texas. If she returned to Texas with her Cannatol Rx, Alexis' parents could potentially lose custody of her.
Alexis and her family hope if the suit is successful, national parks and holidays in Texas will become part of her reality.
"She's a little kid that survived big-world knocks and is still standing," Dean Bortell said.