Thirteen bald eagles were found dead at a Maryland-area farm over the weekend and federal authorities are currently investigating, and offering a reward for any information.
The Maryland Natural Resources Police (NRP) were first called to the scene on Saturday afternoon after a man discovered four dead bald eagles on a farm in Maryland's Eastern Shore region, according to NRP spokeswoman Candy Thomson.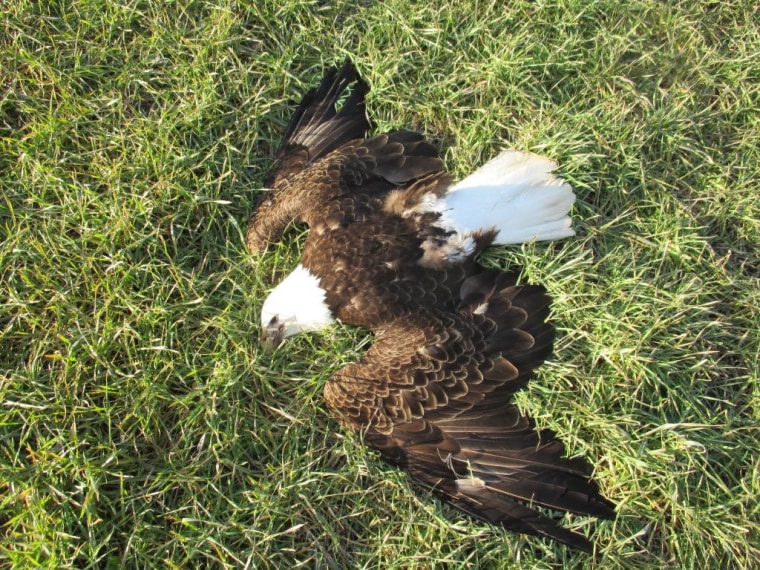 "Our officers searched the area around the farm and in total we found 13 bald eagles, three were mature, two were in the process of maturing and the rest were immature." Thomson said.
Bald eagles are considered fully mature once they sport the signature white feathered head, as opposed to the immature eagles which have feathers that are color-consistent.
The cause of death is still unknown, but there was no outward sign of trauma, Thompson said. A possible reason for the die-off, she said, is that the eagles could have consumed poisoned animal carcasses.
"What happens is that when farms have rodent problems, landowners will put out poison to control it, and the eagles will eat the poisoned animals," Thomson said.
Also unusual is that this is the largest single die-off of bald eagles in Maryland in 30 years. The NRP were in the process of searching their records and had not seen anything matching this die-off event.
According to Thomson, the eagles have been tagged "and the investigation is being handed over to the U.S. Fish and Wildlife Service."
The agency has a facility in Oregon where they will perform the necropsies.
"The people in this lab do amazing work ... they've pulled feathers from the birds who bring down planes and they can tell what they had for breakfast," Thompson said.
The U.S. Fish and Wildlife Service announced Monday that a reward of $10,000 is being offered for information relating to the deaths of the avian symbol of America. That was up from an earlier offer by Baltimore County of $2,500.
Groups contributing to the reward include the Human Wildlife Land Trust, the Human Society of the United States, the Phoenix Wildlife Center of Baltimore County and the Fish and Wildlife Service, office said.
While American bald eagles are no longer endangered, they are considered a protected species under the Bald and Golden Eagle Protection Act and the Migratory Bird Treaty Act, officials noted. Maximum fines under those acts are $100,000 and $15,000 respectively, with possible imprisonment up to one year, the Fish and Wildlife Service said.
Anyone with information on the dead eagles is urged to call the U.S. Fish and Wildlife Service's Office of Law Enforcement in Cambridge, Maryland, at 410-228-2476, or the Maryland Natural Resources Police Hotline at 800-628-9944.