The severe storms and tornadoes that battered the South over the weekend have now claimed more than a dozen lives and scores more injured — as the central U.S. braced for major to record flooding on Monday.
The National Weather Service said that in addition to the flooding over the center of the nation, severe thunderstorms were possible from the Mid-Atlantic and into the Northeast on Monday afternoon and evening, bringing damaging winds, isolated tornadoes and possible large hail.
Canton, Texas, Mayor Lou Ann Everett said Monday that four people were killed and two others were hospitalized in intensive care after four tornadoes touched down in the eastern part of the state on Saturday afternoon and evening.
Photo Gallery: Residents Survey Tornado-Battered Towns in Texas
Forty-nine people in total were taken to hospitals for injuries following the tornadoes, Everett had said Sunday.
Meanwhile, Texas Gov. Greg Abbott issued a disaster proclamation for three counties on Monday afternoon: Henderson, Rains and Van Zandt.
Abbot had said the damage was "devastating" during a news conference with local officials Sunday afternoon.
"You saw homes and other buildings that were incompletely flattened, as well as others that were nothing more than rubble," he said, adding that he saw "large swath after large swath of devastation."
The tornadoes touched down Saturday as severe storms ripped through parts of the South and Midwest, bringing heavy rain and flash flood warnings for a section stretching from eastern Oklahoma to western Kentucky and parts of Illinois.
The NWS said on Monday that "major to record flooding" continued over portions of the central U.S., including Oklahoma, northern Arkansas, Missouri, Illinois and Indiana. Rivers were expected to gradually recede over the next few days, the NWS said.
On Sunday in Missouri, the state highway patrol said that 18-year-old Gideon Jenkins died after his vehicle was swept away by flash floods while trying to traverse a low-water crossing area.
Another man, Clifford Brandt, 77, died after slipping and falling into a creek. And on Saturday, a 72-year-old woman drowned after her car was swept away by floodwaters. The husband of Madelaine Krueger attempted to rescue her, the highway patrol said.
In Arkansas, a total of at least three people were killed including a 10-year-old girl who died after being swept away by rushing waters in Springdale on Saturday, authorities said on Sunday.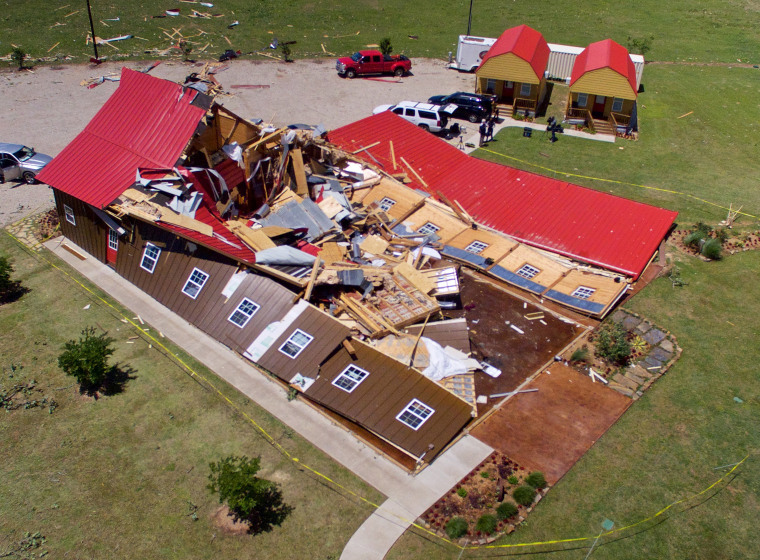 The Cleburne County Sheriff's Office said in a statement Sunday afternoon that Cove Creek Pearson Fire Chief Doug Deckard died during a "tragic accident" while serving in the middle of a torrential thunderstorm.
Another person was killed on Saturday after a tree fell onto a mobile home in Dewitt, Arkansas County Emergency Management spokeswoman Whitney Green said.
In Madison County, authorities were looking for two children, a 4-year-old boy and an 18-month girl, who went missing after they were separated from their mother after her car got stuck in high water on Saturday night. The county sheriff's office said Sunday that the search for the missing toddlers had become a recovery operation, and that the two were believed to be dead because of their age.
In Mississippi, two storm-related deaths were reported Sunday, in Holmes County and Rankin County, where a child died from electric shock in floodwaters, the Mississippi Emergency Management Agency said. No details of the Holmes County death were immediately available.
A 2-year-old girl was killed Sunday in Antioch, Tennessee, when a heavy metal soccer goal toppled onto her in high winds, Nashville police said.