Twelve people, including eight children, were killed Wednesday morning after flames ripped through a Philadelphia rowhouse, fire officials said.
Officials had previously said that at least 13 were killed.
Firefighters arrived at the three-story structure at 869 N. 23rd St. in the city's Fairmount neighborhood about 6:40 a.m., according to the Philadelphia Fire Department.
It took about 50 minutes to control the blaze, the department said.
Even hours after flames were extinguished, firefighters were going through the rubble and feared there might be more victims.
In addition to the fatalities, two people were in critical condition, according to authorities. One of those injured was taken to Children's Hospital of Philadelphia and the other to Temple University Hospital, officials said.
"We are devastated by the tragic loss of life–several of whom are children — and my thoughts are with the families and loved ones of the victims. I cannot express how unimaginable this is for loved ones," said Mayor Jim Kenney. 
Firefighters encountered fast-moving flames in a second-floor kitchen and a stairway connecting the second and third floors. They were able to rescue one child who did not survive, the city said in a statement Wednesday evening.
"There was heavy fire," First Deputy Fire Commissioner Craig Murphy said earlier. "... That fire was moving. It's feeding on contents, it's feeding on oxygen and it's feeding on fire."
There were four battery-operated smoke alarms in the building and none of them worked, officials said.
"This is without a doubt one of the most tragic days in our city's history, the loss of so many people in such a tragic way," Kenney told reporters.
It appeared that most of the damage was contained to one building in the densely populated residential neighborhood.
The rowhouse is owned and operated by the Philadelphia Housing Authority, the city said.
"I don't have the words for how we're feeling right now as a community and as a department," Murphy said.
The cause of the fire was under investigation Wednesday evening, and the federal Bureau of Alcohol, Tobacco, Firearms and Explosives is assisting, officials said. The city called it a complex and multifaceted investigation that would take time.
"We plan on and intend on getting a cause for this fire," Murphy said. "We plan on making sure that this tremendous loss life did not happen in vain."
Eight people lived in one unit that spanned the first and second floors, while 18 resided in another unit that took up the second and third floors.
"That is a tremendous amount of people to be living in a duplex," Murphy said.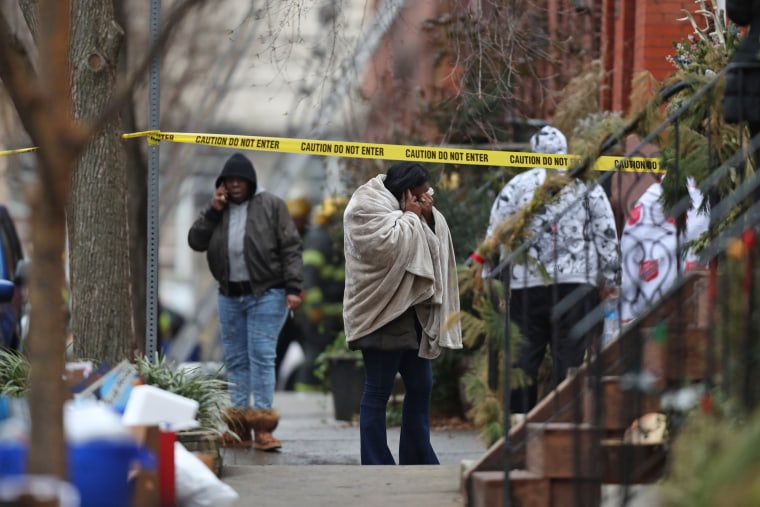 State Sen. Sharif Street, who represents the neighborhood where the fire happened, also wondered about the number of people housed under one roof early Wednesday.
"Why were so many people choosing to live in one structure? Certainly if they had better options they would have made better choices," Street told NBC Philadelphia. "I don't want to prejudge ... but we all know this should not have happened."
Kenney said he understood the difficult housing choices some families have to make.
"You talk about the number of people in the house, sometimes it's better for people to be indoors than on the street," he said.
"You don't know the circumstances of each and every family. Maybe there are relatives or people who needed to be sheltered. Obviously the tragedy happened and we all mourn for it. But we can't make judgment on the number people living in a house because sometimes people just need to be indoors."
The building was last inspected in May and all smoke detectors were working at that time, according to Dinesh Indala, the housing authority's senior executive vice president of operations.
"I don't know if they were replaced or tampered with," Indala said, when asked why smoke detectors apparently did not work on Wednesday morning.
Indala said the housing authority is cooperating with fire investigators and he pleaded with residents: "Please don't tamper with the smoke detectors and don't the batteries out for any reason."
The structure, built around 1920, sits on top of a 1,105-square-foot lot and had no outstanding code violations, according to city building department records.
The urban block is just a 15-minute walk from the Philadelphia Museum of Art, home of the famed "Rocky" steps, and a little more than one mile south of Temple University.
On Wednesday, residents gathered near the scene of the deadly blaze to hold a vigil for its victims.
Some residents could be seen holding flowers and candles, with one attendee, Lori Braunstein calling Wednesday's tragedy "incredibly heartbreaking." 
President Joe Biden was briefed about the fire, a White House official said. First lady Jill Biden tweeted, "My heart is with the families and loved ones of the victims of the tragic fire in Philadelphia."
Wednesday's tragedy came 13 years and a week after seven people in southwest Philadelphia died in a late December 2008 blaze.
Four children were killed in another southwest Philadelphia fire in July 2014.