Eighteen girls and women filed a federal lawsuit Tuesday against disgraced gymnastics doctor Larry Nassar and three organizations associated with him, alleging that no one tried to stop him from molesting patients under the guise of medical treatments.
Nassar, 53, who treated America's top gymnasts for years, was already facing federal child-porn charges, criminal sexual abuse charges, and three state lawsuits, including one by an Olympic medalist.
All but one of the women in the new suit are anonymous. Rachael Denhollander, who told her story to NBC News in the fall, was the only one to use her name in the complaint filed in federal court in Michigan.
The lawsuit also named Michigan State University, where Nassar had his practice until being fired this fall; the Twistars gymnastics club, which once had ties to Nassar; and USA Gymnastics, which had Nassar as a team doctor until he was booted in 2015.
Denhollander was a 15-year-old club-level athlete when she was treated by Nassar in 2000. She said she was abused over the course of five visits but did not make a complaint about him until last year, when she became the first woman to come forward.
"I was very confident that my voice would not be heard," Denhollander said of the delay, explaining that Nassar's prominence as a doctor who treated elite gymnasts initially convinced her the treatments must be legitimate.
The federal complaint alleges that two of the accusers told trainers at MSU about the abuse in 1999 and 2000 and no action was taken against him; the university says an internal investigation has found no evidence of that.
Denhollander said she struggled with the decision to sue Nassar but decided to join the others as a way to hold the institutions that employed him accountable.
"The impacts of assault are devastating," she said. "It's not just a wound to the body. It's a wound to the soul and it will continue for the rest of my life."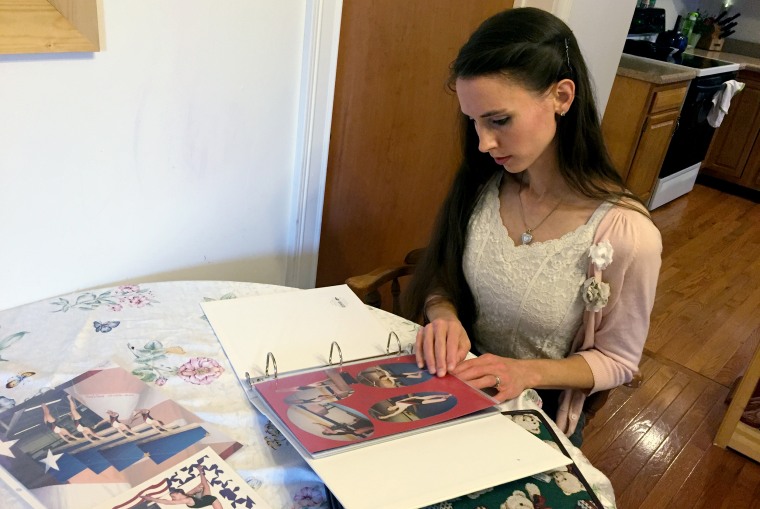 The scandal broke in September, when Denhollander and another former patient told the Indianapolis Star they were molested by Nassar under the guise of invasive medical treatments.
Since then, up to 60 ex-patients have filed police complaints against the physician. Three of them have filed lawsuits in state court in California.
In November, Michigan Attorney General Bill Schuette, who took over the investigation, filed charges against Nassar, alleging that he molested a family friend for years, starting when she was 6 years old.
Then, last month, federal prosecutors charged Nassar with possession of child pornography, and an FBI agent testified that tens of thousands of images were found on disks and drives discovered in a trash can outside his house and inside his home.
Related: USA Gymnastics Doctor Charged With Child Porn
Court papers say the cache included video from a GoPro that Nassar took as he was swimming in a pool; the video allegedly shows him grabbing and penetrating the genitals of at least two girls, and groping and pulling down the tops of others.
"Any case involving child pornography is, of course, serious," Assistant U.S. Attorney Sean Lewis said during the hearing. "But here the defendant has shown through his conduct that he's a hands-on offender. He's a hands-on offender in almost every context and position he can work himself into.
"It's conduct that's been going on for more than 15 years. And it's not just conduct that happened a while ago and he'd moved on. It's conduct that's continued to this year."
Magistrate Judge Raymond Kent ordered Nassar held without bail, not because he is a flight risk, but because he considers him a danger.
"If the testimony of Agent Charles is accurate, Dr. Nassar poses the worst kind of risk to our community: a risk to our children," Kent said. "We simply can't have somebody like him free in the community with access to children as young as six years old."
Related: USA Gymnastics Opens Sex-Abuse Review
Nassar has pleaded not guilty to all charges. His attorneys have not addressed the pornography charges but have said that any "procedures" he performed on patients were a normal part of osteopathic medicine.
MSU fired Nassar this fall, saying an investigation showed he had not complied with requirements to use gloves and a chaperone during intravaginal treatments — rules that were put in place after a 2014 complaint from a patient that prosecutors declined to pursue.
The university said it could not comment on the federal lawsuit before it was served but said in a statement that school officials are "deeply disturbed" by the charges and the case is a "top priority" for MSU police.
"Our hearts go out to those directly affected," the statement said.
An internal review is still underway, and the school is examining whether changes are needed in clinic policies and operations.
"MSU at this time has found no indication of any reports against Larry Nassar alleging sexual assault being made prior to the complaint MSU investigated immediately in spring 2014," the university said.
USA Gymnastics, the governing body for the sport, said it fired Nassar in the summer of 2015 in response to unspecified athlete "concerns," and reported him to the FBI. It's unknown what action was taken at that time, but MSU has said USA Gymnastics did not report its concerns to the university.
Twistars did not immediately respond to a call and email for comment.