An anonymous tip led to the discovery of 17 bodies crowded into a four-person morgue at one of New Jersey's largest nursing homes.
Police found the bodies this week at the Andover Subacute and Rehabilitation Center I and II in Sussex County, in northern New Jersey, Rep. Josh Gottheimer confirmed to NBC New York.
"They were just overwhelmed by the amount of people who were expiring," Eric C. Danielson, the town's chief of police told The New York Times.
Gottheimer said he was contacted by an administrator at the nursing home who was requesting more body bags just before the discovery of the bodies.
"She called and said, 'We're overwhelmed here,'" he said on a Skype call, adding the woman who called was sick herself and said "so many" staff members at the home were sick.
Chaim Scheinbaum, one of the facility's owners, said there were 15 bodies in that holding room and eight of them had died on Monday.
"The owners, administrators and our heroic healthcare staff of nurses and nurse aides have been working relentlessly to contain the virus and safeguard our residents and staff," according to a statement from Scheinbaum.
"The health and safety of our residents and staff is our utmost priority and responsibility. Ownership and administration is working around the clock to ensure we are able to resolve the pandemic in the facility."
Chief Danielson and Andover Township Mayor Michael Lensak told NBC News on Thursday that first responders helped facilitate the transfer of 13 of the bodies to refrigerator trucks.
But the two officials said they feel helpless because the facility is not responding to requests for information. The nursing home is badly understaffed, the mayor and police chief said.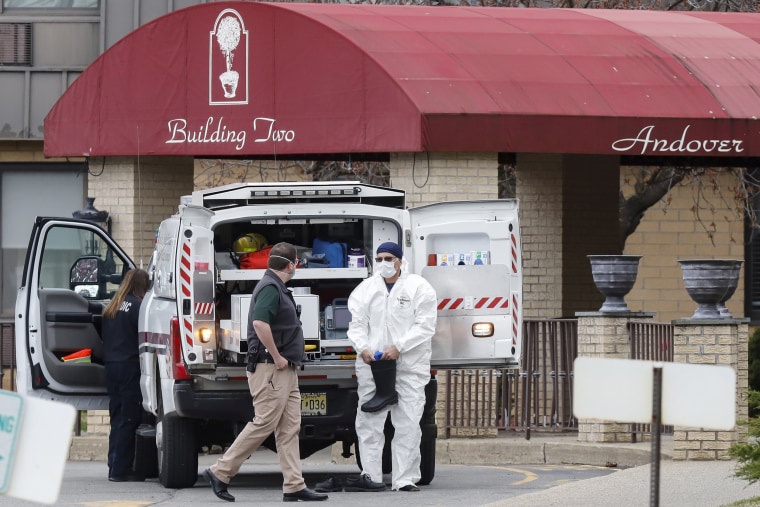 The 17 people discovered in the small morgue bring the number of deaths linked to the center up to 68, Gottheimer said. Twenty-six of those who died tested positive for COVID-19, and two staff members are among the deceased. Seventy-six patients at the home are currently sick with the virus, as are 41 staff members, according to the Times.
Local officials told NBC New York that the nursing home said it was separating infected patients from healthy ones.
"Once one person in the home gets sick it spreads pretty quickly in nursing homes," Rep. Gottheimer said. "We're seeing this around the state."
The congressman said his office as well as state officials are working to get the Andover facility what it needs, which he said is made difficult by "huge nursing shortages" across New Jersey. His office reached out to FEMA and the Secretary of Health and Human Services on Wednesday to see if federal help is available.
The discovery at the Andover center comes as 5,670 people have died from coronavirus at nursing homes in the U.S., according to an NBC News analysis. There are 3,466 long-term care facilities in 39 states with known coronavirus cases.