WASHINGTON — Special counsel Robert Mueller is trying to piece together what happened inside the White House over a critical 18-day period that began when senior officials were told that National Security Adviser Michael Flynn was susceptible to blackmail by Russia, according to multiple people familiar with the matter.
The questions about what happened between Jan. 26 and Flynn's firing on Feb. 13 appear to relate to possible obstruction of justice by President Donald Trump, say two people familiar with Mueller's investigation into Russia's election meddling and potential collusion with the Trump campaign.
Multiple sources say that during interviews, Mueller's investigators have asked witnesses, including White House Counsel Don McGahn and others who have worked in the West Wing, to go through each day that Flynn remained as national security adviser and describe in detail what they knew was happening inside the White House as it related to Flynn.
Some of those interviewed by Mueller's team believe the goal is in part to determine if there was a deliberate effort by President Trump or top officials in the West Wing to cover up the information about Flynn that Sally Yates, then the acting attorney general, conveyed to McGahn on Jan. 26. In addition to Flynn, McGahn is also expected to be critical in federal investigators' attempts to piece together a timeline of those 18 days.
Neither McGahn's lawyer nor the White House responded to requests for comment. A spokesman for the special counsel's office declined to comment.
When did Trump learn Flynn lied to the FBI?
The obstruction of justice question could hinge on when Trump knew about the content of Flynn's conversations with Russia's ambassador to the U.S. during the transition, which were at the crux of Yates's warning, and when the president learned Flynn had lied about those conversations to the FBI, according to two people familiar with the Mueller probe.
Flynn pleaded guilty earlier this month to lying to the FBI on Jan. 24, an interview that took place the day after he was sworn in as national security adviser.
Related: Mueller has enough evidence to bring charges in Flynn investigation
Yates has testified to Congress that she informed McGahn on Jan. 26 that Flynn had not been truthful in statements to senior members of the Trump team, including Vice President Mike Pence, when he said he did not discuss U.S. sanctions with Russia's ambassador, Sergey Kislyak. Yates said Flynn was susceptible to blackmail by the Russians because he had lied about the contents of a phone call with Kislyak.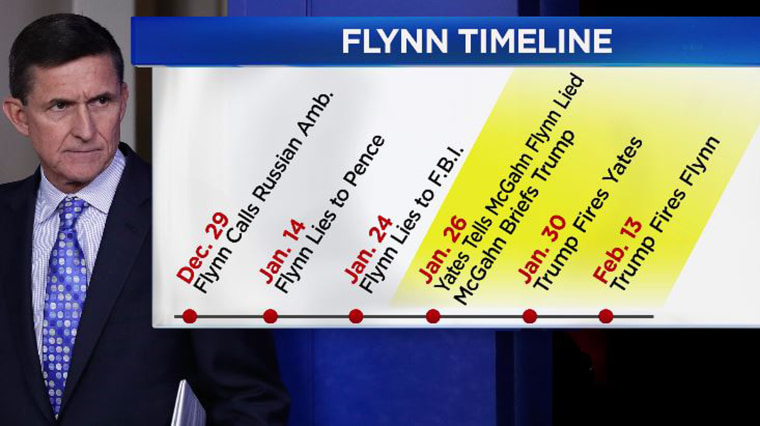 Trump's legal team and senior White House aides are refusing to say when and how the president first learned that Flynn had lied to the FBI. Yates testified that in her Jan. 26 meeting with McGahn he asked her about the content of Flynn's FBI interview.
"Mr. McGahn asked me how he did and I declined to give him an answer to that," Yates testified in May. She told Congress that it would have been inappropriate for her to tell McGahn whether Flynn had been truthful.
Related: Mike Flynn's son is subject of federal Russia probe
That same day, Jan. 26, McGahn also briefed Trump and some of his senior advisers on his conversation with Yates, according to then-White House Press Secretary Sean Spicer.
"Immediately after the Department of Justice notified the White House counsel of the situation, the White House counsel briefed the president and a small group of senior advisers," Spicer told reporters on Feb. 14.
Two former federal prosecutors who spoke to NBC News on the condition of anonymity said most lawyers in McGahn's position would have immediately gone to Flynn and asked him whether he had lied to the FBI.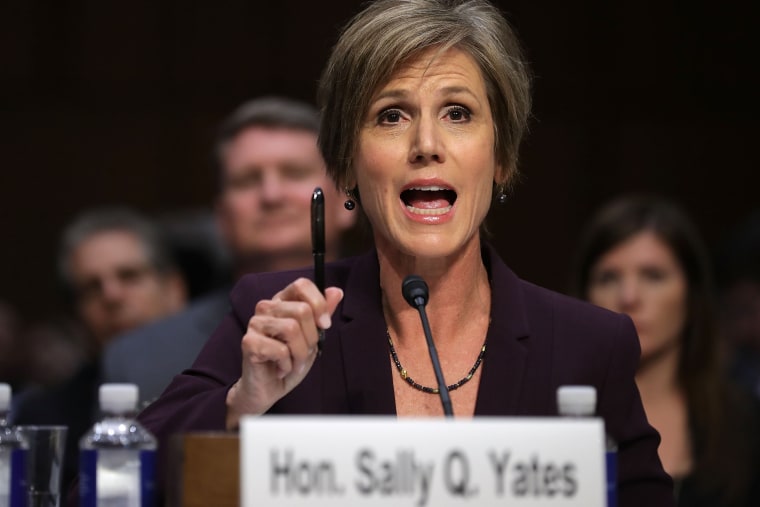 President Trump told NBC's Lester Holt in an interview on May 11 that he didn't ask for Flynn's resignation after Yates's warning because once McGahn looked into it, he "came back to me and [it] did not sound like an emergency."
The conversation with Kislyak that Flynn misled Pence and other officials about took place on Dec. 29, the same day the Obama administration announced new sanctions against Russia in retaliation for Moscow's interference in the U.S. presidential election.
On Jan. 12, The Washington Post reported that Flynn had spoken on the phone with Kislyak on Dec. 29. The timing of the call raised questions about whether the two had discussed sanctions. Three days after the Post report, Pence publicly said he had been assured by Flynn that sanctions were not discussed.
Other senior Trump officials, including Spicer, also said publicly during the transition that Flynn did not discuss sanctions with Kislyak. Spicer repeated that line from the White House podium on Jan. 23, saying he had asked Flynn about it again the night before.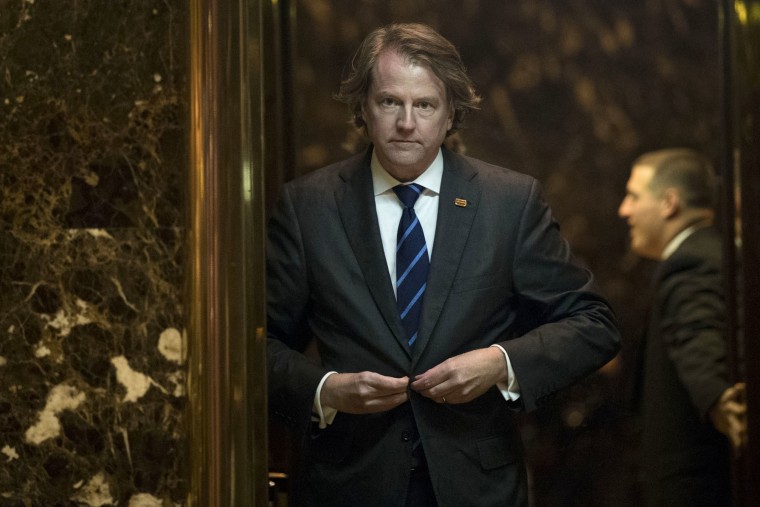 Court documents from Flynn's plea deal show Flynn had discussed sanctions with Kislyak on Dec. 29 in coordination with Trump transition officials. NBC News reported that Flynn spoke with his incoming deputy K.T. McFarland to discuss what to say to Kislyak about the new U.S. sanctions in order to keep Russia from retaliating.
In the second week of February, Flynn again told senior White House officials he had not discussed sanctions with Kislyak. Fresh questions arose at that time because Washington Post reporters had multiple sources saying the two men had discussed sanctions. Under repeated questioning by the senior officials, Flynn shifted his story, according to White House officials familiar with the matter.
Pence said he first learned that Flynn had misled him when the Post story was published on Feb. 9. Four days later, Yates's warning to McGahn became public in another Post story.
Only then, on Feb. 13, did Trump fire Flynn, saying he did so because he had misled Pence.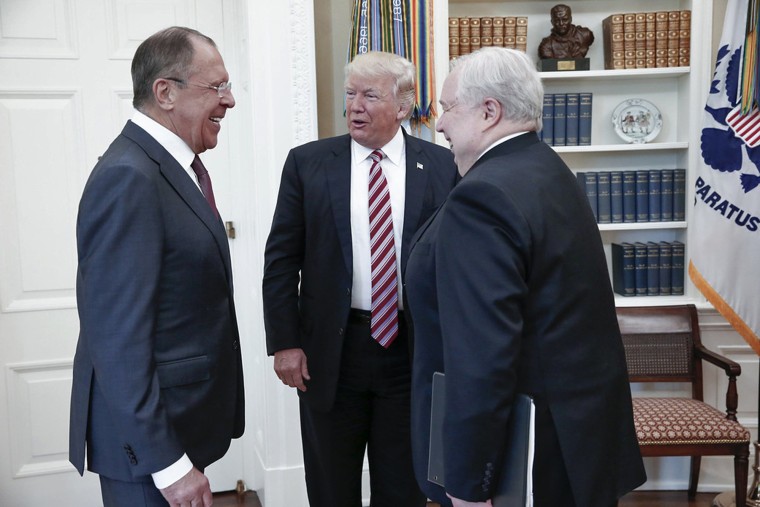 Justice Department officials who spoke to NBC News on the condition of anonymity said they had expected the White House to fire Flynn on Jan. 26 upon learning that he had lied to the vice president.
Instead, Trump fired Yates on Jan. 30, citing her refusal to enforce his executive order banning people from seven Muslim-majority countries from travelling to the U.S. Before she left, however, she made available, at McGahn's request, evidence she had that Flynn had not been truthful about his conversations with Kislyak, according to her congressional testimony.
Mueller is trying to determine why Flynn remained in his post for 18 days after Trump learned of Yates' warning, according to two people familiar with the probe. He appears to be interested in whether Trump directed him to lie to senior officials, including Pence, or the FBI, and if so why, the sources said.
If Trump knew his national security adviser lied to the FBI in the early days of his administration it would raise serious questions about why Flynn was not fired until Feb. 13, and whether Trump was attempting to obstruct justice when FBI Director James Comey says the president pressured him to drop his investigation into Flynn. Trump fired Comey on May 9.
Trump denies pressuring Comey to drop the Flynn investigation, and his legal team has disputed any notion of the president obstructing justice.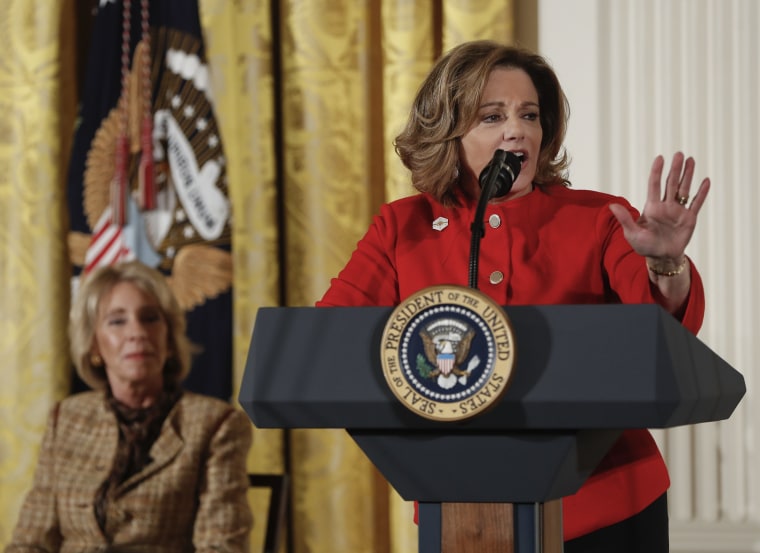 Trump raised new questions about possible obstruction of justice on Dec. 2 when he wrote on Twitter that he fired Flynn because he had lied to Pence and the FBI, suggesting he already knew Flynn was in legal jeopardy for lying to federal investigators at the time he fired Comey.
"I had to fire General Flynn because he lied to the Vice President and the FBI," Trump wrote. "He has pled guilty to those lies. It is a shame because his actions during the transition were lawful. There was nothing to hide!"
Trump lawyer John Dowd later took responsibility for the tweet, saying he had drafted it for the White House social media director to post.
During her testimony before a Senate subcommittee in May, Yates testified that she didn't tell McGahn in their Jan. 26 meeting what Flynn told the FBI because that was under investigation. She said, "He asked me how he had done in the interview, and I specifically declined to answer that."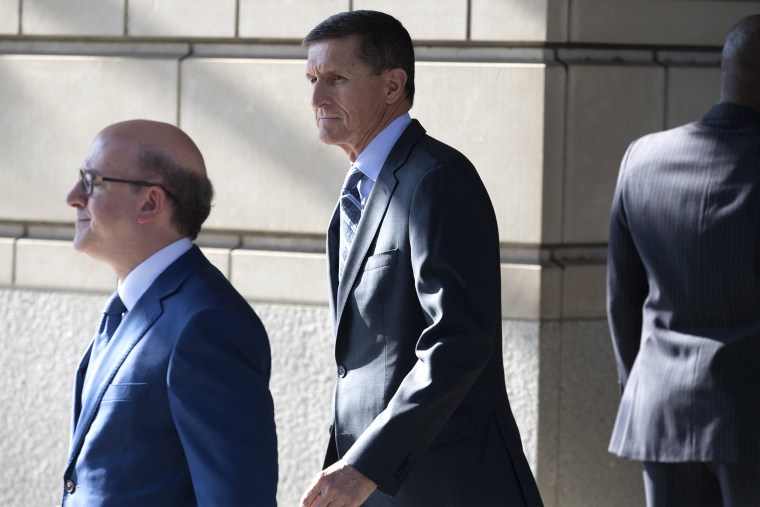 Based on Yates's testimony, McGahn's tone appears to have hardened in his second meeting with Yates the following day, Jan. 27, which took place after he spoke with Trump and other advisers. Yates testified that during that Jan. 27 meeting he questioned her about why it mattered if Flynn misled Pence. "Essentially: 'What's it to the Justice Department if one White House official is lying to another?'" she said McGahn asked her.
White House Press Secretary Sarah Huckabee Sanders has repeatedly referred questions to Dowd about when Trump knew Flynn had lied to the FBI. Dowd has declined multiple requests to answer that question.