Turbocharged by winds reaching hurricane force, wildfires whipped across Northern California on Monday, burning tens of thousands of acres, driving almost 200,000 people from their homes and seriously injuring a firefighter. In Southern California, new evacuations on Los Angeles' westside were ordered early Monday morning as firefighters get closer to containing the more than 4,600-acre fire there.
The Kincade fire north of San Francisco continued to spread, injuring two firefighters, one of whom was airlifted to a hospital with serious burns, said Jonathan Cox, assistant chief of the San Mateo County division of the California Department of Forestry and Fire Protection, or CalFire.
Fed by sustained winds above 70 mph — category 1 hurricane level — and gusts that topped 100 mph, the fire almost doubled in size from Sunday afternoon to Sunday evening, reaching more than 54,000 acres, and containment had fallen to 5 percent.
Download the NBC News app for breaking news
Saying "we are deploying every resource available," Gov. Gavin Newsom declared a statewide emergency for not only the fires in the north but also a fire in Los Angeles County that had damaged dozens of structures and injured three firefighters.
Numerous smaller fires created havoc and diverted critical resources. Nearly all left destruction in their paths.
The Soda Rock Winery, the most recent occupant of a historic site of wineries going back to 1880 in Healdsburg, in Sonoma County, was burned to the ground by the Kincade fire. In Contra Costa County, a new fire that was sparked on Sunday afternoon destroyed the Lafayette Tennis Club, sending players and spectators fleeing from a tournament that had been underway, NBC Bay Area reported.
In Solano County, one of several small new fires drove cadets from the campus of the California State University Maritime Academy in Vallejo — except for a handful assigned to fire duty, who stayed behind to protect the training ship Golden Bear.
The cadets had recently completed major wildfire training at the school, one of seven across the country that train crews for the Merchant Marine and other shipping duties.
Cadet Adrian Goldfarb told NBC Bay Area that he saw smoke building up at about 10 a.m., and then "it took only about 10 minutes till ash started falling."
"We grabbed our hoses [and] we hooked up to the fire," Goldfarb said. "Our goal was just to somewhat contain the fire until the fire department arrived."
Firefighters credited the cadets with keeping the ship safe and suggested that they should get extra credit in their classes.
Nearly 90,000 people were evacuated Saturday as the fire jumped over highways and roads jammed with people trying to flee. More evacuation orders followed, reaching nearly 200,000 people, about 90 percent of them in Sonoma County in the heart of wine country.
Cox, of CalFire, said further evacuations could be needed.
"This is the largest evacuation that any of us at the Sheriff's Office can remember," the Sonoma County sheriff said on Twitter. "Take care of each other."
Extremely low humidity was helping the fires spread. The National Weather Service said the winds would continue into Monday morning before subsiding — only to return Tuesday night or Wednesday morning.
"With the constant dry offshore winds, poor humidity recovery is expected and fuels will remain dry," the agency said.
Those are the conditions that led the state's largest power utility, Pacific Gas and Electric Corp., or PG&E, to trigger rolling blackouts across Northern California over the weekend, the third time it has done so this month and the biggest blackout yet.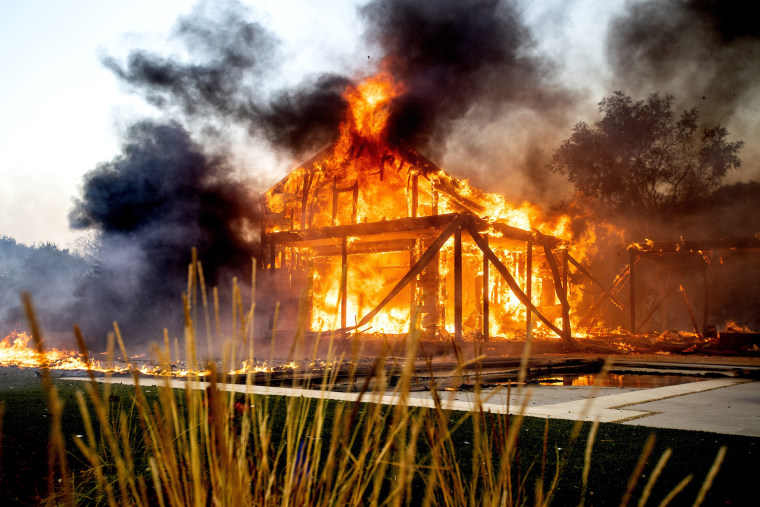 The blackout, which PG&E said was needed to prevent downed and damaged power lines from sparking more fires, shut off power to 940,000 homes and businesses, roughly correlating to about 2.5 million people, across Northern California on Sunday.
The three consecutive blackouts have infuriated Northern Californians, including Newsom, the governor, who has called them an unacceptable consequence of decades of PG&E neglect.
Because of the heavy winds forecast to revive in midweek, PG&E said Sunday night that it had begun alerting slightly more than 500,000 homes and businesses that yet another blackout could be needed beginning Tuesday.
In Southern California, authorities said the wind-fueled 4,615-acre Tick fire in Los Angeles County was at 70 percent containment by Sunday night. The county fire department said that 22 structures were destroyed and that 27 more were damaged.
Three firefighters injured, the fire department said.
Evacuations continued early Monday morning, as fire encroached on Los Angeles. A fast-moving brush fire erupted near the Getty Center on LA's Westside, expanding to 250 acres as people fled their homes in the middle of the night, according to NBC Los Angeles.
Basketball star LeBron James tweeted that he and his family had to evacuate his house early Monday and were searching for rooms where they could spend the night. "I [pray] for all the families in the area that could be affected," James said. "My best wishes as well to the first responders."
Southern California Edison, which serves much of the southern half of the state apart from the cities of Los Angeles or San Diego, said only a few hundred customers were without power on Sunday. But it warned that it, too, could have to shut off electricity to more than 300,000 customers, correlating to about three-quarters of a million people, to secure its power lines and transmitters.
Newsom on Sunday announced a $75 million plan for state and local governments to "mitigate the impacts of power shutoffs" and help medically vulnerable people during massive power shutoffs.