The family of a Colorado man who was fatally shot last year by a deputy — killed after calling 911 for help when his SUV got stuck in a pile of rocks — said Tuesday they will receive a $19 million settlement, the largest of its kind in state history.
Christian Glass, 22, of Boulder, was shot by a Clear Creek County sheriff's deputy early June 11 in Silver Plume, according to his family's attorneys and the sheriff's office.
Glass had appeared to be holding a knife when he was shot five times after refusing to get out of his Honda Pilot for nearly 70 minutes, according to body camera footage and an autopsy report provided by his family's attorney.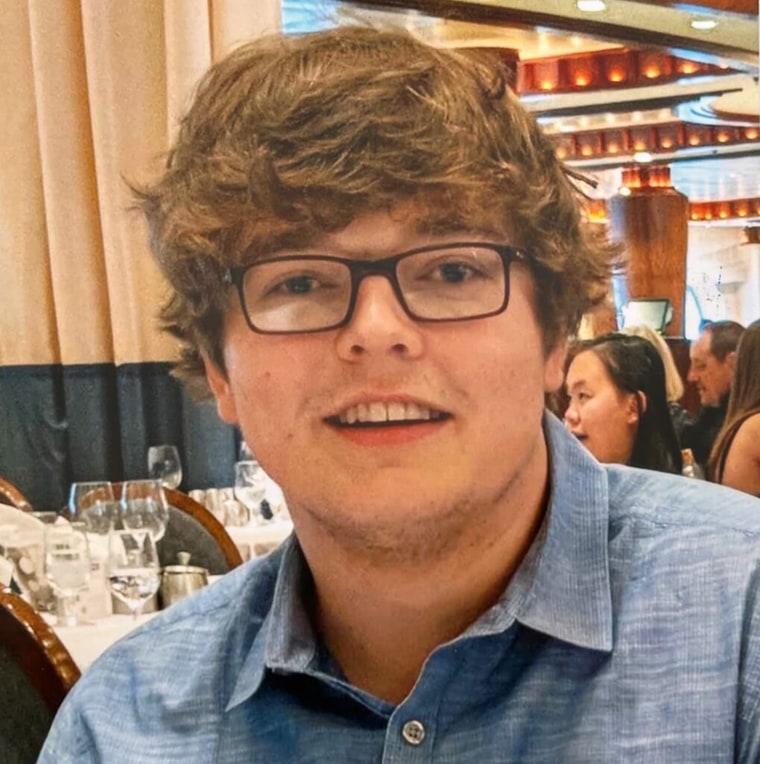 His parents, Sally and Simon Glass, reached the multi-million dollar settlement on Tuesday with Clear Creek County, the state of Colorado, the city of Georgetown and the town of Idaho Springs, according to a news release.
"The size of the settlement reflects the immense wrong and injustice committed by the officers that killed Christian, whose death has broken his family and left an immeasurable void," the Denver-based Rathod/Mohamedbhai law firm, which represents Glass' family, said in a statement.
This is the largest settlement for a police killing in Colorado history, which topped the $15 million settlement for the 2021 death of Elijah McClain in the Denver suburb of Aurora.
In addition to the settlement, Clear Creek County has agreed to dedicate a public park to Glass, as well as "establish a dedicated crisis response team" by Jan. 1 of next year. The state of Colorado will also adopt changes in training for its law enforcement agencies, including developing a virtual reality scenario "reflecting Christian's murder, with a focus on de-escalation."
According to a statement from the sheriff's office issued last year, deputies were alerted about a call for a "motorist assist" at 11:21 p.m. June 10.
Glass had indicated in his nearly 25-minute call to 911 that he was afraid. When the dispatcher asked about weapons, Glass says he had two knives, a hammer and a rubber mallet that he would throw out of the car's window when officers arrive.
"I'm not dangerous. I will keep my hands completely visible. I understand this is a dodgy situation," he said at the time.
According to a family attorney Siddhartha Rathod, Glass was an amateur geologist and used the knives, the hammer and the mallet for his hobby. Rathod also said that Glass was most likely having a mental crisis when he placed the 911 call.
Deputies broke out windows and removed a knife, the agency wrote.
"The suspect rearmed himself with a rock and a second knife," the statement said. "Deputies deployed less-lethal bean bags, and Taser with negative results. The suspect eventually tried to stab an officer and was shot."
Glass was pronounced dead at the scene.
An autopsy determined Glass had died from gunshot wounds. It also showed that he had a .01% blood alcohol level and THC in his system, as well as amphetamine, which Rathod previously said was likely to be from a prescription to treat ADHD.
Glass' parents, who are from New Zealand and the United Kingdom, said their son trusted police to help him.
"He was stuck on a small pile of rocks on the side of the road and called 911 for help," Simon Glass told reporters at a news conference last year. "It was dark, and he was really worried. He trusted police to come and help him. Instead, they attacked and killed him."
Two Clear Creek County Sheriff's deputies involved in the shooting, Andrew Buen and Kyle Gould, were indicted by a grand jury in November. Both deputies were terminated following the indictment, the department said at the time.
Buen was been charged with second degree murder, official misconduct and reckless endangerment, while Gould was charged with criminally negligent homicide and reckless endangerment.
There will be a ceremony in memory of Glass on Wednesday morning. Gov. Jared Polis is expected to speak at the event, where some of Glass' artwork will be on display.