A wildfire that forced evacuations at the Camp Pendleton military base near San Diego has scorched some 2,500 acres but is being eased by calming winds, officials said late Sunday.
The DeLuz Fire was 20 percent contained according to latest reports from the base's fire service, the Associated Press said.
Some 200 firefighters are battling the fire, which started just after noon local time (9 a.m. ET) on Saturday.
It forced 230 people to evacuate their housing unit near Lake O'Neil on the 195-square-mile coastal base.
The evacuees were moved to another part of the base where they spent Saturday night. Their homes were not destroyed and they were allowed to return home Sunday evening.
Camp Pendleton officials told NBC San Diego at 8.15 p.m. local time Sunday that the blaze was approximately 20 percent contained.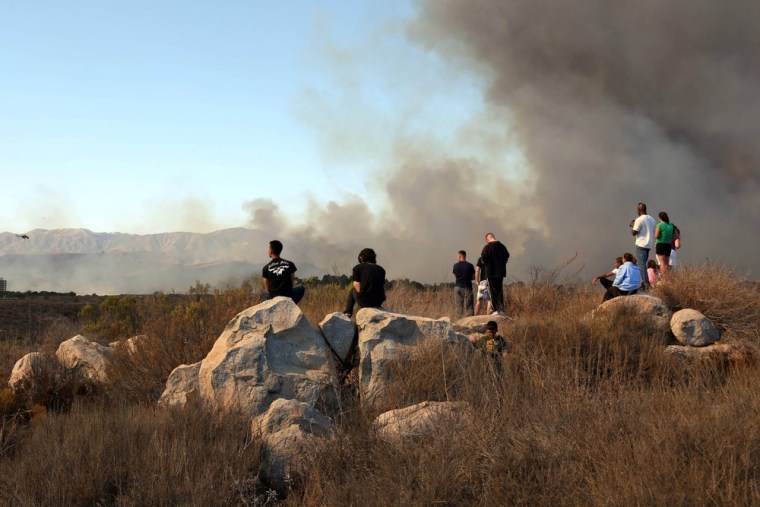 Calmer winds meant the fire was less dangerous than it had been during Saturday's hot, dry and blustery conditions, when officials said it was moving along the Santa Margarita River, the Associated Press said.
Crews expect to have the fire fully contained by Tuesday and said losses were limited to several vehicles and outbuildings.
The DeLuz Fire also forced 30 patients to evacuate the base's Naval Hospital Camp Pendleton on Saturday, according to the Associated Press. Patients were transported to Tri-City Hospital, in Oceanside, Calif., and Naval Medical Center San Diego.
By Sunday the patients had returned to Naval Hospital Camp Pendleton and the hospital was fully operating, officials said.
Though several buildings sustained minor damage due to the fire, there have been no reports of any injuries, according to the Camp Pendleton Scout Facebook page.
The cause of the fire is under investigation. Fire crews will remain on base as long as needed working to contain the fire and mopping up hotspots.
Meanwhile 40 miles north, another fire sparked in a mulch pile caused 23 residents to evacuate their homes because of heavy smoke, the Associated Press said. One firefighter received minor injuries.
NBCSanDiego.com and the Associated Press contributed to this report.