Two adults and two children were fatally shot early Wednesday at a South Carolina home, while a third child was taken to the hospital, Orangeburg County officials said.
A suspect in the quadruple homicide remained on the loose Wednesday afternoon after a car was taken from the scene in the rural town of Holly Hill and then later found abandoned, Orangeburg County Sheriff Leroy Ravenell said at a news conference.
"We believe this incident is an isolated incident, so we don't believe we have anyone ... still committing crimes," Ravenell said.
The coroner's office identified one of the adult victims as Krystal Hutto, 28, and the two juveniles as Tamara Perry, 14, and Shamekia Sanders, 17.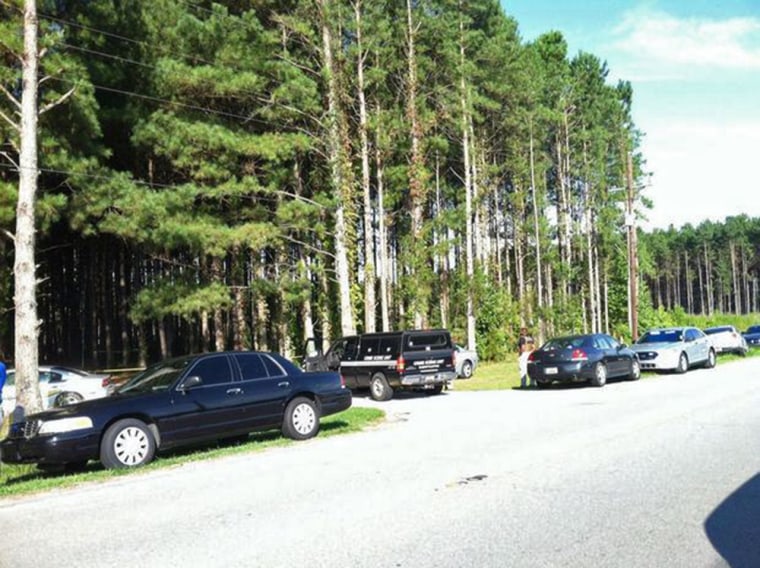 Police also found the body of an adult male outside of the home — shrouded by tall evergreens — after first receiving a 911 call at 6:48 a.m., Ravenell said. The relationship between the four victims was not immediately known.
"We are actively following some leads," Ravenell said.
"Anybody that could possibly be connected or have any information about this heinous crime could possibly be charged as an accessory after the fact," warned the sheriff, adding, "We will not rest until we arrest the person that killed these individuals."
The three female victims were found in two separate bedrooms inside the home, Ravenell said.
Meanwhile, the surviving 8-year-old boy was airlifted to a hospital in Charleston, about 50 miles south. His condition wasn't immediately available.
Local authorities were initially searching for a green 1990s Mercedes that was believed to have been taken from the home. Ravenell said the car was discovered burned about 15 miles away.
A description of a suspect was not released, and police are investigating whom the male caller was who made the initial 911 report.