Four people including two children were found dead Tuesday at a massive New Jersey home that burned in what authorities are investigating as an arson fire.
The blaze in the wealthy community of Colts Neck, New Jersey, came on the same day that another property owned by relatives of the victims also caught fire in Ocean Township about 40 miles away.
The bodies of an adult and two children were found severely burned in the 5,700-square-foot home in Colts Neck, while the body of another adult was found outside, authorities said. Public records show the home is owned by Keith Caneiro, 50, and Jennifer Caneiro, 45.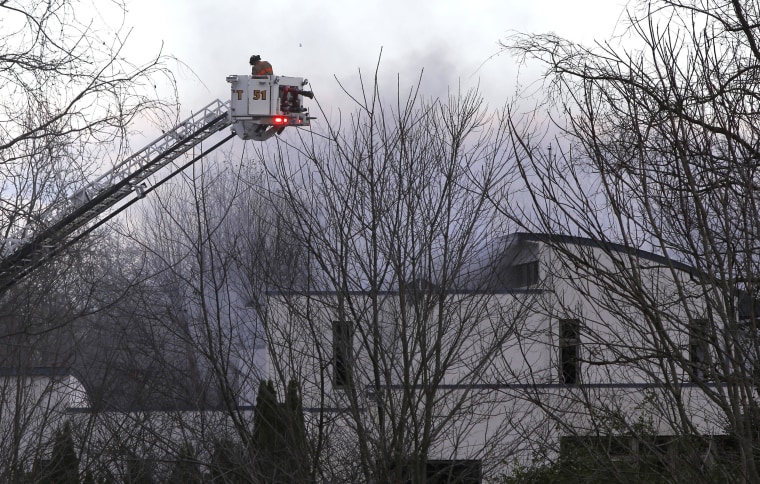 There were no reported injuries from the fire in Ocean Township.
Authorities are still investigating and are considering the possibility that the two fires are connected, Monmouth County Prosecutor Christopher Gramiccioni told reporters Tuesday afternoon.
"I don't have any information I can provide on identity of these individuals," Gramiccioni said of the victims. "The medical examiner has to examine the remains of these four before we can get to that point."
Colts Neck, New Jersey is an affluent town located about 50 miles south of New York City, known primarily for its horse farms. Typical homes in the town of 10,000 are valued at about $750,000. Bruce Springsteen owns an estate there, and his son is a former member of the fire department. Former "Daily Show" host Jon Stewart and his wife operate an animal sanctuary there; Queen Latifah sold her mansion there in 2015.
CORRECTION (Nov. 21, 2018, 8:50 a.m.): An earlier version of this article misspelled the last name of the owner of the home that burned down. He is Keith Caneiro, not Caniero.