Three people were killed, nearly 70 people were hurt and others are missing after two buildings collapsed following a gas leak explosion that rattled upper Manhattan and shattered windows with a blast that could be felt blocks away, officials said.
The two five-story buildings at the northwest corner of 116th Street and Park Avenue in Harlem collapsed at about 9:30 a.m., authorities said. Smoke billowed into Central Park and could be seen from miles away in midtown, and New Yorkers said they felt rumbles as far away as 150th Street. Closer to the collapse, groceries were knocked from store shelves and debris floated through the air.
Mayor de Blasio said the buildings were destroyed, and that first responders were digging through the rubble for victims.
The only indication of anything wrong before the explosion was a call to Con Edison from a woman in a nearby building, reporting a strong odor of gas just minutes before the blast, the mayor and the utility said. But it was too late.
"This is a tragedy of the worst kind because there was no indication in time to save people," de Blasio said.
Hospitals reported receiving more than 60 injured, including at least one child who was critically hurt. Most of the injuries were described as non-life-threatening.
Two on-duty FBI agents who were driving through the area at the time of the explosion were among those hurt, but their injuries were not life-threatening, the FBI said.
A woman who said she was watching TV in her home about a block away said the explosion blew out her windows.
"All my windows shattered and I didn't know what it was," she said on NBC 4 New York. She said first responders soon arrived at her building and ordered everyone out.
The blast and collapses registered at just under .5 on the Richter scale, according to the Lamont-Doherty Earth Observatory at Columbia University.
Another woman who was at her home on 115th Street between Park and Lexington avenues said she heard the explosion and thought it was a bomb. The explosion was near where Metro-North tracks run through Harlem.
"I thought a train had exploded," said Marisa Aquino.
"It sounded like a bomb. That's what it really sounded like," Trey Dey, a laborer who was working in a nearby basement when the buildings exploded, told NBC 4 New York.
Relatives of people who lived there were distraught at the scene.
"I want to know if my daughter is fine," said one woman.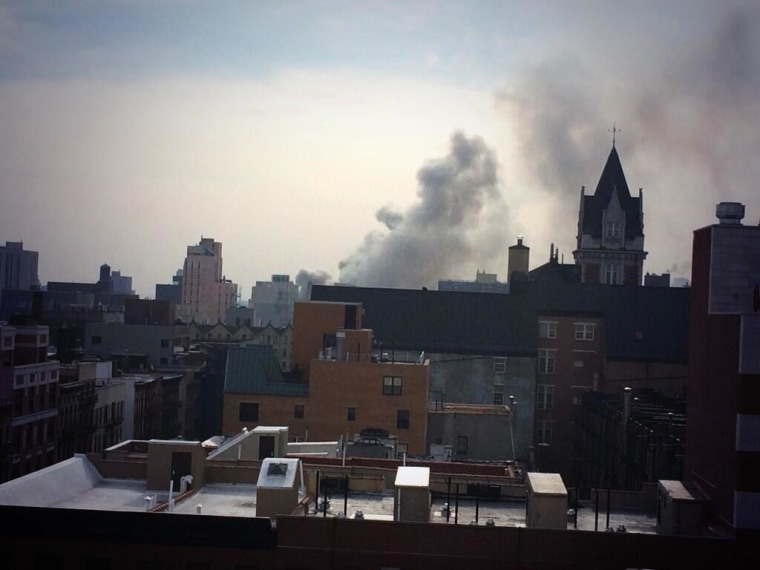 FDNY said it had hundreds of firefighters and first responders working at the scene to fight smoldering fires and search for victims. Some neighboring apartment buildings are closed because of firefighting operations, officials said.
Officials cautioned it would be a painstaking process that would take time. The FDNY also said it was working to seal up windows that were blown out in surrounding buildings.
The Buildings Department said one of the collapsed buildings had six units, the other had nine. One of the buildings had work done last June for 120 feet of gas piping, records show. It has no violations on record.
The other building just to the north had one violation from 2008 related to vertical cracks in the rear of the building. The city said a fine was paid but it was not clear that the condition had been corrected.
Con Edison described the building's gas main as an 8-inch iron and plastic main. In 2011, 70 feet of it was replaced during an excavation project.
The explosion blew debris onto the elevated tracks of the Metro-North tracks above Park Avenue, causing a shutdown of service in both directions. Service was restored late Wednesday afternoon after tracks were cleared of debris and inspected for structural integrity, the MTA said.
The NTSB said it was joining the investigation. The agency probes pipeline explosions as well as transportation disasters.
Click here for live coverage from NBC New York
— NBC New York
More From NBC New York