A bus driver in Seattle was hailed as a hero Wednesday night for navigating his bus with about 12 passengers on board to safety after he was shot by a gunman who also carjacked two vehicles, fatally shooting one driver, before colliding head-on with a third car, killing its driver.
Seattle Deputy Police Chief Marc Garth Green said "we only believe that this is a one lone suspect involved in this random, senseless act" and that "we're outraged at what this suspect did."
Police said they don't know what motivated the gunman to attempt to carjack a woman in the north end of the city, shooting and wounding her, and then open fire on the bus, wounding driver Eric Stark.
The gunman then carjacked a second vehicle, fatally shooting the driver, police said. When officers arrived, he got into the car and drove away, crossing into oncoming traffic and crashing head-on into another car a few blocks away, killing that driver, Green said.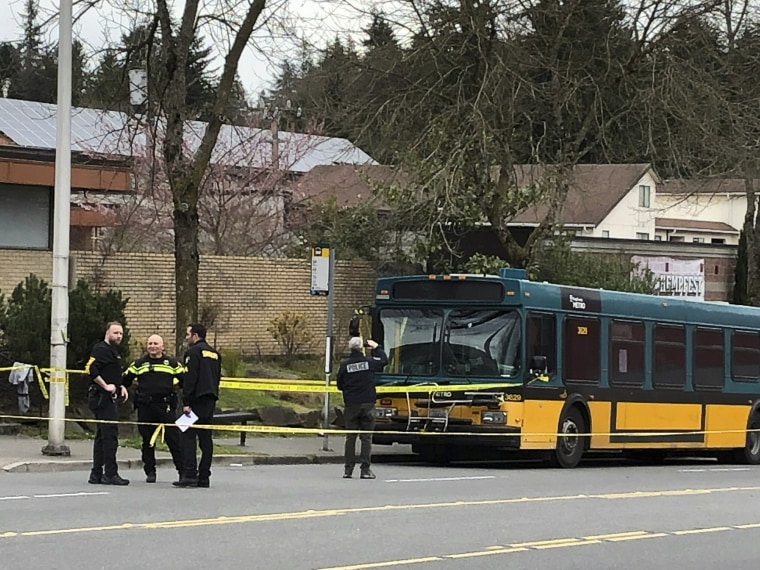 A suspect was arrested after a brief standoff and was taken to a hospital with non-life-threatening injuries, authorities said.
Police said that after the gunman shot at the bus and wounded Stark, the driver moved his bus to a safe location.
Seattle Mayor Jenny Durkan called Stark a hero who saved lives.
"I want him and his family to know that all the wishes of Seattle go out to him and hope for a speedy recovery," Durkan said at a news conference. She said the city grieves with the loved ones of those killed and injured.
The gunman opened fire on the bus from the street after the first attempted carjacking, police said.
King County Executive Dow Constantine said Stark, a seven-year Metro employee, spoke with detectives at the hospital and described being shot at without warning.
"The incident unfolded before him on the street," Constantine said. "Unprovoked, the suspected gunman fired multiple shots directly through the windshield of the bus."
Constantine said Stark detoured the bus out of harm's way despite being shot himself.
"He acted heroically and put the well-being of his passengers above all else," he said.
The suspect was not immediately identified, but officials said he lives in the area and was about 33 years old. Investigators were looking into the gunman's history, and a family member of his who was with him before the shooting is fully cooperating with police, Green said.
"It appears that this was just a random act, that some type of issue surrounding him, either maybe mental health or substance abuse or something along those lines may have triggered this," Green said.
Seattle Fire Chief Harold Scoggins said the person killed in the second carjacking was a 50-year-old man, and the driver killed in the collision was a 70-year-old man.
Washington Gov. Jay Inslee tweeted that he and his wife, Trudi, "are pulling for those injured, grieving for those who were killed, and appreciating the bravery of all who responded and took action to stop the shooter."