Two former East Cleveland, Ohio, police officers were sentenced this week for stealing thousands of dollars from people they pulled over during traffic stops.
A judge ordered Willie Sims, 32, to two years in prison Thursday. His partner, Alfonzo Cole, 35, was sentenced Monday to 2½ years in prison and fined $40,000, court records show.
In total, Sims and Cole stole $14,781 from six victims from July 2020 to July 2021 while on duty, prosecutors said. Cole also swiped two firearms from the victims, the Cuyahoga County prosecutor's office said in a news release.
Cuyahoga County Common Pleas Judge Michael J. Russo told Sims that his actions have "disgraced" hard-working officers.
"The one person that the public should be able to have confidence in ... would be your emergency services, your police officers, your firefighters, your EMTs," Russo said. "You've shaken the confidence of the public in the criminal justice system and the trust they put in police officers."
The two men were arrested on July 9, 2021, one day after a motorist reported to the East Cleveland Police Department that they took $4,000 during a traffic stop at a gas station, the new release said. The victim was supposed to give a statement in court Thursday but told prosecutors that he had changed his mind because he feared being "targeted."
The 21-year-old man said he was on his way to a funeral home to pay for his mother's services when the officers robbed him, according to Cleveland.com.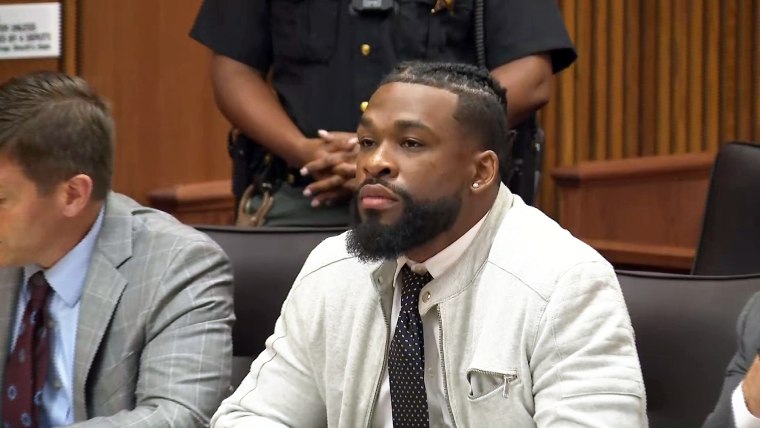 Sims' and Cole's arrests are connected to a wider investigation into the East Cleveland Police Department for corruption, NBC affiliate WKYC of Cleveland reported. More than a dozen current and former officers have been charged with various crimes, including former Police Chief Scott Gardner, who is accused of fraud, theft, money laundering and tampering with records. He has denied the charges.
Prosecutors said that on July 7, 2020, Sims responded to a gas station in East Cleveland after a 52-year-old victim got into a verbal altercation with a woman.
The victim had placed a firearm he was carrying on the seat of his car, and $3,850 in cash fell out. Sims ordered the victim out of the car and searched the vehicle, prosecutors said. Sims took the $3,850, arrested the victim and had the car towed, prosecutors allege.
Four months later, on Nov. 8, 2020, Sims swiped $1,300 from a car belonging to a 34-year-old victim. The victim said in court that Sims "made every excuse" for stopping him and ordered him out of the car. When the victim returned to his vehicle, he noticed that the money was missing. The victim told the judge that he did not report the stolen money because he had drugs in the vehicle.
The victim said Sims pulled him over again two other times. During the second incident, Sims didn't steal from him, the victim said. "I didn't have anything to take, so he left," he told the court.
The third incident occurred July 8, 2021. The victim said Sims stopped him at a gas station and ordered him out of the vehicle. When he refused, Sims "roughed me up a little bit," the man said. He told the court that he was placed in the back of a police car while Sims and other officers "ransacked" his vehicle. Prosecutors said the Sims took $781 and suspected marijuana edibles from the car.
Sims apologized to his family and friends, telling the court that he was sorry "for putting myself in this position." In addition to time in prison, he was fined $40,000.
Cole was accused of stealing money, marijuana and guns from victims on four separate occasions, prosecutors said. During a traffic stop on Sept. 22, 2020, he robbed a 43-year-old victim of $850 and about $400 worth of suspected marijuana, the news release said. He then issued the driver a traffic citation. The citation included his signature and the forged signature of a police sergeant who was not at the scene, prosecutors said.
Sims and Cole each pleaded guilty last month to four counts of robbery and one count of theft in office.
Cole apologized during his sentence, WKYC reported. Russo told Cole that he "damaged everybody in the community."
"When a[n] individual who is a police officer has taken that oath, he, in essence, is in a criminal category of his own," Russo said. "He, in effect, is a traitor to the system. He's far worse than your normal burglar or robber or criminal."