Over less than 13 hours and nearly 1,600 miles apart, two mass shootings this weekend left at least 29 dead and 53 injured, leaving the country reeling from yet more gruesome scenes of violence and death.
On Saturday morning, a gunman opened fire into a crowd at an El Paso, Texas, retail area that is popular among both local residents and shoppers from just across the southern border with Mexico.
Then early Sunday, a shooter attacked a crowd outside a popular bar in Dayton, Ohio, as patrons were enjoying a night out.
One suspect was in custody in the El Paso case. Federal prosecutors were treating it as a domestic terrorism case. In Dayton, responding officers killed the gunman, police said.
Both attacks follow a week in which Gilroy, California; Brooklyn, New York; and Philadelphia were each struck by gun violence.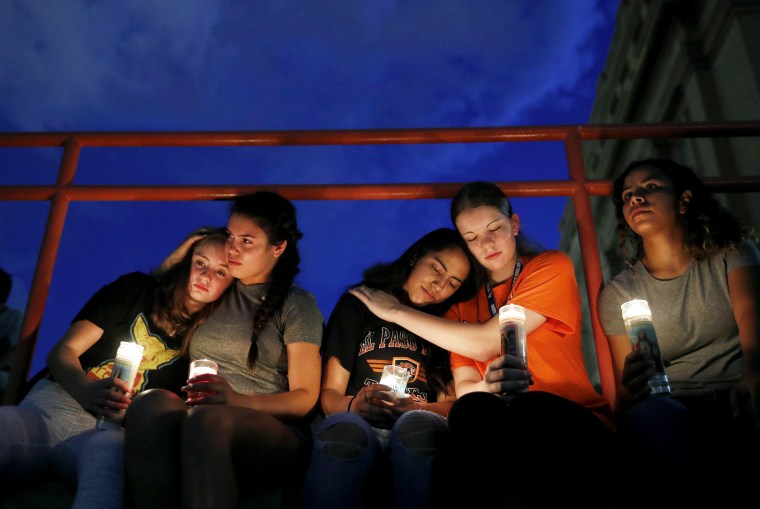 What we know about El Paso:
At least 20 are dead and another 26 were injured at a Walmart and around the nearby Cielo Vista Mall.
Police received their first calls on the incident at 10:39 a.m. MT.
One male suspect has been brought into custody.
The shooting is being treated as a "domestic terrorism case," the U.S. Attorney for the Western District of Texas said Sunday.
Texas authorities are still investigating the motive for the shooting, but El Paso police Chief Gregory K. Allen said Saturday evening that it appeared to have "a nexus at this point in time to a hate crime." Law enforcement officials believe the gunman in El Paso may have posted a screed online less than 30 minutes before the attack on an extremist website.
A Walmart employee told NBC affiliate KTSM in El Paso that she was working by the self-checkout when gunshots rang out. The employee, who only wanted to be identified by her first name, Leslie, said she initially thought boxes had been dropped.
"I thought it was just like loud boxes being dropped or something, until they got closer and closer," she said. "That's when I looked at my co-worker, and we looked at each other like shocked and scared."
"I got all the people that I could, I even found a little girl that was missing from her parents, and I got her, too. I tried to get as many people as I could out," the Walmart worker said.
Law enforcement sources say police identified the suspect as Patrick Crusius, 21, from the Dallas area.
John Bash, U.S. attorney for the Western District of Texas, said his prosecutors were investigating Crusius "with a view towards bringing federal hate crime charges ... and federal firearms charges which carry a penalty of death."
"We are also treating this as a domestic terrorism case," Bash added. "This meets it and appears to be designed to intimidate a civilian population, to say the least. We're treating it as a domestic terrorism case and we're going to do what we do to terrorists in this country, which is to deliver swift and certain justice."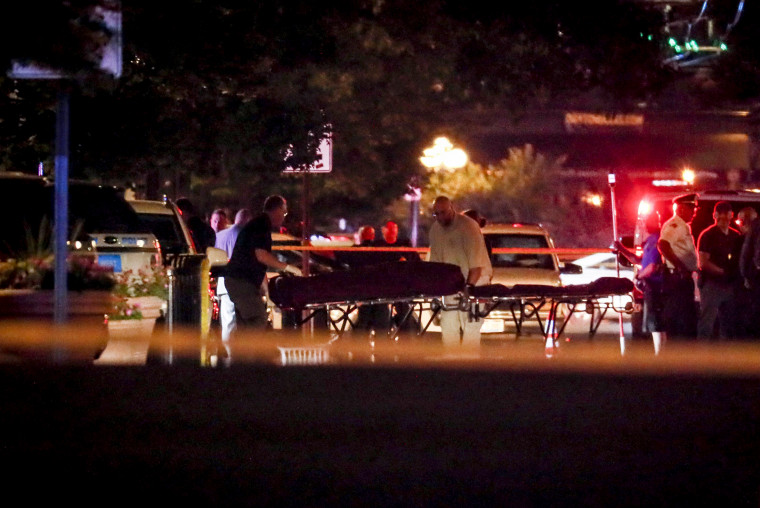 What we know about Dayton:
At least 9 were killed and 27 injured outside Ned Peppers Bar in Dayton, Ohio.
Police who were in the area responded to the shooting just after 1 a.m. EST.
The shooter was wearing body armor and carrying multiple rounds of ammunition.
He was shot and killed by police about a minute after the attack began.
Dayton authorities said that the shooter was wearing body armor and carrying ammunition magazines for the .223-caliber rifle used in the attack.
Anthony Reynolds told NBC's "Today" show Sunday morning that he was exiting the bar at 1:05 a.m. when the gunfire broke out. Reynolds said he knew the exact time because he was looking at his phone while he was walking past the line of people waiting to get into the club.
"Once we got to the end of the line, which is near the corner, you heard one gunshot," Reynolds said. "You heard 'boom,' so we looking around, we didn't know what it was ... and then you hear a second 'boom' and then after that it was complete rapid fire for like one minute."
The suspect has been identified by authorities as Connor Betts, a 24-year-old white male.
His sister, Megan Betts, 22, was one of the victims. The others were Louise Ogelsby, 27; Said Saleh, 38; Derek Fudge, 57; Logan Turner, 30; Nicholas Cumer White, 25; Thomas McNichols, 25; Beatrice Warren Curtis, 36; and Monica Brickhouse, 39.
After Dayton Police Chief Richard Biehl said Sunday there was "nothing" in Betts' record that would have prevented him from buying firearms, high school classmates of the shooter told the Associated Press he made a "hit list" and "rape list" targeting classmates while in school.
When the hit list came out in 2012, about a third of students at Bellbrook High School, where the shooter attended, skipped school out of fear according to the Dayton Daily News. Chris Baker, the former Bellbrook principal, confirmed to the Dayton paper that the gunman was suspended for causing a lockdown when he wrote a hit list on a bathroom wall.
"My name was on the rape list," one woman who asked not to be named told AP, saying police called her during her freshman year to let her know she was a potential target. She said after his suspension, the gunman returned to school, and she didn't receive any warning.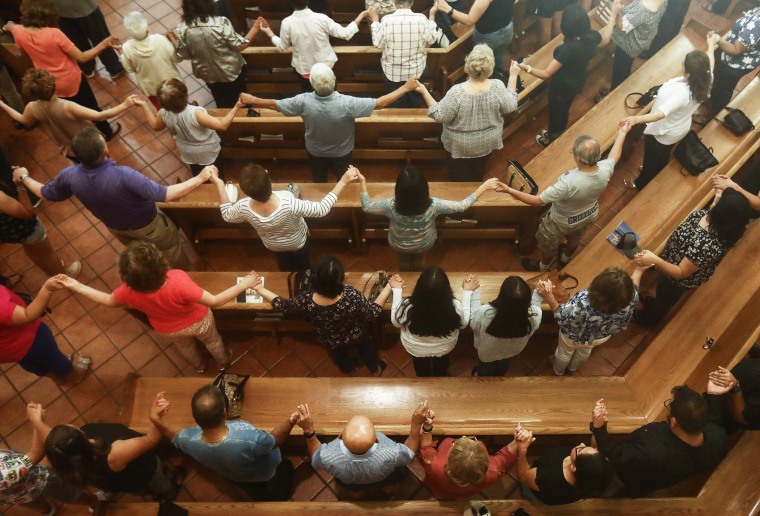 The response and the fallout:
President Donald Trump has condemned both attacks, saying on Sunday, "Hate has no place in our country and we're going to take care of it."
Trump said he's been in contact with Attorney General William Barr, FBI Director Christopher Wray, Texas Gov. Greg Abbott and Ohio Gov. Mike DeWine this weekend.
The president said he'll make a more detailed statement on the shootings on Monday.
Democratic politicians blamed the president's rhetoric for stoking hate in the country, including several presidential candidates.
Julián Castro and Sen. Cory Booker, D-N.J., argued Sunday on NBC's "Meet the Press" that Trump's rhetoric has created a climate of hate in light of Saturday's mass shooting in El Paso, Texas.
"In my faith, you have this idea that you reap what you sow, and he is sowing seeds of hatred in this country, this harvest of hate violence that we are seeing right now lies at his feet," Booker said Sunday. "There is a complicity in the president's hatred that undermines the goodness and decency of Americans."
Castro referred to the anti-immigrant and anti-government screed that senior law enforcement officials told NBC News they believe was written by the El Paso shooter. The presidential candidate from Texas said he saw a link between Trump's anti-immigrant commentary and the "toxic brew of white nationalism" in America.
"When he didn't step up right away and condemn the neo-Nazis after Charlottesville, allowing that crowd for 13 seconds to chant 'send her back' a couple of weekends ago, he doesn't have any credibility anymore," Castro said.
"Like all Americans, I still hope that this president will do what most presidents have done throughout our history, which is to realize we have to do everything we can to try and unite Americans instead of fanning the flames of bigotry."