A teenage boy opened fire near a North Texas high school Monday, killing a fellow student, wounding another and bringing "unfathomable remorse" to campus, authorities said.
The gunfire just outside Lamar High School in Arlington happened around 6:55 a.m., before many students had arrived on campus for the first day of classes after spring break, officials said.
A student was shot and died of his injuries, Arlington Police Chief Al Jones told reporters.
Gunfire grazed a female student, whose injuries were not thought to be life-threatening, he said.
Witnesses called 911 with a description of the shooter, and officers arriving at the school saw someone matching the description, Jones said.
"The officers surrounded the individual and took him into custody without incident," he said.
All three people involved in the shooting are students at Lamar High School, Jones said. Their identities have not been publicly released.
The suspect, a teenager, has been charged with capital murder, Jones said. It was not immediately known whether he had a lawyer who could speak on his behalf.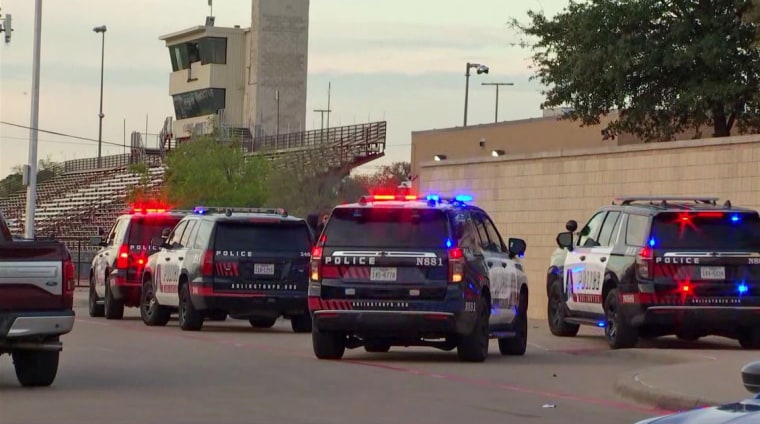 In the early stages of the investigation, Monday's attack did not appear to be an attempted mass shooting, officials said.
"We don't believe that this was anything where the student was going to try to shoot multiple people at the school," Arlington police spokesperson Jesse Minton said. "We believe it may have been targeted."
Teachers knew to immediately usher students into classrooms and close doors as soon as shots rang out, Principal Andy Hagman said.
"I'm very, very proud of our students and how they responded," Hagman said.
He said he felt "just unfathomable remorse."
"Just to think that a young life was lost in such as senseless fashion is just, it's incredible, and it's incredible when it happens right at your doorstep," Hagman said. "I'm still numb, but I'm thankful that more kids were not hurt and staff were not hurt."
Classes were canceled Monday, and school will not be back in session until Wednesday, officials said.
It was not immediately clear who owned the weapon. Jones, the chief, reminded parents to keep their firearms safe and way from the hands of children.
"We need gun owners to step up to be responsible and to ensure that they are properly securing their firearms so kids don't have access to them," Jones said.
Arlington is a city of about 394,000 about 20 miles west of central Dallas.