Two men accused of being members of a white supremacist group and arrested after the deadly "Unite the Right" rally in Charlottesville, Virginia, pleaded guilty to federal charges Friday, prosecutors said.
Benjamin Drake Daley, 26, and Michael Paul Miselis, 30, who prosecutors said are members of the "Rise Above Movement," pleaded guilty to one count of conspiracy to riot, the U.S. Attorney's Office for the Western District of Virginia said in a statement.
Daley faces 27 months to 42 months in prison, according to a plea agreement filed in the case. Miselis' agreement does not specify a range, but the charge carries a maximum of five years. They are set to be sentenced this summer.
Daley was a founder of the now-defunct, California-based organization known as RAM. Daley, Miselis and two other men — Thomas Gillen and Cole White — were arrested in October in connection with violence at the 2017 "Unite the Right" rally in Charlottesville.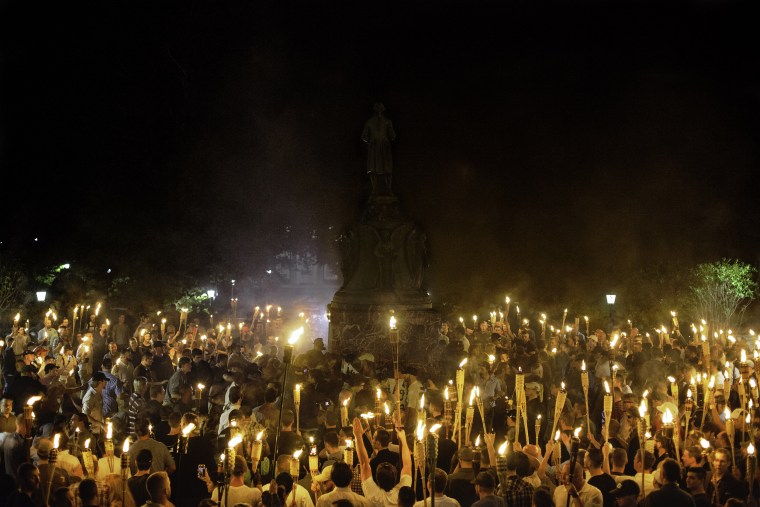 All four traveled to the rally from California and assaulted people there, including an African-American man, two women and a minister, prosecutors have said.
"As RAM members, Daley and Miselis trained to engage in violent confrontations and attended the Unite the Right rally with the expectation of provoking physical conflict with counter-protesters that would lead to riots," David W. Archey, FBI special agent in charge of the agency's Richmond division, said in a statement.
Emails to a public defender or attorneys listed as representing Daley and Miselis were not immediately returned Friday night.
White and Gillen previously pleaded guilty to conspiracy to riot. Plea agreements in their cases do not list a range of imprisonment, but say the charge carries a maximum term of five years.
The men are set to be sentenced July 19.
Thomas' sentencing is also scheduled for that date, and no sentencing date is set for Miselis, according to online federal court records.
At a march at the University of Virginia campus the night before the rally, which prosecutors said Daley, Miselis and other RAM members attended, participants carried torches and chanted "Jews will not replace us" and "blood and soil."
"These avowed white supremacists traveled to Charlottesville to incite and commit acts of violence, not to engage in peaceful First Amendment expression," U.S. Attorney for the Western District of Virginia Thomas T. Cullen said in a statement Friday in announcing the guilty pleas by Daley and Miselis.
"Although the First Amendment protects an organization's right to express abhorrent political views, it does not authorize senseless violence in furtherance of a political agenda," Cullen said.
During that rally, which included white nationalists and members of the KKK, James Alex Fields Jr., drove his car into a crowd of counter-protesters and killed Heather Heyer. Fields has been convicted in state and federal court for the killing. He faces life in prison.