A gunman who killed two workers and then himself at a Ford dealership in the San Francisco Bay area Tuesday had apparently just been fired, witnesses said. Police confirmed that he appears to have been either a disgruntled or a former employee.
Police in Morgan Hill, about 25 minutes southeast of San Jose, responded to multiple reports of shots fired inside the dealership minutes after 6 p.m. When officers arrived, they found one man dead on the ground with what appeared to be a self-inflicted gunshot wound and a handgun next to him, police and the city said in a statement.
Police said that officers were directed to two victims, both of them dealership employees who were found dead from gunshot wounds.
Doug MacGlashan, a contractor who was inside the building at the time of the shooting, told NBC Bay Area that before the shooting he was told by an employee, "I just fired him, he won't leave the premises. Should I be worried, what should we do?'"
"So, they were wondering should they call authorities, whatever. At that point, somebody asked, you know, 'Should we be worried?' And somebody said, 'Yeah, he's got a history with guns,'" MacGlashan told the station.
"And not 10 minutes later, we heard gunshots," he said. "I just heard pop, pop, pop, pop."
He said that upon hearing the gunfire, he and others ran.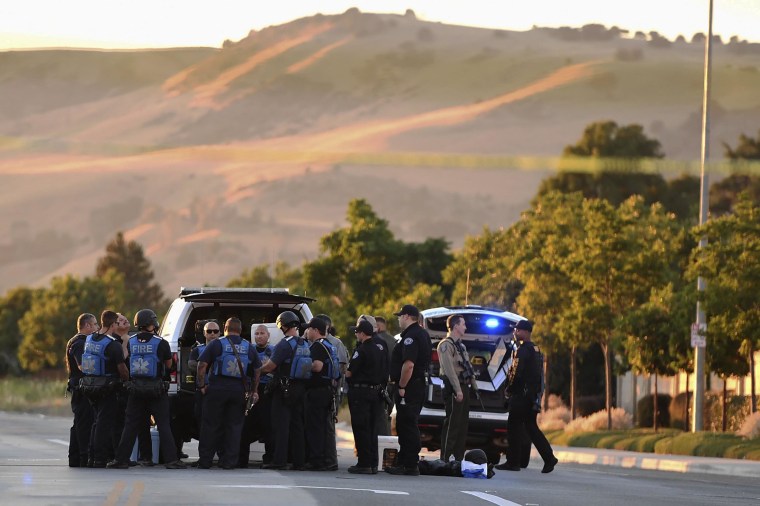 Police did not release any identities.
"The city of Morgan Hill and the Morgan Hill police Department offer our sincere condolences to the families of the victims in this tragic incident," the statement released by the city said.
NBC Bay Area reported that the Morgan Hill Ford Store is the largest Ford dealership in the Bay Area.