No hazardous materials were on board the 28 cars of a Norfolk Southern train that derailed Saturday evening in Springfield, Ohio, officials said at a news briefing.
It was the second derailment of the company's trains in Ohio in a matter of weeks after a train carrying dangerous chemicals derailed in East Palestine on Feb. 3.
Multiple agencies responded to the derailment in Clark County, about 38 minutes from Columbus, at around 5 p.m. The 212-car train was headed to Birmingham, Alabama, from Bellevue, Ohio, said Kraig Barner, Norfolk Southern's general manager of operations.
"None of those derailed cars were carrying hazardous material, and there were no injuries reported to the public or the two-man crew operating the train," Barner said.
"Four empty non-hazardous material tank cars" were involved in the derailment, which had previously carried diesel exhaust fluid and an additive commonly used in wastewater treatment, Barner said.
One car containing plastic pellets was involved, and a small amount spilled out onto the soil, Ohio Environmental Protection Agency Director Anne Vogel said. The pellets are not hazardous.
Power lines were also involved, which meant agencies weren't able to begin cleanup operations until Sunday morning.
It was not immediately known what caused the derailment.
"This derailment, as all derailments, will be fully investigated and the findings will be turned over to the Federal Railroad Administration," Barner said.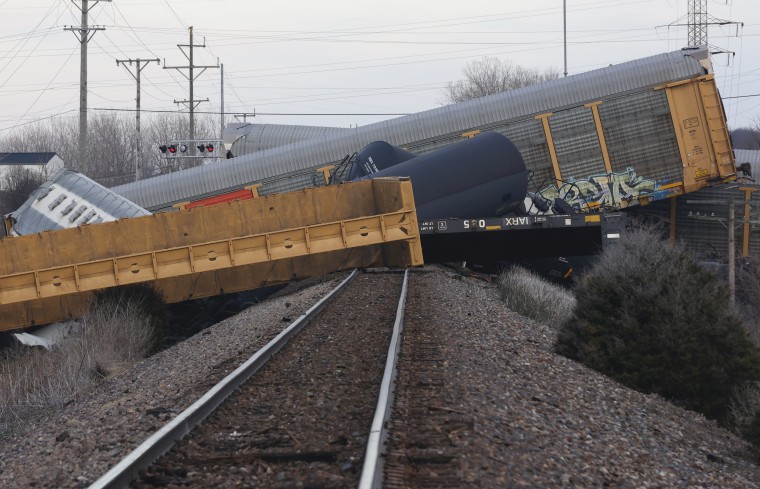 The derailment, near the Clark County Fairgrounds, left more than 1,500 customers without power. Residents within 1,000 feet of the site to shelter in place; no formal evacuation orders have been issued.
Ohio Gov. Mike DeWine said first responders were on the scene Saturday night.
"We don't believe hazardous materials were involved. President Biden and Secretary Buttigieg called me to offer help from the federal government," he tweeted, referring to U.S. Transportation Secretary Pete Buttigieg.
Shawn Heaton told the Springfield News-Sun that he was waiting at the intersection as the train crossed and captured the start of the derailment on video.
"I was right there, and I was playing on my phone, and then I heard a loud bang. And when I heard the loud bang, I started recording," Heaton said. "When I heard the bang, there was all kinds of debris and metal shoot out from under the cars, and that's when I started recording, and you could see them start jumping off the tracks."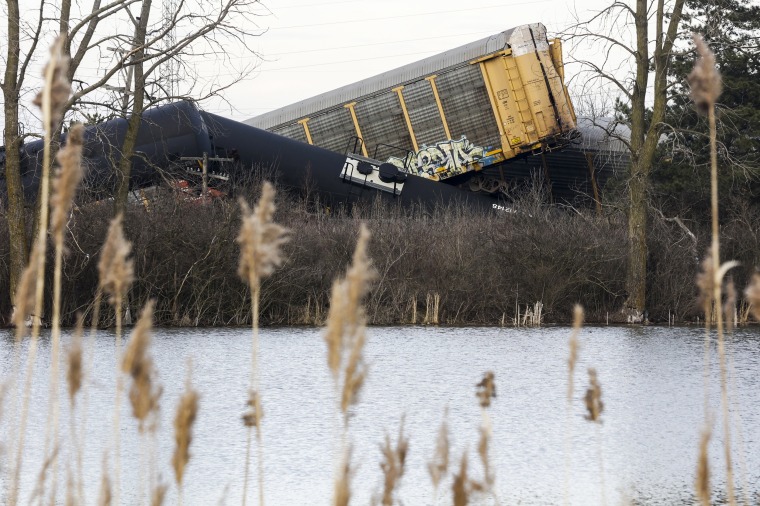 On Feb. 3, 38 cars of a Norfolk Southern freight train derailed in East Palestine, in northeast Ohio near Pennsylvania, and several cars carrying hazardous materials burned.
No one was injured, but nearby neighborhoods in both states were imperiled. The crash prompted an evacuation of about half the town's roughly 5,000 residents, an ongoing multiagency emergency response and lingering worries among villagers about long-term health impacts.
It is the fourth train derailment in Ohio in less than five months — two others occurred last year in Sandusky and Steubenville.
"Sandusky, Steubenville, East Palestine, and now Springfield — four Norfolk Southern derailments in less than five months because this corporation has been more concerned with its profit margin than with Ohioans' safety," Sen. Sherrod Brown, D-Ohio, said in a statement. "Ohio communities should not be forced to live in fear of another disaster."
CORRECTION (March 9, 2023, 3:34 p.m. ET): A previous version of this article misspelled the first name of the Ohio Environmental Protection Agency director. She is Anne Vogel, not Ann.