Elated fans in Baltimore and disappointed fans in San Francisco spilled into the streets of both cities after a tight finish in Super Bowl XLVII. Scattered violence was reported in both places.
In San Francisco, people threw bottles at police officers in the Mission District after the 49ers lost to the Ravens, police told NBCBayArea.com. At least 25 people were arrested, mostly for being drunk.
News helicopter footage in Baltimore showed jubilant fans pouring out of bars and restaurants after the Ravens won 34-31. In the Federal Hill neighborhood, people pulled a street sign out of the ground and smashed the windshield of a news van, NBC affiliate WBAL reported.
WBAL video also showed a fan doing chin-ups on a metal bar attached to a utility pole, losing his grip and tumbling onto a lower street sign.
The celebration in Baltimore appeared mostly peaceful, if rowdy. Police told NBC News they knew of no major Super Bowl-related problems.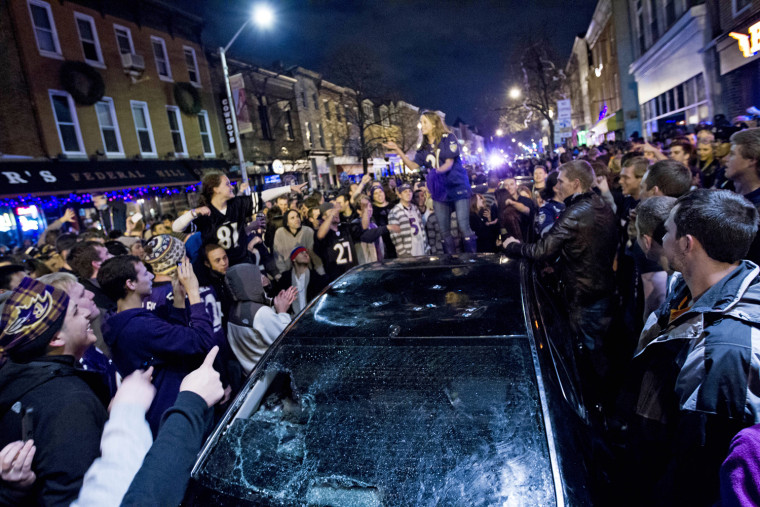 The flare-ups in San Francisco were a far cry from October, when the hometown Giants won the World Series and vandals set fires, broke windows and torched a city bus.
This time, Mayor Ed Lee worked with police, fire officials and bar owners to prevent a repeat. He asked bars not to serve hard alcohol and to cut customers off when they got too drunk, NBCBayArea.com reported.
"It's nowhere compared to the Giants," Officer Carlos Manfredi said.
Super Bowl violence was not limited to the two cities with stakes in the game. In Miami Gardens, the Miami suburb where the Dolphins play, a man was gunned down in a front yard outside a Super Bowl party, NBCMiami.com reported.
In New Orleans, where the game was played, fans swarmed onto Bourbon Street, but the celebration there also appeared peaceful. On the night before the game, a pickpocket grabbed seven Super Bowl tickets from the back pocket of a man leaving Harrah's casino,NBC affiliate WDSU reported. Police were reviewing surveillance video.
RELATED: Ravens hold off 49er surge, overcome power outage to win Super Bowl