Thousands across Texas are waking up Friday morning without power following a night of tornado sirens and heavy winds, as a "potent" winter storm is expected to bring heavy snow from the Upper Midwest through New England this weekend.
New tornado watches have been issued for parts of Kentucky, Tennessee, northern Georgia and northern Alabama until at least 5 p.m. EST on Friday.
Gov. Andy Beshear urged his fellow Kentuckians to limit any travel on Friday and be prepared for loss of power or downed trees.
"The main message is hunker down ... and don't take chances," he said while declaring a state of emergency in the commonwealth. "This could be a very dangerous day."
States across the Sun Belt struggled to keep the lights on this morning and early afternoon with 144,824 homes and business in the dark in Tennessee, according to PowerOutage.us as of 1:35 p.m. EST.
There similar blackouts in Alabama (53,490 customers with no power), Texas (53,490), Mississippi (37,533) and California (45,747), the energy tracking website said.
Tornadoes reported in multiple counties
It could take days before there's a a full accounting of tornado damage in northwest Louisiana and neighboring Texas, officials said Friday.
Tornado watches covered around 3.5 million people in Texas and the South on Thursday night, according to the weather service. The watches stretched from east of Dallas into Arkansas and northern Louisiana.
By early Friday, watches had expired for Texas but tornado watches covered northern Louisiana, large parts of Missouri and into Mississippi. The storm was forecast to move into the Ohio and the Tennessee valleys Friday and then continue northeast, the weather service said.
Louisiana State University Shreveport suffered minor damage after a storm hit around 5:45 p.m. There were no injuries, but the winds were powerful enough that two shipping containers parked in a campus parking lot were moved, university Communications Director Erin Smith said.
NBC Dallas-Fort Worth reported that its crews spotted five overturned tractor-trailers on highways north and east of Dallas.
Parts of California buried under snow
The high and damaging winds in parts of the southern United States occurred as mountainous areas of Southern California remained buried under several feet of snow that has trapped people, authorities there said.
The San Bernardino National Forest closed off a huge swath of mountainous regionals in San Bernardino and Riverside Counties, officials said Friday, due to recent snow storms.
"We are working to address public safety and to assess winter storm damages." Said Forest Supervisor Danelle D. Harrison said in a statement. "Due to limited access and deteriorating conditions, it will be several weeks before the Forest is fully operational.
Gov. Gavin Newsom has declared a state of emergency for 13 counties, and the San Bernardino County Sheriff's Office said ready-to-eat meals would be flown by helicopter to affected communities. The California National Guard said Thursday that a UH-60 Blackhawk was being sent to help.
"We know that roofs are starting to collapse," Dawn Rowe, chair of the San Bernardino County Board of Supervisors, whose district includes some of the hardest-hit areas, said Wednesday.
Around 10 feet of snow fell in some of the mountain communities in the county, which is east of Los Angeles, the county fire department said.
Plowing was being done around the clock to try to clear roads, said the California Department of Transportation, known as Caltrans.
County Fire Chief Dan Munsey said Wednesday that the fire department had responded to almost 100 calls for rescue.
The weather service said the snow total for Snow Valley in the San Bernardino Mountains was 120 inches, or 10 feet, from Feb. 22 to Wednesday. In Crestline, where a grocery store roof collapsed this week, it was 91 inches.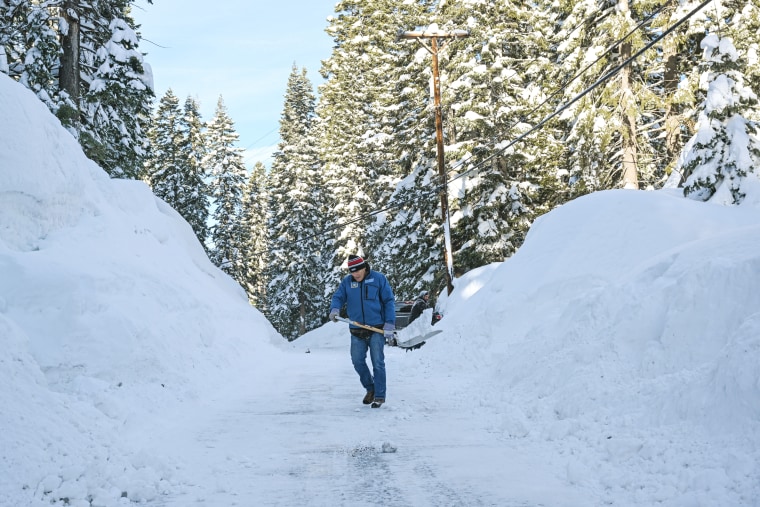 'This storm kind of kept coming'
Andrew Braggins, 43, told The Associated Press that the ceiling in his kitchen in Crestline began to bow from the weight of all the snow, prompting him to shovel his roof — where 5 feet had accumulated.
"I've got friends just a few roads away, and they've been without power for days," he said. "You can stock up for a storm. But this storm kind of kept coming."
Some regions now 'free of drought'
While the recent severe weather has caused chaos for many, central California's Sierra Nevada and foothills are now "free of drought and abnormal dryness for the first time since January 2020," according to a new report released by the U.S. Drought Monitor.
"The rain has improved California soil moisture and streamflow levels, while the snow has increased mountain snowpack to much above-normal levels," it said. "Abnormal dryness and moderate to severe drought were contracted across much of California to reflect the above-normal precipitation of recent months, above-normal snowpack, and improved reservoir levels."
Meanwhile, abnormal dryness and moderate to extreme drought were also eased in Montana, New Mexico and Utah, while abnormal dryness and moderate drought were pulled back in Arizona, the report said.
'Potent' storm to bring weather hazards
Meanwhile, a "potent system" was forecast to produce a "multitude of weather hazards" throughout the eastern third of the country Friday and Saturday, the weather service said.
The storm was expected to rapidly deepen as it approaches "all-time record low sea level pressure values for portions of the Ohio and Missouri valleys," it said.
"The ongoing severe weather and flash flood risk associated with the system will continue through the early Friday morning hours across the Lower Mississippi Valley, with the threat shifting northeastward throughout the day as the strengthening low lifts northward into the Ohio Valley," the weather service warned.
Thunderstorms were also expected to have the potential to produce damaging wind gusts, as well as small hail and the possibility of isolated tornadoes Friday, prompting the weather service's Storm Prediction Center to issue an enhanced risk of severe thunderstorms warning for eastern parts of the Tennessee Valley.
The weather service also warned of the possibility of flash flooding throughout much of the mid-Mississippi and the Ohio valleys, as well as eastward into the mid-Atlantic. A moderate risk of excessive rainfall was possible in parts of northeastern Arkansas, southeastern Missouri, southern Illinois and southern Indiana, it said.